Adjustment is a key part of freshman year for any college athlete. Many come in expecting to observe and learn from the upperclassmen.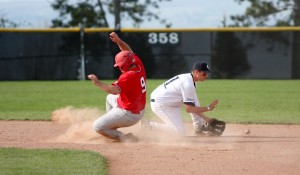 But shortstop Tim Locastro, third baseman Colby Gee, and catcher and third baseman Bill Collins have stepped up to play important roles for the baseball team this season.
Locastro is one of only three Bombers to start every game, Collins has seven hits in 17 at bats and Gee has been thrust into the starting lineup at third base after graduate student Dave Ahonen was injured.
Locastro, who was recruited by some schools in Division III, said the upperclassmen on the team have helped take the pressure off of him being a first-year starter.
"At first coming in you don't really know what to expect," he said. "But the older guys really embraced me from the get-go and allowed me to feel comfortable and focused on playing baseball."
Locastro has struggled at times this year adjusting to pitching at the collegiate level. He said to get back into an offensive groove he had to cut down on his swing.
"[The coaches] adjusted my approach and are trying to get my hands quicker to the ball," he said.
Locastro went 2-for-3 with a key RBI single in the sixth inning of Friday's one-run loss to St. John Fisher College, having one of his best games this season.
While Locastro has started the whole season, Collins and Gee have only seen increased playing time the past few weeks. Gee is hitting .285 in his past five games with five RBI and three runs scored. He said it was important to take something away from every at bat.
"As a freshman you have to go up to the plate with a mentality of just trying to get better," he said. "It's always great when you get a hit, but even when you make an out, you're hoping you did something positive that you can build off of."
Gee said the biggest improvement to his game has been his mental awareness, which came in handy during Friday's 5–4 loss to the Cardinals. After hitting a weak infield single and popping up in his first two at bats, Gee said he took note of how the pitcher was throwing to him and switched his approach.
"I realized in my first two at bats they were pitching me away," he said. "So in my third at bat I moved a few inches closer to the plate, was able to square up on the ball and wound up with a double."
While offense has been the main concern for Locastro and Gee, Collins said the biggest adjustment as a catcher has been handling a veteran pitching staff.
"It's nice because the pitchers know what they're doing and have a game plan, but at the same time guys are throwing harder and runners are faster, so there's another level of awareness that goes into it."
Locastro said his prominent role on the team has made him a focal point on this year's freshman class.
"Being out there a little longer than they have, it's been interesting for me to take the lead and make them feel comfortable with the rest of the guys," he said.