Once upon a time, families sat together at dinner.
They ate a great dish, that made no Kosher diner a sinner.
Pasta, any type, in a casserole dish: oozy, gooey, cheesy; it had it all.
The cheese kept it together and pulled it apart: bits not large, nor small.
The pasta made better the cheese.
The cheese made the pasta so great that everyone fell to their knees. (But not really, because then they could not eat…)
Despite the greatness of this dish,
One day someone came up with an idea as silly as a land-walking fish.
Why not make pasta you can put in the microwave?
Probably ingenious at first, something all would crave.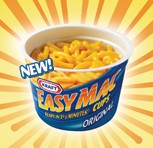 But over time, the truth emerged.
This fake cheese and questionable pasta should be purged.
But by that point, it was all but lost.
Every mouth in college Easy Mac had crossed.
So the sad substitute for mac 'n' cheese
Became the more popular sleaze.
I guess I'll just have to learn to deal
And stop my sphiel
But till then, I'll work on my poetry
And get some… lunch. (Mmm, crunch munch.)
– – – While I know you all enjoyed my foray into poetry, I need to continue acting as your food information gatherer… so, a side note: Easy Mac now comes in bacon flavor. Tiny red dots all over the pasta. Hard to resist.