Members of Slowfood Ithaca College mobbed the Towers Dining Hall on Friday afternoon, calling for an increased presence of local organic foods at the college.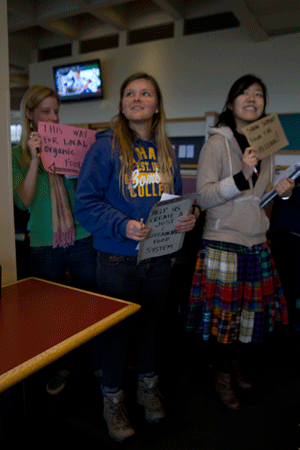 The flash mob assembled at noon outside the dining hall. Members of Slowfood Ithaca College delivered a speech about the importance of locally bought foods and then collectively ate at the Fresh Food Market. About 10 protesters wore green clothing in support of the movement, and there was a high traffic of students at the market.
Junior Emily Shaw, an environmental studies major and co-president of Slowfood Ithaca College, said the flash mob's goal was to encourage members of the campus community to eat more of the college's fresh foods, thereby forcing Sodexo, the college's food service provider, to increase the dining hall's supply.
"We really need the Fresh Food Market to kind of have that interest and have the students going there and having that food sell out, so they know this is something people do care about and want on campus," Shaw said.
According to Jeff Scott, general manager of Ithaca Dining Services, about 11 percent of Sodexo food is locally grown and produced.
Junior Spencer Grossman, a business administration major and student intern with Sodexo, said each meal selection represents a vote, and if there's enough student demand for local foods, Sodexo could be pressured to buy more local foods.
"I'm not suggesting that students stop eating if they don't want Sodexo as a food service provider," Grossman said. "But that they choose more carefully the items they eat and buy if they want a change in the food available to them."
Though the mob did not have the turnout Slowfood members envisioned, Curt McConnell, a freshman environmental sciences major and mob participant, said it was successful in gathering more student support for their petition. The petition is designed to illustrate student demand for more local and organic dining options on campus through Sodexo. The petition presently has around 400 signatures, and group members said they hope to ultimately gather between 800 and a thousand.
"I was very happy with the feedback we got from students in the dining hall," McConnell said. "We got many, many signatures, and we're hoping to get many more."
Jack Applegarth, a cook for the dining hall's Fresh Food Market, said though the market has seen an increase in population since last year, there was only a slight increase in the normal Friday traffic. Applegarth said the market would soon begin offering more grains through a company called Pure Food, a New York organic food company.
Stephanie Piech, Sodexo's sustainability coordinator, said the company generally aims to be sustainable, focusing on food and the process surrounding it. However, the only way both Sodexo and environmental groups can work together to meet this objective is to show a clear demand from the majority of students, she said.
"I think it's great," Piech said. "What I have tried to empower many students, including Slowfood students, to do is to eat at the places where we do offer things that they like or that they agree with or support, like the Fresh Food Market, because that's where we can expand if they show their support by actually eating there."
Shaw said she hopes the combined pressure of the flash mob and the student petition will force Sodexo to back up its words and become more sustainable. By buying food closer to Ithaca, less energy is consumed for food travel.
"Food plays such a huge role in the environment," Shaw said. "It has probably one of the highest carbon emissions of any anthropogenic practices on the earth right now. And for us to be calling ourselves sustainable and then having this huge portion of our actions completely neglected, it's just not OK."