While most people view the holidays as a time to relax at the  end of a long semester, the athletes on the men's indoor track team stick to rigorous exercise programs during the winter break.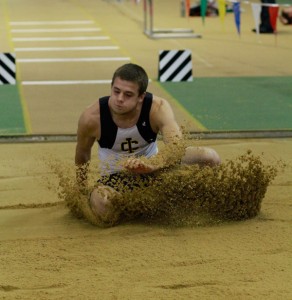 The Bombers begin each winter with somewhat of a false start, as they have more than a month between their two separate meets against a combination of Division I and Division III competition at Cornell University.
Instead of viewing the first two of five meets at Cornell as full-fledged competition, senior long and triple jumper Travis Johnson said the Bombers use the two meets to see how the skills they have developed in practice can be applied to their events.
"The first meet we have of the year, Coach Nichols tells us it's just supposed to be a marking point," he said. "We go out and really do our best to qualify for stuff, but we basically see what we're doing right and what we need to be working on."
Sophomore sprinter and jumper Brennan Edmonds, who finished 17th in the long jump at the first meet of the season last Saturday, said the first two meets will be more indicative of the team's progress than any other competition during the season.
"It's a good benchmark to go out and have a good performance in those two meets, but they're not critical to the whole season as a standpoint," he said.
The team will return to campus approximately two weeks before classes begin, but the athletes will train on their own at home during the winter holiday to prepare for the Cornell Upstate Challenge on Jan. 21.
The athletes work on building strength in isolated areas of their bodies in addition to building endurance in their legs.
Junior Matt Confer, who finished 11th in the 60-meter hurdles at the season-opening meet with a time of 8.97 seconds, said Head Coach Jim Nichols gives each member of the team a specific workout plan when they are not practicing together on campus, but since he doesn't own a set of hurdles, his exercise routine is similar to the ones given to the sprinters.
"A lot of what I do over break is a lot of running, cardio and strength training in order to keep up with the rest of the team when I get back," he said.
Confer said his routine emphasizes 200-meter tempo runs, where he jogs at a steady pace and uses between 70 and 80 percent of his maximum aerobic capacity.
Johnson said he works on maintaining his lower-body strength.
"In terms of the jumpers, we do a lot more leg strength workouts," Johnson said. "And that's what Coach Nichols wants us to maintain because it's so important for jumps."
Johnson said one way he and the other athletes practice for the long, triple and high jump is through stair workouts, which involve sprinting up and down the stairs and doing one or two-legged hops up them.
Johnson said training on staircases is also useful for the athletes because they have easy access to them when they practice in venues other than Glazer Arena in the Athletics and Events Center.
When preparing for his sprints, running on the stairs simulates a realistic running environment, Edmonds said.
"It's hard to find a 400-meter location to run at," Edmonds said. "So it'll be a lot of short-distance sprints or 100-meter workouts, or short stuff, and then lifting. You
really have to make use of the facilities you have."
Johnson said not having other teammates to practice with is the most difficult aspect of the period between the seasons' first two meets.
"When we are in a team setting, we all watch each other as we do our workouts and give each other critiques, and this helps motivate
myself and my teammates to do their best," he said. "At home it's difficult because you don't have that team
atmosphere, but you've still got to go out there because it's going to make you better in the season."