After trailing by as many as 15 points, the men's basketball team (8–10, 5–2 Empire 8) scrapped for an 83-74 victory against the visiting Utica Pioneers (6–12, 2–5 Empire 8) yesterday in Ben Light Gymnasium.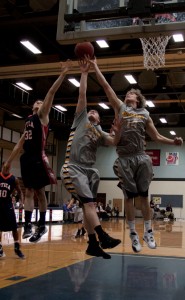 Utica came out of the opening tipoff with fervor, stretching its lead to 15-3 just five minutes into the game. Powered by a first half three-point shooting percentage of 44 percent and 46 percent from the floor, the Pioneers would increase their dominance to a 22-7 margin only 6:44 after the opening whistle.
Utica junior center Jeff Ward, who had the game's only double-double by putting up 13 points and 12 rebounds, said it was a team effort in achieving the open shots.
"Our shooters were making a lot of shots getting open, good looks," Ward said. "Our rebounders kicked it out to give it to them and make them look good."
But with just over two minutes to play, momentum swayed in favor of the Blue and Gold.
Freshman guard Max Masucci, who had 11 points, sunk a rare four-point play to spark South Hill and ignite the crowd. Sophomore forward Frank Mitchell, who had 17 points and eight rebounds, then proceeded to hit a buzzer beater from the corner to send Ithaca into halftime trailing by a score of 46-36.
Head Coach Jim Mullins said his focus at halftime was to regroup and regain focus on the original game plan.
"In the first half we were isolating the ball at one side of the floor at the offensive end and we weren't making the defense move," Mullins said. "We kept yelling to them, 'You gotta reverse it!' and we didn't do it. We spent a lot of time talking about that at halftime and kind of refreshing their memories and what we had to do about the ball movement."
Mullins said the other facet the team concentrated on was locking down on defense and eliminating the Pioneers' shooters to attempt decent shots.
"I thought we got caught staring at our men a lot in the first half instead of seeing the ball and the man," he said. "What it really comes down to is we executed our original game plan but it took us 20 minutes to do it."
The Bombers came out firing. Utilizing seven straight points from junior guard Jordan Healey, Ithaca took the lead 5:24 into the second half and never trailed again after that point.
Ward said Utica did not anticipate Ithaca's second-half onslaught.
"They just smacked us in the face," Ward said. "We weren't ready for it."
Junior forward Andrei Oztemel chipped in 19 points for the South Hill squad. Junior guard Sean Rossi added 19 assists for the Bombers and rewrote his own program record for most in a game. Rossi said while he was proud of the accomplishment, he is keeping things in perspective.
"I'm more happy about the win to be honest," he said. "That was a huge comeback for us. We can't lose games to the lower tier of the Empire 8, it was good for us coming into this weekend — we have two big games."
Last night Hartwick College defeated Stevens Institute of Technology by a score of 68-66. That result created a four-way tie for first place in the Empire 8 Conference between Hartwick, Stevens, Nazareth College and Ithaca.
The Bombers will play Stevens at 8 p.m. Friday in Ben Light Gymnasium and will also host Hartwick at 4 p.m. Saturday.