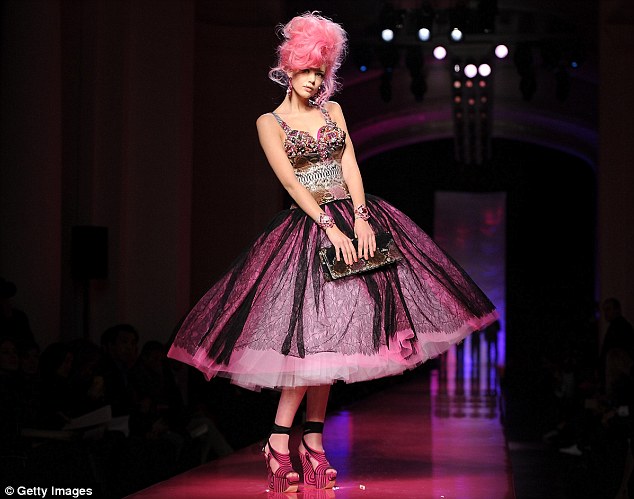 This week, Paris has been filled with the whimsy and fantasy of haute couture and designer Jean-Paul Gaultier's collection has been no exception. His collection of hour-glass, pin-up vamp clothes in homage to the late Amy Winehouse has sparked controversy and accolades from everyone from the music community to fashionistas.
I, for one, saw the collection as a lovely and tasteful farewell to one of the most tragic and iconic singers of our generation of course, that has absolutely nothing to do with the fact that I've been obsessed with Amy's bittersweet ballads since I was an angsty middle schooler. I especially loved that his models all sported towering ratted beehives, with dramatic winged liquid liner cat eyes and sneers (complete with "Marilyn" piercings) that mimicked Amy's signature smirk. The cigarettes that most of the models carried? An ironically sad, but realistic final touch to one of the most interesting and creative, if controversial collections of this season.
Haute couture is notorious for being fantastical and out of touch with reality – but here's how you can master Gaultier's look in real life.
1. Try winging out: A little liquid liner can go a long way. Draw a thin line with a small wing for day time with a light coat of mascara for a doe-eyed retro look. Add kohl to your bottom lash line, thicken the top line and pile on the mascara for nighttime drama.
2. Embrace your curves: Gaultier's runway was full of nipped waists, pencil and full skirts and curve-hugging styles reminiscent of the 1950s.
3.  Go retro: reach for sweet florals and polka dots for a sassy look.
Finally, put on an Amy playlist – from the her now legendary cover of The Pipette's "Valerie" to the wistfully insouciant "Tears Dry on Their Own" or her fame-making "Rehab," it's the perfect way to start your day in style.