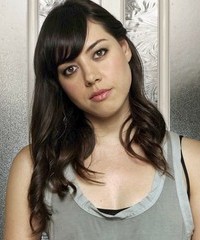 Some of my close friends know I have a mild obsession with comedian/actress Aubrey Plaza (April Ludgate from Parks and Recreation). Naturally, she is one of my favorite characters on the program besides the mustachioed demigod of masculinity, Ron Swanson (Nick Offerman).
Today I heard Plaza was involved in a music video for J. Tillman, former drummer for folk outfit Fleet Foxes. Tillman now goes by the moniker Father John Misty for his musical endeavors as a solo artist.
I'm not a huge Fleet Foxes fan. I enjoy what I hear, but I don't go actively seeking music by them. I should probably change that. Anyway, I wasn't going to miss my girl making her music video debut.
What started off as me wanting to watch for Aubrey Plaza turned into me actually loving the song. The track, "Hollywood Forever Cemetery Sings," is decidedly different from Fleet Foxes as far as style is concerned. Father John Misty employs a type of psych-rock that features droning guitars and pulsing drums that push the song forward. The song hearkens listeners back to Fleet Foxes a bit with backing vocals thrown in here and there that give it a choral feel.
In the video, Plaza is ready to be locked away in a mental asylum. She preoccupies herself with feasting on flowers, crying, laughing and being generally destructive. At one point she smashes a turntable on the floor and brings the dancing in the video to a halt. I kind of wish April Ludgate would pull that stunt at one of Ann Perkins' less-than-entertaining parties on Parks and Recreation. Then again, we'd probably have DJ Roomba in the joint, so that wouldn't happen.