The search for the new dean of Ithaca College's School of Health Sciences and Human Performance officially began Thursday afternoon with a presentation by Ming Li, the first of four finalists, in Klingenstein Lounge.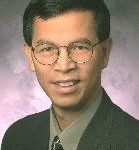 Li is presently the director of the School of Recreation and Sports Science at Ohio University and a professor in Sports Administration. Before he landed at Ohio University, he coordinated the graduate and undergraduate sports management programs at Georgia Southern University for 11 years.
Li said if he was hired as the school's dean, he would focus on the importance of maintaining HSHP's national prominence while building on the college's mission, as described in the IC 20/20 strategic vision, to strive for academic excellence.
In his presentation, Li stressed the importance of maintaining a close relationship between alumni and students. He said he hopes to bolster this connection through alumni-student mentorships, therefore strengthening integrative learning, a key component of IC 20/20.
Li emphasized a close listening relationship with faculty. Before taking any action, he said, he would like to observe activity within the school. Then, he said, he would bring his opinions to the faculty and work with them to address any problems with change.
"First year, the most important thing that I will do is listen to you — the faculty, the staff and the students," Li said. "I will bring my ears, listen to the faculty, and then also I need to be patient. I want to be a good listener."
Lynn Gitlow, associate professor of occupational therapy, said she enjoyed Li's presentation, particularly his emphasis on working with faculty.
"I was very impressed with how he stressed the importance of listening and his intentions for his first year," Gitlow said.
Li also said he would like to diversify the HSHP school by hiring international faculty members and creating academic partnerships with universities in China. Such relationships, he said, would also promote diversity and help recruit more international and minority students and provide the opportunity to send students to China. The IC 20/20 plan approved by the Board of Trustees last summer calls for a satellite campus in China, though there is no definitive timetable for its opening.
Virginia Mansfield-Richardson, associate dean of the Roy H. Park School of Communications, said these presentations offer an opportunity to view the candidate's curriculum vitae and then see how that will translate to the institution. She said she was pleased with Li's performance but also cautioned that there were still two candidates left to present.
"You want to be very fair," Mansfield-Richardson said. "You have other candidates coming in, ideally you get to be impressed by all of them."
James Graves, professor of exercise and sport science and dean of the College of Health at the University of Utah, will present next Monday at 4:00 p.m. in Klingenstein Lounge. William Stewart, associate dean for academic affairs at the College of Applied Health Sciences at the University of Illinois Urbana-Champaign, will then present next Thursday at 4:00 p.m. in Klingenstein Lounge. Linda Petrosino, professor and dean of Bowling Green State University's College of Health and Human Services, will round out the finalists at 4:00 p.m. Feb. 13 in the Klingenstein Lounge. All presentations are open to the campus community.