Sometimes a performance can be summed up in one moment. In the wrestling team's 37-6 win against #29 Stevens Institute of Technology Friday, that moment came when graduate student Nick Sanko stepped on the mat.
Sanko faced off with ninth-ranked Stevens junior Joey Favia in the 165-pound match. Sanko's takedown of Favia in the first period helped him record a 10-3 win and further establish himself as a contender in the weight class.
"Hopefully this will get me into the top ten, and I'll get a higher seed in the national tournament," he said.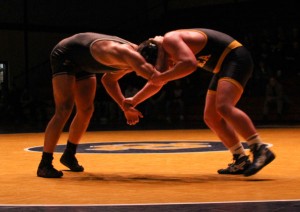 Head Coach Marty Nichols said the result of Sanko's match came from Sanko's diligence.
"He executed what we were talking about in practice and it helped get the result," Nichols said.
Forfeits in the first two matches gave the Bombers an early 12-0 lead. Freshman Mike Polizzi gave the Ducks their first win in the 141-pound match before the Bombers rattled off five straight wins to clinch the meet.
Graduate student Jeremy Stierly recorded an 18-5 major decision against Stevens freshman Connor Bass in the 149-pound match.
Senior Tom Heckman's overtime loss to Ducks sophomore Alex Moreno was one of very few blemishes on the night. Heckman rallied twice in late stages to tie the match before Moreno recorded a point for escaping.
The Bombers continued their dominance yesterday with a 34-9 win against #23 Delaware Valley College.
The South Hill squad won its first four matches, as senior Seth Ecker became the 18th Ithaca Bomber to reach 100 career wins. The third ranked wrestler recorded an 8-1 win against Delaware Valley senior Eric McCann to increase his 2011-12 regular season record to 22–4.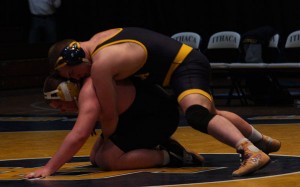 Junior Rick Gomez won his 15th match of the season with a 7-1 win in the first match, while his brother Alex pinned Aggies sophomore James DeLillo to give the Bombers a 12-0 lead after three matches.
Stierly was not able to replicate his success from Friday night, as Delaware Valley senior Zak Andrews pinned him less than two minutes into the match. Andrews came into the match as the second-best wrestler in the nation in the 149-pound weight class, and is now tied for fifth all-time in Delaware Valley history with 108 wins.
A pin by senior Derek Brenon helped restore the Bomber lead to 12, and a major decision by junior Jules Doliscar gave the Bombers a 25-6 lead with three matches remaining. Doliscar's major decision preserved his undefeated record in dual-meets and improved his overall record to 28-3.
Senior Matt Mahon recorded his second pin in as many days to wrap up a dominant effort. The pin is Mahon's 11th of the season, which is second most behind Jules Doliscar's 17 and improves the senior's record to 21-7 overall.
The Bombers will travel to Wilkes-Barre, Pa. on Friday for their penultimate dual-meet of the season. They have not lost to the Colonels since February of 2006.