Amid a mild winter, thousands of locals and tourists flocked to The Commons on Saturday for the Great Chili Cook-off of 2012 to eat a seasonal favorite and support local businesses.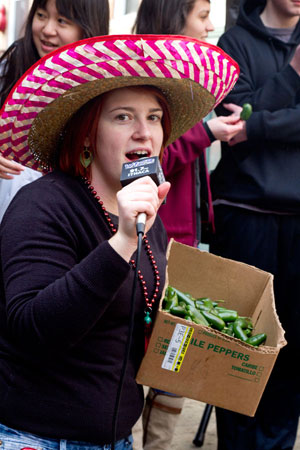 Attendees waited in long lines and participated in events such as the hot pepper-eating contest as part of the annual festival sponsored by the Downtown Ithaca Alliance. Thirty-eight different vendors, ranging from Cayuga Medical Center to Moosewood, presented their own special recipes in an effort to uniquely advertise their offerings. In all, about one thousands gallons of chili were on display for consumption.
Patty Clark, events manager for the Downtown Ithaca Alliance, said the appeal of the event rests in its local connections.
"A lot of our vendors are local restaurants, and they have a very high concentration of using local products," she said. "So we really enjoy supporting our local businesses."
The Tompkins Trust Company held an inter-office competition earlier in the year to find the best chili within the company to present at the festival. Joe Cioachi, whose wife won that competition, said the warm weather helped draw the large crowds to the festival.
Sophomore Jeff Chilton said he found the weather to be one of the best parts of the festival.
"Chili-Fest this year is a lot stronger than Apple Fest was, but that is partly because of the weather," he said. "It's a different environment, and that's because it's the middle of the winter."
As for the winners, Razorback BBQ won the "best meat chili" category with their smoked brisket chili. Collegetown Bagels won "best vegetarian chili" with their Roving Gypsy chili, and Life's So Sweet Chocolate won "best other chili" with their chili chocolate. Mat'e Factor won "best presentation."
City of Ithaca Mayor Svante Myrick, one of about 5,000 attendees at the festival, said the festival is an excellent way to showcase local businesses.
"I think it's great for the city because it brings thousands of people into the downtown area," Myrick said. "It shows them not just what's happening on days when festivals are here, but also what The Commons have to offer all year-round."
As for why he came out to the festival, well, that was a simpler answer.
"I love Chili-Fest because I love chili," he said.