The Park Center for Independent Media has named Sharif Abdel Kouddous and the Center for Media and Democracy the winners of the fourth annual Izzy Award.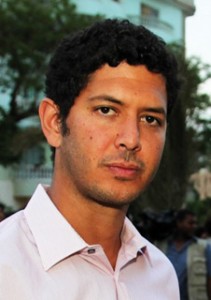 Named in honor of the late I.F. "Izzy" Stone, the award is sponsored by the Park Center for Independent Media and celebrates achievement in independent media. Stone's independent newsletter I.F. Stone's Weekly, launched in 1953, fought against McCarthyism, racism and government corruption.
Kouddous, a correspondent and senior producer for Democracy Now! and fellow at the Nation Institute, received the award for his coverage of the 18-day Tahrir Square uprising in Egypt spurred by President Hosni Mubarak's dictatorship for Democracy Now! Kouddous's reporting later translated into the HBO documentary "In Tahrir Square."
The Center for Media and Democracy, a liberal-leaning investigative research group, was recognized for its coverage of the American Legislative Exchange Council, a conservative nonprofit policy organization that promotes pro-corporate legislation. CMD's investigation, referred to as "ALEC Exposed," chronicled more than 800 bills secretly codeveloped by legislators and corporate lobbyists.
Kouddous and Lisa Graves, executive director of CMD, will receive their awards in a ceremony at Ithaca College on April 10, with a precise time and location still to be determined, according to a PCIM press release.
Jeff Cohen, associate professor and founding director of PCIM; Robert McChesney, author and communications professor at the University of Illinois; and Linda Jue, executive director and editor of the G.W. Williams Center for Independent Journalism based in San Francisco, judged the nominees.
"Both Sharif Abdel Kouddous and the Center for Media and Democracy continue the Izzy Stone legacy of fearless journalism that stands up to the powerful and stands with the forces for change," Cohen said in the release.
Past Izzy Award winners include Democracy Now! host and executive producer Amy Goodman, Salon blogger Glenn Greenwald, investigative journalist Jeremy Scahill, New York City-based investigative news outlet City Limits, and author and syndicated progressive columnist Robert Scheer.
Check back later for more updates.