Every time junior catcher Lindsey Johnson comes to the plate to hit, she performs the same ritual, touching the second "A" in the middle of her Easton Stealth bat as a tribute to her horse Andy. After this symbolic gesture, she steps into the batter's box with strength and poise.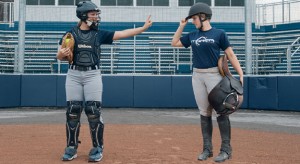 "When I think of Andy and horseback riding, it relaxes me and makes me really happy and confident," she said. "When I'm at catcher and there's a runner on base, I think about the power and the drive that you have — like when you're coming toward that last fence and the last thing you have to do is clear it."
Ever since she rode her first horse at a fair in Springfield, Mass., when she was 4 years old, Johnson has been an avid horseback rider.
"It's something that's become such an innate part of me that I couldn't imagine my life without it," she said.
In addition to her longtime passion for horseback riding, Johnson has also always loved playing team sports for the camaraderie. When she was attending Manchester High School in her hometown of Manchester, Conn., Johnson decided to play on the softball and volleyball teams and participate in equestrian competitions on weekends.
To balance time juggling all three sports, Johnson developed a schedule of waking up between 3 and 4 a.m. to go riding at Windcrest Farms in Hebron, Conn., which was a 25-minute drive from her home. After riding, she would begin a full school day at 7 a.m. Johnson would attend volleyball practices in the fall and softball practices in the spring, then return home to start the weekday cycle again.
"The overlap helped me stay in good shape, but it was definitely challenging, based on time, to find enough hours in the day to practice each sport I was doing," she said.
Johnson was dependent on her mother, Danielle, and younger sister, Megan, to help her stick to her weekly schedule. Megan, who is three years younger than Johnson, competed in the Connecticut Hunter and Jumper Association equestrian shows.
Danielle began horseback riding when her daughters developed a passion for it. Growing up in New York City, she never had an opportunity to ride horses. But now she is a horseback riding instructor for children at Windcrest Farm.
Johnson said Megan and her mother are her biggest critics and most loyal fans.
"The three of us have become what people call 'The Johnson Team,'" she said. "We bounce ideas off each other and make it work in the end."
Danielle said Johnson and Megan's passion for the sport was expensive because the average cost to lease a horse for one year ranges from $4,000 to $10,000.
"Economically it can be a burden at times," Danielle said. "There were very little family vacations. Still, my husband and my son were willing to make the sacrifice for the girls' interest in the sport."
Before she decided to join the softball team at Ithaca College her freshman year, Johnson was in contact with the club equestrian coach, Austra Ravo-Putnam, about riding for the team. After contemplating joining the club team, Johnson chose to strictly play on the softball team because equestrianism was an easier sport to return to.
Johnson started off with a young pony named Molly, who was 4 years old. She finished eighth overall in a field of 10 competitors in her first contest in 2004. The following year, Johnson competed in the Children Medal Championship composed of 99 riders from eight different states using both horses and ponies. Her equestrian career took off from there, as she had the opportunity to compete in the 2006 HBO Marshall and Sterling Finals in Saugerties, N.Y., which consisted of the best 30 riders in the nation.
When Johnson was approaching the final two jumps at the Marshall and Sterling Finals, she knew it was going to be a special performance.
"I remember approaching my last fence, and I could already hear people starting to cheer because they knew it was that great," she said. "One way you know that you've done really well is when you hear my trainer, Armand, cheering for you because he'll always clap, but when you hear him wooing, you know you've done really well."
Johnson won the national title with her brown stallion Andy, who she was able to establish a special connection with because of a shared motivated and competitive nature.
"It's not just you being able to do the part," she said. "It's the horse as well. In any sport you do, there's teamwork involved, and it can be physically demanding."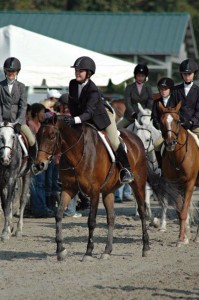 Johnson learned to pick up on Andy's emotions, noticing his ears were forward when he was focused and back when he felt upset.
Though Johnson's lease on Andy has expired, Andy lives in a stable on Windcrest Farm under Danielle's care. Johnson also helps her mother teach younger riders on the farm during the summer.
Johnson's ability to read Andy allows her to make adjustments on the fly, a trait she uses often as a catcher on the softball team.
Sophomore pitcher Jillian Olmstead said Johnson has become one of the team's best communicators behind the plate and has helped her develop more precise location on her pitches.
"She's willing to help anybody, whether it's the pitchers with their pitches or batters with their hitting," Olmstead said.
Softball is a sport Johnson can play for a short period of time, but horseback riding will always be her main passion.
"The way I look at it, I probably won't go professional in softball, and horseback riding is something that I'll have forever," Johnson said. "I tell people that if I had to quit everything that I do, horseback riding would be the last thing I would stop doing."