Sam Champion, weather anchor for ABC's "Good Morning America," shared his experiences with broadcast journalism and warned the campus community to pay close attention to climate change in a lecture Thursday night in Ithaca College's Emerson Suites.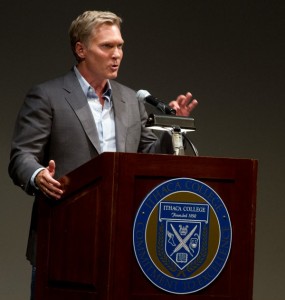 Champion served as the 20th speaker in the Roy H. Park School of Communications' annual Jessica Savitch Distinguished Lecture Series. Savitch, a 1968 alumna of the college and former weekend news anchor for "NBC Nightly News," died in an automobile accident in 1983. The Savitch family established the lecture series in her honor.
Melissa Gattine, marketing communications and Park Design House manager in the Park School, said because climate change is such a prevalent issue, event coordinators believed that Champion would be an excellent speaker.
"Each year we look at what's going on and try to bring in someone who's really relevant that would be of interest," Gattine said.
Amid fluctuating temperatures and an unusually mild winter, Champion spent much of his lecture discussing the issues of global warming and climate change. He said in his many years studying weather, there have always been extremes, but he also recognizes the importance of people having an awareness of climate change and how it affects the population today.
"I encourage you to get people talking about these things," Champion said. "Figure out creative ways to reach a new demographic and tell these stories. I hope it will be as rewarding for you as it has been for me."
But is the warm winter a result of climate change?
"When asked that question, I must defer to the people who spend their lives studying it," Champion said.
He then cited a study released last week by the United Nations' Intergovernmental Panel on Climate Change. The 594-page report states that scientists are increasingly confident that the uptick in heat waves and heavier rainfall is linked to human-caused greenhouse gas emissions.
Mead Loop, associate professor of journalism, acknowledged that reporting on issues such as climate changes is significant, but also carries potential conflicts.
"I think he grapples with the same challenge that a lot of journalists do," he said. "As he said, there's a preponderance of evidence regarding climate change, so how do you tell that truth and seek balance?"
Champion also detailed several of his experiences covering weather disasters, such as the devastating tornado that hit Joplin, Mo., last year, killing more than 100 people and displacing thousands. In situations of natural disaster, he said it is imperative that he relays stories of disaster as a means of informing the nation and potentially assisting the people affected.
"It's very easy for those who hold the cash and hold the funding to not respond in the way that they should if America doesn't know how bad the disaster is," Champion said. "I comfort myself about my presence there because I know that in a way, telling this story will mean that these people will get medical aid, disaster funding, military support or whatever they need when the story is told."
Champion stressed the importance of environmental reporting in his lecture — something that sophomore Steven Brasley came away with as a counter to the stereotype of weather reporters merely standing in front of a green screen.
"It's very obvious from all that he said and all the stories he told us that there's a lot more to weather than just saying what the temperature is," he said.
Champion's address kicked off the "Media for Social Responsibility" weekend mini-course. This is the third year the college has offered this course.