The women's track and field team is looking to capitalize on its renewed focus toward individual results from the team-oriented regular season in order to bring home another Empire 8 Conference Championship crown this weekend.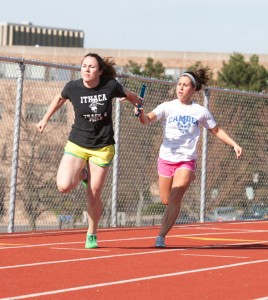 Senior Emma Dewart said the Blue and Gold's psyche is tailored more toward each athlete as the team approaches its postseason meets.
"Our mental training now is much more individualized, so if you are having any problems, the athlete will approach the team's sports psychologist or one of the coaches," Dewart said.
Senior Kate Middleton said the conference title meet is used to readjust each athlete's focus to their own specific goals to maintain a competitive edge for competitions at the regional and national level.
"When we get to this point in the season, we focus on our own mental needs rather than everyone else, because we are striving to be the best," she said. "I know for me, visualizing is very important."
This transition has been a proven strategy for the Bombers, as they have won eight of the last nine conference meets and placed first at last year's Eastern College Athletic Conference Championships. Head Coach Jennifer Potter said the team knows it can take the top spot in the Empire 8 meet at Butterfield Stadium because of its positive attitude.
"When you have won eight of the last nine, you feel very confident," Potter said. "We are very deep right now, so we are feeling very good about the meet."
The South Hill squad is coming off a 2011 campaign in which it scored 132 points more than second place Rochester Institute of Technology. The team's total of 250 points earned it a fifth consecutive Empire 8 championship.
Middleton said this outcome has given the Bombers even more motivation to live up to the standards the team set in the past.
"We know what our potential is because we have seen what we can do," she said. "The only thing we have to worry about is that the other teams are focused on us because they want to win."
The Blue and Gold have competed in four meets so far, and the Empire 8 Championships mark the halfway point of the outdoor season. The South Hill squad hopes to peak in the middle of May when it competes in the New York State Collegiate Track Conference and ECAC Championship meets.
The Bombers will be hosting the conference title meet for the first time since 2008. The team hopes to use the conference championships as a launching point for the end of its season. Potter said the team will approach the Empire 8 meet the same way it has approached the other invitationals this season.
"We really want to go out there and win," Potter said. "But in addition to that, we also want to go out there and build on our strength and our depth for the postseason."