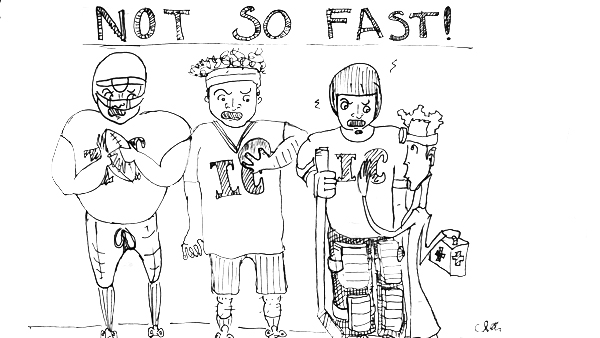 The Ithaca College football program reported 19 concussions last season, more than twice as many as have been reported in past years.
The increase in the number of concussions reported at the college may be because players are better educated about the signs and risks of concussions, leaving fewer concussions unreported. Facing widespread concern that collegiate sports are too dangerous, athletes and coaches must be more aware of the long-term effects of their injuries and are encouraged to put their safety first.
With few exceptions, students who play a sport for the college will look to a future career off the field rather than in a professional league. While the benefits of collegiate-level athletics are numerous, it is difficult to justify the risk of brain damage, degeneration or even death when these athletes are not vying for the fame or the huge paychecks that come from being a professional athlete. Student athletes should seriously consider the long-term injuries associated with concussions and work to ensure they care for their bodies — even if that means sitting on the bench for a bit or taking the time to properly diagnose their injuries.
Varsity athletes at the college are required to take preseason "ImPACT" tests that measure the athlete's reaction time, verbal memory and visual memory. The test provides a baseline to better analyze the impact of concussions on individual athletes. While this focus on prevention and detection is critical to making collegiate sports safer, the test should not be reserved for only varsity players.
The college should commit to giving all student athletes access to the post-injury care and pre-season health screenings that will help treat concussions when they happen. Students who play contact sports, like rugby and hockey at the club level, are still athletes for the college, and it is the college's responsibility to ensure they have the care they need.