Ithaca area real estate saw a 9 percent increase in residential sales in 2012, according to the Ithaca Board of Realtors, aided by the temporary college and university populations.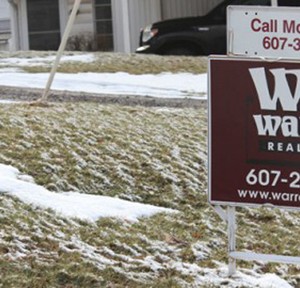 "In terms of the purchase market, I guess Ithaca is a little more unique than other places," Mark Huefner, mortgage consultant at First Niagara bank in Ithaca, said. "It's such a transient population, there is always buying and selling going on. So maybe we're not a good reflector of the rest of the country in Ithaca."
After national home prices historically dropped nearly 20 percent between 2007 and 2009, the national median home price has slowly but surely increased. At $173,600 for all housing types in January 2013, the national median price is up more than 12 percent from last January, according to the National Association of Realtors. This represents the largest national gain since November of 2005.
Ithaca real estate has grown at the same pace as the rest of the country in recent years but continues to be well above the national average. A 5 percent increase in the median sales price of Ithaca homes in 2012 brought the median price to $220,000, according to the New York State Association of Realtors, more than $45,000 above the national average.
"You're going to have a lot of people from Cornell that are here for a certain amount of years, or a lot of post-docs or people that are on fellowship," Huefner said. "And they just know they're going to be here for five years, so they're buying a house, and then within four or five years they're out of here selling that same house."
Much of the area's real estate success can be attributed to the surrounding colleges, particularly during the national housing market crisis in 2009 and 2010, Jordan Jacobsen, a realtor at Warren Real Estate in Ithaca, said.
"Ithaca has been super insulated with both the university, even with TC3, it's helped," Jacobsen said. "There wasn't as much volume or sales that [Ithaca] had done in previous years back in 2010, but it was nowhere near, I think, how it affected the different areas around the country."
New York real estate as a whole also saw its highest number of pending sales in five years in 2012, according to the New York State Association of Realtors.
In addition to the student bodies creating a multicultural climate in Ithaca, they provide opportunities for community members to enjoy activities like sporting events, theater and concerts, Bob Spaulding, president of the Ithaca Board of Realtors, said.
The demand for Ithaca houses is currently much higher than its supply, as January 2013 was New York's lowest inventory since 2005, according to the New York State Association of Realtors. Supply and demand is the main factor in determining an area's real estate market, Jacobsen said.
With trends of declining inventory, low interest rates and an unemployment rate of just 5.4 percent, 2013 continues to look promising for Ithaca real estate, Spaulding said.
"The declining inventory denotes a great time for sellers to put their home on the market," he said. "It also denotes that there is less competition, which typically results in a higher net sales price, and fewer days on market."
Bank mortgage rates currently average out between 3.625 percent and 3.75 percent for a 30-year fixed rate. Huefner said the low rates are leading many homeowners to refinance, as mortgage rates were higher than 6 percent in 2008.
This article was originally produced by the Multimedia Journalism class.