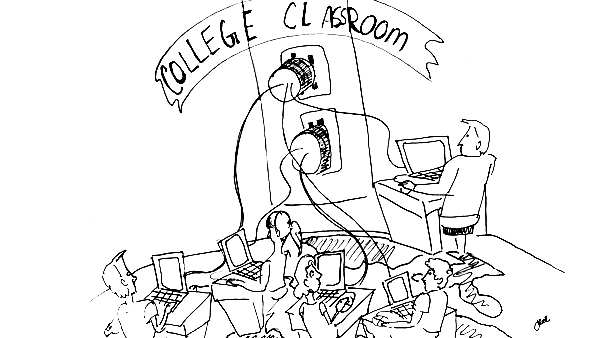 The landmarks of the past academic year have centered on Ithaca College's search for a future. This future is expected to blend the depth and academic rigor of classic in-the-classroom learning with the real-world applications of a more modern education.
Internet-based academia is changing the structure of higher education. Massive open online courses give anyone with Internet access the opportunity to take classes taught by professors at top universities. MOOCs include syllabus, materials and evaluation and The American Council on Education has already accepted five courses for academic credit.
MOOCs are a tremendous development for education equality. If MOOCs continue to grow and give online courses more credibility and lower costs, the biggest threshold to higher education will be Internet access — a major shift in the global education system. MOOCs have the potential to fully democratize education and make quality learning a norm. Though many colleges are not yet accepting MOOCs for credit, the trend of online learning is bringing more options to students. It seems like only a matter of time before traditional institutions will be forced to come to terms with MOOCs in the same way they've come to accept cheap online courses offered by other universities and transfer credits from community colleges. For college administrators, this means finding new ways to make more traditional education worth the cost.
Ithaca College has already begun the conversation about staying competitive as new options for higher education arise, which include satellite campuses and an integrative core curriculum. These changes are a positive first step, but must also be met with general improvements to the quality of an Ithaca College education both in and away from the classroom.
Startup online education companies are creating a business model based on what students want, and traditional education institutions must keep up. A good classroom experience cannot be replicated online. The biggest asset to a small, private college is the potential for students to be a part of a tight-knit learning community where they can build relationships with fellow students and professors. Professors who work to create effective dialogue in their classrooms and inspire students to think beyond what can be typed in a chatroom will succeed. Now, more than ever, it's critical that college administrators ensure professors who do not make par leave their institutions. Students can easily track professor reviews online and decide to take a course online rather than sit through a semester-long course with a professor who continues to get poor reviews from the students. Online forums for learning give students a greater voice in their education and colleges must come to terms with the shift.
Further, colleges that serve as think tanks for social and political discussion and thought will thrive despite threats from online course alternatives. Attending a traditional college is about more than lectures and quizzes. The college years should be a time where individuals develop a personalized global vision that is impacted as much by their colleagues and professors as by their environments. 
MOOCs are a great supplement to higher education and should be embraced as a way to spread information and knowledge, but should not been seen as a replacement for the college experience as a whole. It is the responsibility of traditional colleges and universities to change with the times and find ways to adapt campus learning to better benefit their students.