Eleven years ago, Baruch Whitehead, associate professor in the Department of Music Education, had a dream: to start a gospel music festival for high school students. He had no idea if it would get off the ground and become an enduring tradition, or if it was just a one-time-only event. Still, he took a leap of faith and pitched his idea to Ithaca College.
Now, his dream is known as the Ithaca College Gospel Music Festival Invitational.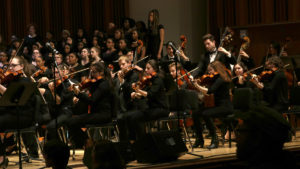 The gospel festival is a biannual concert hosted by the college that brings talented high schoolers together for the celebration and performance of gospel music. The festival was held April 14 in Ford Hall in the James J. Whalen Center for Music. By the time the concert started, approximately 500 people were in attendance.
The concerts began after Whitehead traveled across the country to conferences for honors choir groups and noticed the lack of representation for high school students of color. Whitehead said he knew this scarcity of representation was not for lack of talent but lack of opportunities. He said he wanted to fix this by leveling the playing field between white and black students.
"I wanted to give the children of color the same experience that white students have had all these years," he said.
This year's gospel festival had a special pre-show performance from Sticks + Bars, a youth marimba ensemble from Washington, D.C., which performed seven songs before the high schoolers took the stage.  
Over 200 high school students walked onto the stage, some dressed in black suits, others in simple black skirts and shirts and others in long, blue gowns. They had been bussed to the college from 14 schools as close as upstate New York and as far away as Washington, D.C. They sang a 13-song set featuring melodic songs like "Awesome and Incredible" to arrhythmic songs such as "King Jesus is a Listening."
Excerpt of "Awesome and Incredible" conducted by Brandon Felder and performed by soloists Callie Day and Taiwan Norris at the Ithaca College High School Gospel Music Invitational Festival.
Excerpt of "City Called Heaven" conducted by Janet Galván and performed by soloists Callie Day and Taiwan Norris at the Ithaca College High School Gospel Music Invitational Festival.
Excerpt of "Purple" conducted by Brandon Felder and performed by soloist Callie Day at the Ithaca College High School Gospel Music Invitational Festival.
Whitehead specifically brought the concert to the college to expose the School of Music and the predominantly white student body to more diversity. Now, he said the concerts have become a place to celebrate humanity, community and goodwill.
"We just want people to come and enjoy the music," Whitehead said. "It's truly a concert for humanity."
Freshman Iris D'Urso attended the concert and said she was moved to see everyone's enthusiasm for their religious beliefs and the sense of community that was there.
"It was cool to see everyone embracing the ideas of celebrating music and being thankful for each other because that's not something you see every day," she said.
This community does not only exist onstage but offstage as well. Nakia Marchando, a high school junior from Boston Latin School, said she was worried about meeting new people, but everyone was incredibly nice and willing to help out if somebody did not know their part. Despite their differences and short amount of time together, she said they felt like a family.
The Ithaca College symphony orchestra worked in collaboration with some of the high school groups, creating a blend of gospel and classical music.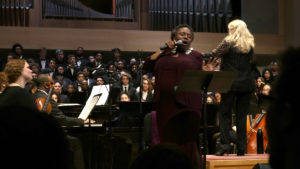 For the performance, Whitehead and Janet Galván, performance studies professor who worked alongside Whitehead to coordinate the event, brought in soloists to accompany the high schoolers. Most notably, singer Callie Day, rising gospel superstar, and Taiwan Norris, a tenor who has traveled the world to sing, performed at the festival. They also brought in Bishop Chantel Wright of Songs of Solomon Academy to conduct the groups. Whitehead said he was happy to have Wright, as his personal goal was to include more female African-American conductors.
Wright's energy infused the crowd and the singers with enthusiasm as she encouraged people to respond loudly if she asked a question or stand up and dance, as she also did during one of the songs, if the music moved them. No more than two songs passed without several people in the crowd standing up and swaying in time with the music.
Freshman Elizabeth Carroll said the experience was unlike any other. As a performance studies major, she said she enjoyed the freedom to participate and give back that energy to the performers, especially when loudly showing appreciation is not often allowed when listening to other types of music.
"I found freedom to yell, clap, stand and react in so many ways extraordinarily refreshing, and I am so pleased that I had the privilege to attend that performance," Carroll said.
Marchando said she appreciated the space Wright made for performers to be just as involved as the audience.
"You could let your emotions go, which was the easy part," she said. "Bishop Wright actually encouraged that. That cooled down the nerves again so I can be myself and put my whole heart into the song."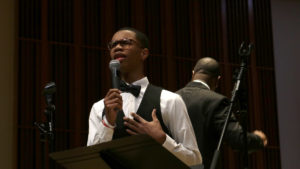 Senior Josiah Spellman performed in the festival during his freshman year at the college, even though he was not a high schooler. Because of his background in gospel music and desire to contribute, when he asked to participate during his freshman year, Whitehead agreed. Spellman said the experience was unforgettable.
"The experience was indescribable," he said. "I just remember being overwhelmed with the talent and the holy spirit."
The religious aspect of the concert distinguishes it from other concerts on campus, senior Juliana Child said. Along with standing up to the music, many in the crowd looked almost in tears, and some of the high schoolers were crying by the end. This is not uncommon at the concerts, Child said.
Child said that the first time she attended the gospel festival was her freshman year and she sobbed because of how powerful it was.
"It doesn't feel like a concert," Child said. "It feels like church."
Child said that after being involved once, she knew she wanted to help to organize the festival every semester. This year, she helped organize the festival by dealing with the behind-the-scenes logistics. She said she makes sure the high school students have music and a place to stay for the weekend.
Spellman said he also felt the same desire to continually contribute to the concert. Because he helps organize the festivals each year, he said it has helped to strengthen his relationship with his religion.
"Gospel festival gives me the opportunity to strengthen my relationship with Christ in a place where I study," Spellman said. "I not only get to communicate with Christ at church and in my home, but also in school where I feel I need him the most to get through my studies."
Although the religiosity cannot be separated from the music, Whitehead said it is not necessary for a person to be religious in order to enjoy the music. He said he wishes everyone could come to the concert because it transcends differences.
"Whether you're religious, black or white, gay or straight, it doesn't really matter," Whitehead said. "If you're open to this music and to this experience, you'll leave with a big smile on your face."