When fall arrives every single year, many new faces nervously await the beginning of their college journeys at Ithaca College. For three freshmen athletes, a new country awaits them as well.
During the 2017–18 school year, five students from foreign countries suited up in blue and gold. So far in the fall 2018 season, three new freshmen from outside of the United States are representing the Bombers: Benjamin Williams, football; Paloma De Monte, women's cross country; and Artem Khaybullin, men's tennis. All three must balance the adjustment of being a student–athlete and being a student in a different country.
Williams, a business administration major who hails from Leighton Buzzard, England, is very new to the gridiron and had never played a game of organized American football before coming to the college. He enjoyed a successful rugby career in England and said he hopes to translate that success to the football program.
"I played rugby through my youth," Williams said. "I was always a big football fan, but it never really struck my mind that I could play. When I watched the series 'All or Nothing' on Amazon Prime– it really inspired me to look into playing American football."
Williams said that when he started to think about going to school in the U.S., he found the Next College Student Athlete program, which helped him reach out to football coaches in the U.S.
"I picked six different colleges and came over from the U.K. to visit them," Williams said. "I tried to keep an open mind for all the schools themselves. Academics were a big priority for me, and when it came around to picking, this school just felt right."
Williams was a kicker in rugby, and while he says the sports are similar, there are some differences that he has had to adjust to.
"The differences in terms of kicking are the material of the ball and having someone hold the kick," Williams said. "The kickoffs are different as well because they are literally all about power, which is different than rugby when you do it from hand instead of the ball."
De Monte, an exercise science major, came to the South Hill squad from Etobicoke, Ontario, which she said is about 15 minutes from downtown Toronto. She decided to come to the U.S. so she could fulfill a dream she had from a young age.
"Only two other people from my school went to schools in America," De Monte said. "Since I was young, the goal has been to come to the States because I have always seen how intense they take sports. Canada is starting to step it up, but I still don't think it is comparable."
De Monte said one difference between Canadian cross-country and American cross country is the units of measurement for distance,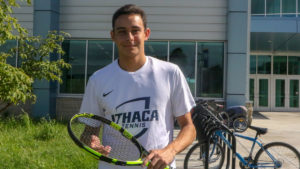 but this is only an adjustment in practice as NCAA meets use the metric system to determine distances. De Montero also said the intensity in the U.S. is ramped up compared to her high school career.
"In high school, our cross country training was next to nothing," De Monte said. "We would meet our coach outside and then run five kilometers around the block. Here, from my understanding, the involvement of everyone when it comes to sports is so much more. It is like Canada on steroids."
For Khaybullin, the journey to America was a goal from the start. He said his parents, who immigrated to Ecuador from Russia, always intended for him to go to school in the U.S. to fulfill this goal, they enrolled him in an international school, which provided a form of Americanized education in a foreign country.
"I have lived in Ecuador for my whole life, and I studied in international school," Khaybullin said. "My counselor helped me find colleges that were big in communications, and Ithaca was high on my list."
While education was the top priority for Khaybullin, who is an integrated marketing communications major, he was also determined to make his way onto the men's tennis team.
"I have played tennis since I was 10 years old," Khaybullin said. "My goal was to be on the tennis team for Ithaca because I didn't want to stop playing tennis. I ended up sending a video and contacting coach Austin, and now I am here."
All three students came to the college on Aug. 20, which was the first day of international orientation. This program was meant to help them adjust, and it helped Khaybullin establish his first friends, including students from Uruguay and Colombia.
Diana Dimitrova, director of International Student Services, said that while foreign students often socialize with American students, forging friendships with fellow foreign students is important as well.
"People who have the same experience get you," Dimitrova said. "A lot of the things we cover in international orientation deal with cross-cultural communication."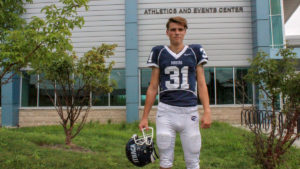 Dimitrova said the cohesive atmosphere international student–athletes encounter when they join their teams has historically helped these students adjust to both life as a college student and life in the U.S.
"While you are on a team you feel like you have another family," Dimitrova said. "In many ways I think that international athletes have another tremendous resource with another group of people who truly get them without needing to give a lot of context."
For De Monte, the adjustment has been specific to her sport, as she, like many others, must adjust to the region's harsh terrain.
"I'm not used to hills," De Monte said. "That's been a big difference. In Toronto, our cross country courses are mostly flat with one big hill. What I noticed in the last meet was that there was rolling hills."
Williams said the atmosphere of the football program alone has been fun to be a part of. He said he was injured with a pulled groin and quad in his left leg during training camp and therefore has not dressed for a game yet, but he is now fully healed and ready to contribute.
"Playing rugby club in front of a few hundred people is different from playing in front of a thousand here," Williams said. "I'm always going to be nervous to go out and do the first kick, but I know that pressure brings out the best in people, and my teammates have my back."
Regardless of class standing, the simple fact that all three hail from outside the country is a marvel to their teammates. For De Monte, this means the occasional joke about Canada. For Williams, this means curiosity about where he grew up and his whole culture.
"I get asked a lot of questions about home," Williams said. "I also get people trying to impersonate my accent, badly of course. It makes me sort of unique and brings diversity to the team."
Khaybullin has had to adjust to the rigors of American sports, which includes less time for recovery after a tournament.
"The training is the same, but the tournaments are really often," Khaybullin said. "It is weird for me to play a tournament every weekend."
While these students have not been familiar with the traditions associated with Bomber athletics, all three said they are enthusiastic to be a part of this community and are hoping to make an impact on the campus.
"I am excited to join the program," Williams said. "At first you are apprehensive. Going onto another team is one thing, but going into another sport is a whole other thing. I have seen videos of other kickers and punters, but it's different to be around them and see how good people are."
Dimitrova said all three students have seemingly adjusted well in their short time at the college.
"I've always been happy to see how international student–athletes hit the ground running," Dimitrova said. "They have been driven all their lives to be their best and come with a lot of skills that regular freshman may not have."