In 1959, the SUNY Cortland Red Dragons took home the first Cortaca Jug after a 12–0 win over the Bombers. Sixty years later, the Bombers and Red Dragons are preparing to face each other once again.
Dan Swanstrom, Ithaca College football head coach, will lead his team on the road in his second–ever Cortaca game as the Bombers head coach. He said he has been a fan of college football his entire life and lives for his moment to coach in a highly anticipated game.
"I love college football," Swanstrom said. "It's what really drew me into this profession. I have fond memories of the whole thing, the colors, the pageantry that goes into it. To be able to be a part of something like that really fires me up."
The Bombers have won 35 of the 59 contests between the two teams throughout history, including a 48–20 victory at Cortaca last year. That win was the first for the Bombers in seven years, a fitting end to a regular season that saw the emergence of then-freshman quarterback Wahid Nabi under the leadership of then first-year head coach Swanstrom.
Now, one year later, the Bombers are looking to do it all again. They enter this year's contest with a 7–2 record and a four-game winning streak while the Red Dragons enter with an identical 7–2 record, riding a one-game losing streak after failing to match the power of No. 5 SUNY Brockport last week. Senior captain Jake Bernstein said he's aware of the rivalry between the two programs and is fixated on getting the win for the Blue and Gold.
"Our motto is to go 1–0 every week," Bernstein said. "So that's kind of what we're focusing on, looking at it like any other game. They are a really good football team, but a good football team allows us to bring out greatness in ourselves. We're excited to get after them."
The Bombers are led by a stout defense that has allowed just nine points in its last two contests. Led by a strong corps of seniors, including linebackers Aaron Francis and Ryan Bronson, defensive ends Brian Gill and Brien Pacholec and safeties Pat Minogue, Ralf Silva and Tyler Kishbaugh. The defensive unit is ranked No.12 in the country. Minogue will be the leader the Bombers will look to in order to stop Cortland's high-powered offense.
"In general, we know our defense is going to play well," Minogue said. "Our offense is going to do what they have to do. We're looking for our offense to put up a decent amount of points on these guys like we did last year, and they also have a really good defense, so we'll see."
Nabi is back at the helm of the offense despite a rough patch in the middle of the season that forced him to sit out a game due to injury, he was also benched another time in favor of senior quarterback Peter Palczewski. Junior wide receiver Will Gladney has been on a record chase all season and is now the program leader in career–receiving yards and career receptions. He is also within reach of the career receiving–touchdowns mark.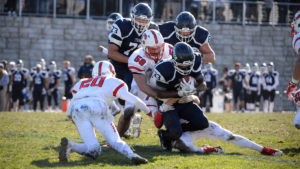 Junior running back Kendall Anderson has emerged as the clear running–back leader in the second half of the season. Anderson has 530 rushing yards on the season and is averaging 55 yards a game.
The Red Dragons finished in second place in the Empire 8 conference, with their losses coming to Brockport and Alfred University. The Bombers faced Alfred in their third game of the season, defeating the Saxons 21–13. In the most reason Division III football rankings from D3football.com, both the Bombers and Red Dragons were left out of the Top 25, with the Bombers receiving seventeen votes and the Red Dragons receiving two. Thirty-two teams qualify for the NCAA Tournament, so this game will be a major factor in the playoff chances for both schools.
Senior Cortland captain Kyle Richards said he envisioned playing this game at home since he was a freshman.
"It's a real competitive game," Richards said. "It's a lot of fun on both sides. We did have a streak going, and we did lose those Jugs, but this year we're coming back, and we're going to fight as hard as we can. We know it's going to be a war. It always is. It's a real fun war. A lot of emotions go into the game, and a lot of fans come out from both sides, and it's going to be hectic, but who doesn't like that? And it'll be a lot of fun."
Kickoff is set for noon Nov. 10 in Cortland. The Bombers will look to win the Jug for the second year in a row and will make their best case for the NCAA tournament selection committee.
"We truly believe that great competition brings out the best in our players," Swanstrom said. "And you'll find out a lot about yourself as a player on both sides of the ball. You'll find out truly what you're about, who you are, what your makeup is and, when that moment comes, what is really inside of you."