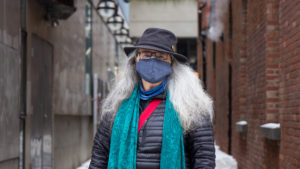 Writing for an Endangered Planet
Fae Dremock, assistant professor in the Department of Environmental Sciences and Studies, is in her seventh year of teaching at Ithaca College.
Alumni have called her "one of the most influential professors we encountered during our time as Ithaca College ENVS majors."  
A native Texan, Latinx and first-generation college student, Dremock said she knows that "it's important that students of color see faculty of color and first-gen in the classroom, people who can relate to their experience."
She recently got Ph.D. and became a professor. Over the years, she worked as a night shift float clerk in a hospital, waited tables, wrote grants, was a science writer, a national award-winning fiction writer, a poet with a published chapbook and became a mediator for conflict resolution.
"I have had a very disjointed life," she said. "I grew up in poverty. I didn't know that you could have a career."
She said she knows that scientific reports are essential, but not the best avenue for communicating the complexities of climate information to the public. So, she passes on to her students the competencies needed to become public intellectuals, mobilizing environmental writing to confront a planet on the verge of catastrophe. Using memoir and narratives about environmental activism and democracy, she also employs experiential education via two journals to give students hands-on experience in environmental publishing. 
 "I love teaching and I love creating courses," she said.
 She moved to Ithaca for this job, and she "can't afford to stay here if not employed," she said. "I still have student loans to pay off." However, she observes, the likelihood of finding any other job as an older candidate is very slim. She may move to Wisconsin, where she has a supportive network of friends.
The administration "made decisions without understanding the gloriousness of this institution — its structure, the value of the NTENs and how they're embedded in departments," she said. "They just tore into the communities we have built."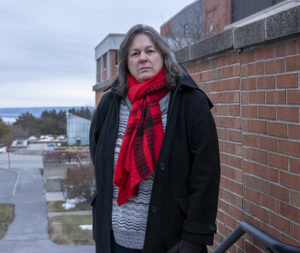 An NTEN is More Than A Statistic
Jamie Rombach, instructor in the Department of Mathematics, has been at Ithaca College for nine years. At 59, she identifies as a lesbian and a minority as a woman in the STEM world. She is also the mother of two teenagers and the sister of a severely disabled man, and she expresses anxiety that "cutting this position will severely limit how much I can support my family financially."
She is active in the local addiction recovery support community, as well. The possible need to leave Ithaca and her deep ties here is, she said, "devastating. Ithaca is my home. It's disheartening to be this old and looking for a job in the middle of a pandemic with so much unemployment."
With a certificate of advanced studies from Syracuse University in teaching and curriculum, which involved completing all the coursework and research for a Ph.D., Rombach teaches introductory classes for business and science majors. But she also leads activities at the High School Math Day, an annual event for area students, and has served as a consultant for educational programs in the community like College Initiative Upstate, which helps formerly court-involved people return to college. Every year she attends statistics education conferences for undergraduate teaching.
For Rombach, students are anything but statistics. "The social and emotional element of teaching is my priority," she said.
She is sensitive to the fact that math itself is harrowing for many.
"I get to know my students and then I teach them math, knowing it's a requirement few want to take," she said.  
She emphasized how much she learns from her students in turn.
"I'm sad for all the students I won't get to teach," she said. "This college is the best place I've ever worked because of the students, the programming, my colleagues. I love my department, and I'm really going to miss them. And I'm worried for those that remain, with larger class sizes and less time for research and projects."
She said she is baffled by the administration's rationale for the cuts.
"They say they're creating a better faculty-to-student ratio, but how do you do that by reducing faculty, decreasing sections and increasing class sizes?" she asked.
This series aims to put human faces on the faculty members who have been notified of their termination as a result of the Academic Program Prioritization process. Faculty members interested in sharing their stories can reach out to Harriet Malinowitz, lecturer in the Department of Writing, at [email protected].