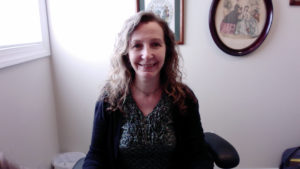 Laboring for Love, Not Money
Julie Fromer, 51, lecturer in the Department of English, has taught at Ithaca College since 2012 and taught full-time from 2003 to 2005. In between, she stayed home to care for her young daughters and wrote a book.
Teaching is her passion, making her forcible exit from her job distinctively poignant.
"I love teaching, and I think I'm good at it," she said. "My students seem to really respond to my teaching. I'll be heartbroken to stop."
Fromer will not face financial struggles as drastically as some of her colleagues who have been terminated. Before the COVID-19 pandemic, she commuted to the college from her home in Corning, where her husband is a physicist at the Corning Glass Company.
"I got paid just enough to commute between Corning and Ithaca," she said. "This has totally been a labor of love."
Fromer frequently taught three Integrative Core Curriculum courses, Fantasy and Fairy Tales, Vampire Literature and Mysterious Muddles, and Commonplace Crime: Gothic Novels and Detective Fiction, as well as a writing intensive course in Romantic-Victorian Literature.
"I focus on close reading with students and helping them articulate their ideas in writing," she said.
She also participates in Pippi to Ripley, the biannual English Department-sponsored conference on science fiction and gender, presenting papers and moderating student panels.
She received her Ph.D. in 19th century English literature in 2002 from the University of Wisconsin-Madison. Her book, "A Necessary Luxury: Tea in Victorian England" was published in 2008 by Ohio University Press. She described it as "a study of how an exotic good imported from China, and later India, became necessary to everyday English life and to defining one's national identity."
She said she will use her newly freed-up time to embark on a project exploring smoking and the role of tobacco in Victorian literature. She said she will also continue her practice of vegetable gardening and growing most of what her family eats during the year.
She holds out hope that someday she will be able to return to teach her students.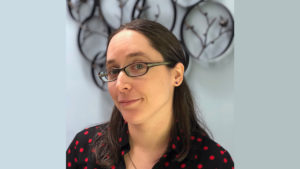 Pedagogy and Puppetry
Rose Howard, 38, lecturer in the Department of Theatre Arts, graduated from the college in 2004. She was a first-generation student and graduated with a BFA in Theatre Production and Design — the very program in which she now teaches. She met her husband, who had graduated from the same program six years previously, at an alumni function.
"I'm a practitioner, so I was never formally trained as an educator," she said. "Other colleges across the country are undergoing similar austerity measures, and their faculty will be flooding the job market."
Nonetheless, she sought training in best teaching practices. She participated in the Early Career Excellence Institute, affiliated with the Center for Faculty Excellence, with cross-disciplinary faculty.
"They opened my eyes to better teaching styles, including universal design for learning and multimodal teaching, that have resonated really well with my students," she said.  
Some of Howard's most proud accomplishments are her work on Broadway. She was a props associate and rehearsal coordinator for shows like "South Pacific," "Sunday in the Park with George" and "Les Liaisons Dangereuses." The production of "South Pacific" won a Tony for scenic design, in which props play a crucial part.
She freelanced for many years, building and designing the set, lighting and costumes for off-Broadway and black box theatres in New York and Seattle.
Then, she said, she and her husband decided to move out of the city. Coming home to Ithaca, where they had enjoyed their undergraduate days, was such a compelling idea that they moved here without jobs. 
Howard spent a year as operations manager at The Cherry Artspace. She is also a member of the Ithaca Puppet Pod, recently marching in two Arctic Animal Parades dressed as a giant otter.
At the college, she has taught and co-taught courses like Production and Scenic Technology, Theatrical Drafting and Model Building, and Theatrical Design Foundations. Skilled in carpentry, electrics, puppetry, scene painting and sewing, she mentors students working on productions at the college.
Looking ahead, she has started part-time work in a small, local solar company and hopes that it may become full time.
"I'll miss the interactions with students," she said. "I'll miss being part of this community. This college has had a big impact on my life."
This series aims to put human faces on the faculty members who have been notified of their termination as a result of the Academic Program Prioritization process. Faculty members interested in sharing their stories can reach out to Harriet Malinowitz, lecturer in the Department of Writing, at [email protected].