Freshmen typically require some game experience to adjust from high school lacrosse to the speed and skill of the collegiate level. However, that has not been the case with freshman John Sramac.
The 6'2", left-handed attackman has started the season with 15 goals and four assists through his first five games, helping the Bombers achieve a 3–2 record. Sramac was also named Liberty League Rookie of the Week on March 29. Sramac began the season as a bench player and was going to be used in moderation as an offensive specialist, but he said he did not envision having this start to his college career. Now, he is looking ahead and not coasting off of his early success.
"Honestly, I try not to think about anything too much," Sramac said. "I try to control what I can control and work as hard as I possibly can. I don't really think about my impact all that much."
What Sramac did control was his training and preparation. Although it was difficult with gyms closed, Sramac said the time off allowed him to focus on his fitness. Since there was nothing to do, he did not have any distractions and was able to physically prepare his body for the leap to college lacrosse.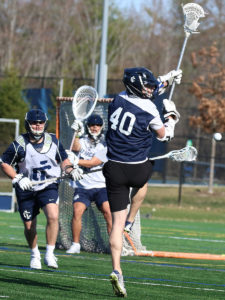 When Sramac has the ball, he uses his size and athleticism to get around defenders and create his own shot or find an open teammate. Those skills are aspects of his game that have carried over from high school. Before he came to Ithaca, Sramac scored over 100 goals in three seasons and was named his team's MVP in 2018. At the collegiate level, he said improving his mentality is the next step in his progression as a player.
"I had a good nervousness before the [first] game, and I think after the first goal, I got to ease into it and stop worrying about everything else," Sramac said. "It's a lot harder to play well when you have a lot going on in your head. I think I'm at my best when I'm keeping things simple and playing with confidence, just kind of trusting my skills."
Sramac's mature mindset was noticeable from the start, senior Connor Till said. Till was not in Sramac's practice pod when the team began training together, but when the offensive starters were grouped together, Till said it was evident that Sramac was going to stand out this season.
"Once he started to play, we knew he was going to be nasty," Till said. "Because of the way he's built, he's a strong kid, you can tell he works hard in the weight room. Watching how well he handles himself on the field, he doesn't really get rattled. A lot of freshmen do. It's hard, mentally, for them to play. [Sramac] just goes out there and plays well."
When Till and the rest of the team got to know Sramac better, it helped them understand Sramac on and off the field. Till and his teammates know that the freshman is going to compete as hard as he can. Whether it is in a friendly contest of NBA 2K21 or in a critical moment of a lacrosse game, it has helped Sramac gain the trust and respect of his peers quickly. 
"I thought he was quiet at first, but he's a freshman," Till said. "Once you get him to open up, he's one of the most competitive kids on the team. I think that just stems from being an ultra-competitive person even outside of lacrosse, which is good. That translates to how good he plays.
While Till and the rest of the team got to know Sramac better on and off the field, senior Connor Brumfield has known Sramac dating back to his high school days. Brumfield and Sramac both attended Mount Lebanon High School in Pittsburgh, Pennsylvania, and Brumfield said he and Sramac have gotten in workouts together before Sramac committed to the college. In addition to being committed on the lacrosse field, Brumfield said Sramac works just as hard in the classroom. Sramac is currently in the exploratory program.
"He's definitely one of the hardest working players on the team now, and it wasn't any different in high school," Brumfield said. "Despite the difficult situation we were in over the summer and fall, finding time and space to work out, John got it done and went above and beyond to prepare for this season."
When the team's coaches were planning the lineups and what roles certain players would have, head coach Jeff Long knew Sramac would get playing time, but was not sure how consistent it would be. Long said it is tough to predict how fast players will develop, but he had confidence Sramac would be able to adjust and perform quickly.
"[Sramac plays well with] pretty much everyone on the roster," Long said. "John is a go-to, do-it-all guy who can carry, dodge, cut, shoot and feed."
Long said that Sramac is an extremely coachable player and that he has many qualities and traits that make him easy to work with. He said Sramac is confident but not cocky, a supportive leader and loves to run through defenders.
Some valuable facets of Sramac's game are his versatility in the offensive zone and having a dominant left hand. During his high school days, he started by playing on the crease and then moved to behind the net and the wings as he improved as a dodger. Sramac said it is similar now, as he is playing with the ball on the perimeter more often.
After playing baseball and hockey with his left hand, Sramac picked up a lacrosse stick similarly. Having both right-handed and left-handed attackmen makes it trickier for defenses to stop the Bombers, which allows Sramac to create his own scoring chances. However, Sramac wants to make his game more well-rounded.
"I'm trying to get better with my off hand and trying to be able to shoot with my off hand as well," Sramac said. "I think I have made some freshman mistakes in practice. I'm just picking stuff up and trying to learn as much as possible from my mistakes, whether it's just little nuances in the offense or other things."
Even though Sramac is second on the team in shots and first in goals, Long said he wants the freshman to shoot more. Sramac said he thinks his shooting ability is his best skill, and that he is anticipating extra attention from opponents now that he has put the Liberty League on notice.
"In high school, I made players around me better by creating scoring opportunities, but I think that has changed since I've gotten here," Sramac said. "I try to keep things as simple as possible. I didn't really think anything after the first three games, but maybe at this point, I might start to see [other teams' defense play me] differently."