The Ithaca College women's soccer team suffered its first defeat of the season Wednesday, Sept. 14, when they fell to the SUNY Cortland Red Dragons 2–0 at Carp Wood Field.
Despite Cortland picking up 16 fouls to the Bombers' six and the Bombers outshooting their opponents 8–4 in the match, the South Hill squad simply could not get anything going offensively. The loss drops the Bombers to 3–1–1 on the season with Liberty League play just around the corner.
Though the game was close through most of the first half, an error by junior goalkeeper Claire Reader gave the Red Dragons what would be the game-winning goal. The first 42 minutes of the game were very even, with neither team really gaining much ground.
The Bombers had a few chances, with the best one coming when senior forward Delaney Rutan took it deep into Cortland territory but was tackled by a Red Dragon defender. Despite outcry from the benches and stands, no foul was called on the play. The Bombers did manage a corner kick just after, and though there was a wide-open window, sophomore defender Allison Heft sailed it over the crossbar.
In the 43rd minute, a pass back to Reader slipped through her legs, allowing a Cortland player to sprint by and outrun Reader to the ball, getting an easy tap-in for the first score. The first half ended with a score of 1–0 Cortland.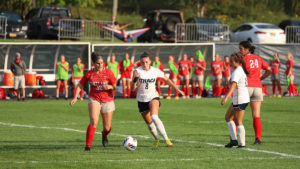 In the second half, the Red Dragons came out strong, getting a shot on goal that was wrapped up by Reader. Immediately after, sophomore midfielder Julia Cascone had a beautiful opportunity with just her and the Cortland goalkeeper, but she put just a bit too much on the dribble and it landed safely in the goalie's hands.
Though they managed four shots in the second half, the Bombers simply couldn't connect, but Cortland was looking just as hopeless and not even managing to get shots off. But with 15 minutes to go, the Red Dragons sent one into the box that went over Reader's head and was tapped in for a second score, making it a 2–0 game.
Though the score held, tensions flared toward the end of the game. In what was a relatively clean game for both sides, the only yellow card came against Cortland with 20 seconds to go.
Despite the loss, Rutan said after the game that it was a good learning experience for the team, and that the team now just needs to stay positive and come back better.
"We can only go up from here," Rutan said. "We needed it. It sucks, but we needed it and we're gonna do better on Saturday."
The Bombers get a few days of rest before they head to Nazareth College to face the Golden Flyers at 12 p.m. Sept. 17.