"Rock step, triple step, triple step, rock step, again!" shouted senior Matt Mahmet, president of the Ithaca College Ballroom Dance club, as he watched pairs dance the swing, "Confident" by Demi Lovato blaring in the background.
Mahmet walked around correcting hand positions, giving tips on how to improve, or taking over and showing the dancers how it is done. From the ease at which he performs the moves, it is easy to assume he has been ballroom dancing his whole life.
But Mahmet, like most of the other members of the club, said he had never danced before joining the club as a first-year student. He said the atmosphere and people in the club are what has kept him coming back year after year.
"Ballroom dance is a partner dance, so you're really connecting with somebody else," Mahmet said. "Especially non-verbally, you know, to cue moves and to cue specific things … and you do meet a bunch of new people, you've danced with them specifically, and it's so cool to, like, get to know these people and dance with them."
Whether it is the tango, jive, quickstep or waltz, just a few of the 12 dances the club practices, Mahmet said there is something for everyone to enjoy, regardless of their experience level.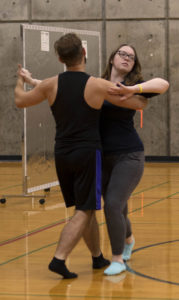 Before the dancers paired off and started dancing together, they split into two groups: leaders and followers. Although the split between leaders and followers are traditionally gender-based, sixth-year student Lochlyn Hejl said everyone is allowed to pick either role.
"Traditionally in ballroom … you have the traditional 'male lead, female follower.'" Hejl said. "We're very much, like, not about that. However you identify, whatever part you want to dance is totally, totally cool with us."
In addition, Hejl said dancers are free to switch roles between different dances, or even halfway through one dance. Hejl said she started as a leader but decided following was more fun, so she changed and now teaches the new dancers the follower moves.
Like Mahmet, Hejl also had not done dance before her time at the college. While she mentioned she was a big fan of "Dancing With The Stars," as were several other members of the club, a big thing she loves about the club is that it does not require any experience.
"There's never any auditions or anything," Hejl said. "You could just come and learn however much you want, be involved as much as you want."
The club meets twice a week, Mondays and Wednesdays from 7 to 8:30 p.m. in the Fitness Center. The first few weeks of the semester typically consists of learning the new dances step-by-step, according to junior Mackenzie Hale, who is in her second year with the club. That schedule helps new dancers learn their moves but also refreshes the returners on what they might have forgotten over the summer.
"We'll have a dance in mind that we're going to work on and we'll review the basics, maybe teach a couple of moves," Hale said. "Then we'll run it as a group [with] partners. … Once it gets later in the semester, we'll just practice dances that we already know."
The club keeps rehearsing the same dances as much as possible because, though Mahmet said they just want people to have fun, there is also an opportunity to compete against other colleges, mostly on the east coast.
Mahmet said the club is still for people of any and all experience levels, but competition — which usually happens twice per semester — adds another layer of fun for the group.
"We go all over, a whole bunch of schools come together and we get to show off," Mahmet said. "We get to see a lot of high-level dancers do their thing, we get to do our thing and we get to be judged for it on a high level. It's really cool."
There are different levels of competition for ballroom dance, so the members of the club at the college compete against other dancers who have similar skills in the newcomer division. Junior Vanivy Delaney said she and her partner placed high in three dances at a competition in Binghamton last year, which she said was a great experience.
"We won third in cha-cha, fifth in international cha-cha and sixth in rumba," Delaney said. "It was cool because I was not expecting to win, but that was fun."
The semester is only a few weeks old, so new members have not quite gotten into the swing of things yet. Whether or not they know any of the dances, Mahmet said he and the other experienced members like Hejl and Delaney will teach them the steps.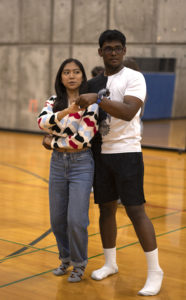 First-year student Lila Mohler said she has plenty of experience dancing but not doing partner dances like ballroom, which was why she decided to join the club.
"I've done ballet my entire life," Mohler said. "So I just wanted to do some sort of other type of dance, and it seemed really fun. And I love the competitive aspect of it."
A common theme among members in the club is that they love how elegant the dances look. Mahmet said his favorite dance is the waltz, which he said was an easy decision, even though it's one of the harder dances the club teaches.
"A lot of people do not [love waltz]—I really do; it's really hard," Mahmet said. "Oh, it's so beautiful. It's very flowy. You move down the stage so elegantly, and you spin around. It's so beautiful. It really is."
While it is beautiful to watch and do, that is not the only reason people keep coming back. First-year student Grace Micheletti credits the energy the leaders bring to the dance floor every practice as to why she wants to stay in the club.
"I think the club is really entertaining," Micheletti said. "All the club leaders are really fun, really chill. They're very supportive, and so even if you aren't a good dancer, you can still learn at least a little bit."
Although Hejl is not on the executive board, she is one of the oldest members of the club and takes on a leadership role regardless. She said she has met some of her closest friends through ballroom dance and she wants to make sure other people can do the same.
"The people that I've met through this club are literally my best friends," Hejl said. "They're people I know are gonna be in my life for the rest of my life. And that is just a really, really special experience to have."
Whether people come for the friends, the fun or the elegance, Mahmet said he wants to make one thing clear: dance is a workout.
"We are a sports club!" Mahmet said, clapping his hands with each word. "I'm exhausted at the end of practice. So, you know, that could be a testament to me, or the fact that we're trying to help them."