Back in 2018, senior Himadri Seth was a typical 17-year-old high school student navigating the college application and decision process. Like many other prospective students, Seth referred to the U.S. News & World Report's annual college ranking list for guidance while college hunting. Four years later, Seth feels that the list had an unfair influence over her.
"Looking at where a college stands in official rankings and in terms of the specific program that you want to apply to is a huge thing for most students — it was definitely a big thing for me," Seth said. "When you're coming out of high school, going to college, [the rankings] play an important role."
Every September, U.S. News releases its college ranking lists, which are highly anticipated by both college administrators and prospective students. Ithaca College has consistently ranked highly on the "Regional Universities North" list. The college's administration has used its ranking to market the college through social media, the front page of its website and email blasts.
In a Sept. 13 Intercom post to the college community, President La Jerne Cornish embraced the college's No. 12 ranking on the "Regional Universities North" list. The college's number 12 ranking is a slip from previous years — since 2016 Ithaca had consistently been in the top 10 of the "Regional Universities North" list. However, in other categories, U.S. News ranked Ithaca College highly. The college received a No. 2 ranking on the "Best Undergraduate Teaching" list, No. 4 ranking on the "Most Innovative Schools" list and No. 18 ranking on the "Best Value" list.
"These recognitions are a tribute to the tremendous work of our faculty, staff and students," Cornish said in the post. "We remain committed to ensuring that this learning experience is also accessible and affordable to students and their families."
However, a recent report authored by Michael Thaddeus, a math professor at Columbia University, has found a deep lack of credibility in U.S. News' rankings. The report — titled "An Investigation of the Facts Behind Columbia's U.S. News Ranking" — found widespread manipulation of data reported by Columbia to U.S. News. Data from Columbia used by U.S. News — like Columbia's student to faculty ratio, graduation rate and the amount spent on instruction — had been inflated and taken out of context. Additionally, the report uncovered vulnerabilities in U.S. News' ranking system that colleges can exploit by self-reporting inaccurate information to U.S. News to move higher in U.S. News' rankings.
"Twenty percent of an institution's ranking is based on a 'peer assessment survey' in which college presidents, provosts and admissions deans are asked to rate other institutions, but the remaining 80% is based entirely on numerical data collected by the institution itself," Thaddeus wrote in the report.
Ithaca College sophomore Ben Sterbenk praised Thaddeus' courage for investigating the authenticity of Columbia's rankings.
"With the elite universities, their rankings on those lists is incredibly important to their financial success," Sterbenk said. "There's a conflict of interest when it comes to the accuracy of this data. I really doubt Columbia is the only one doing that type of thing. It's great they have a professor that is brave enough to actually go and do something that would call it into question."
Sophomore Morrison Powell was shocked that there is little scrutiny of the information reported by colleges to U.S. News.
"It's unbelievable," Powell said. "Certainly if you're gonna try and push that this is the pinnacle reference [on colleges] that all students should be looking at, you need some kind of checks and balances on that procedure."
Following Thaddeus' report, Columbia released more accurate information that caused its position on the 2022–23 U.S. News "Best National Universities" to fall to No. 18, down from its No. 2 ranking the year prior. Other universities have engaged in similar behavior, like Temple University, which settled for $700,000 in 2020 with the Department of Education after reporting fraudulent data to U.S. News. Moshe Porat, the former dean of Temple's Fox School of Business, was convicted of wire fraud and is serving a 14-month prison sentence for his involvement. Similarly, Rutgers University is fighting a lawsuit alleging fraud for inflating information reported to U.S. News.
Almost all American colleges — including Ithaca College — self-report data to U.S. News through an annual Common Data Set document. The Common Data Set creates a centralized standard for colleges to report yearly information on faculty to student ratio, graduation rates and financial aid quality, among other criteria.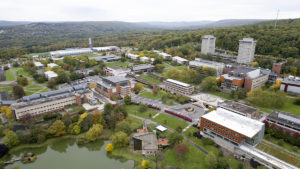 Dave Maley, director of Public Relations, said the college's Common Data Set for the 2022–23 academic year will not be released publicly until late 2022. However, the Common Data Set for 2021–22 contains data that the college does not include in its marketing. For example, in 2021–22, students at the college took out over $16.5 million in need-based student loans and $7.7 in non-need-based aid. The college instead references the percent of students that receive financial assistance. Other colleges on the Regional Universities North list, like Providence College, do not include the amount of loans that their students take out on their websites, while reporting that information on the Common Data Set.
The Common Data Set also shows there were 114 international students in 2021–22, while the college's website claims that there are "about 200" international students. The college could be referring to the 2022–23 international student enrollment numbers, which will be available when the 2022–23 Common Data Set is released. However, given that between the 2021–22 and 2022–23 academic years the college's enrollment numbers dropped from 4,778 to 4,310 undergraduates, it is unlikely that the number of international students grew substantially.
Claire Borch, director of the college's Office of Analytics and Institutional Research, said via email she is confident in the accuracy of the data the college reports on the Common Data Set and declined to comment further. Borch encouraged The Ithacan to send further questions regarding how institutions report their data to U.S. News, who did not respond to a request for comment.
Jed Macosko is the president and research director of Academic Influence, a college ranking website run by academics and digital scientists that uses data technology to create objective, non-gameable college rankings. Macosko said the influence that U.S. News' rankings have on prospective students and their families creates a financial temptation for colleges to skew reported data in order to achieve a higher ranking.
"If you move up in the rankings, it means new dollars come into your university," Macosko said. "Students are more willing to go to your university and are so eager to go you don't have to entice them with financial aid. Donors [also] feel more proud of their alma mater and give more money."
Macosko said that apart from being prone to manipulation, U.S. News rankings are not a fully accurate depiction of a college's quality.
"If U.S. News' rankings stayed the same every year with maybe one or two switches, it would get boring," Macosko said. "Universities don't change very fast and certainly a one-year timeframe is not enough for things to get shuffled around."
Powell said he believes ranking colleges is not possible to do accurately and puts unnecessary pressure on students.
"It's way too binary," Powell said. "It just generalizes way too much. … There's a link between elitism and ranking colleges."
Despite the foundational problems in U.S. News' ranking system, a study by the American Educational Research Association found that colleges and universities that receive high rankings in the U.S. News rankings see a 6–10% increase in enrollment. Correspondingly, colleges and universities that receive low rankings see a decline in enrollment.
Tom Pfaff, professor and chair of the Department of Mathematics, said that when the 2022–23 U.S. News lists were released, the college publicly embraced its No. 2 ranking on the "Best Undergraduate Teaching" list but did not privately thank faculty.
"It seems like the marketing around a No. 2 teaching school would be easy to do and worth touting," Pfaff said. "And if you have a faculty meeting like we had a week or so ago, you'd think the provost would take a moment to say, 'Wow great work, folks, we appreciate it.' But it didn't come up. I find that a little bit frustrating."
Now, in her final year at Ithaca College, Seth said the influence that the U.S. News rankings had over her and continues to have over students and families creates a culture of elitism in higher education. This, Seth said, results in prioritizing the ranking of a college over the quality of education a student receives.
"It's messed up because I feel like it creates this false perception of what's important when it comes to education," Seth said. "For a school like IC, I feel like what needs to be emphasized more is the connections that students make here or the departments and how good the teaching is."