In front of a packed crowd at Ben Light Gymnasium, the No. 25 Ithaca College volleyball team advanced to the Liberty League Championship match with a 3–0 win over the Rochester Institute of Technology Tigers.
Although the final stat sheet might make it seem to have been an easy win for the Bombers, it was anything but. The Bombers narrowly escaped the first two sets with two 26–24 wins, but pushed past the Tigers 25–13 in the third set.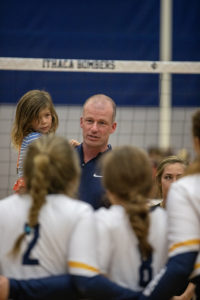 In the first set, the Bombers were helped by four-kill performances from both sophomore outside hitter Faith Sabatier and sophomore middle blocker Aleka Darko. The Tigers had a lead for most of the set, but the Bombers refused to quit. Although they at one point held leads of 10–5 and 18–14, the Tigers could not hold on, letting the Bombers tie it at 18 before the points went back and forth. The Bombers finally strung enough together to take the first set 26–24.
The second set went like the end of the first, with neither team being able to hold a lead of more than two. The Bombers would go on to win it 26–24 again thanks to four more kills each from Sabatier and Darko.
In the third set, the Bombers jumped out to a quick lead and would not look back. The South Hill squad had nine points to the Tigers' three before the first timeout, and the Bombers would go on another run after the break to clinch the set, match and a championship berth.
Head coach Johan Dulfer said he was proud of the way his team performed in the third set given the difficulty of the first two. Although he described the first set as a "learning set," he said the team cannot take too long to figure out its opponent.
"I was just hoping for my team to slowly 'solve the puzzle,' as we call it, and do it quickly enough," Dulfer said. "Can't take more than three sets."
Although the team had a seemingly easy run in Liberty League play — it has only dropped two sets all year to conference opponents — Dulfer praised the team's ability to play close matches, something that is not always reflected on the stat sheet.
"I think we pushed RIT pretty deep into the red, and that's hard to sustain," Dulfer said. "And you saw that in the third set, you know, after the first two punches it was lights out … and that could have gone either way. But all year long, we've been really good in pressure situations."
The Bombers have at least one more match to play before their offseason, when they welcome Clarkson University at 2 p.m. Nov. 5 to play for the conference title. The winner gets an automatic bid to the NCAA tournament, which starts Nov. 11.