Fraternities at Cornell University have made it into headlines in many major publications for reports of drink-spiking and a sexual assault at fraternity parties. And yet, reports of sexual violence, hazing and deaths resulting from fraternity culture are not uncommon.
In response, the governing body of Cornell fraternities — the Interfraternity Council (IFC) — suspended fraternity parties and social events Nov. 7 for the remainder of Fall 2022. The IFC did not respond to multiple requests for comment.
According to the Cornell University Police Department (CUPD), the investigation is ongoing and there is no further information available to the public at this time. CUPD reports state that the recent druggings happened on the 800 block of University Avenue, which houses Chi Psi and Theta Delta Chi. The sexual assault allegedly happened on the 100 block of Thurston Avenue, which only houses one recognized fraternity: Alpha Epsilon Pi.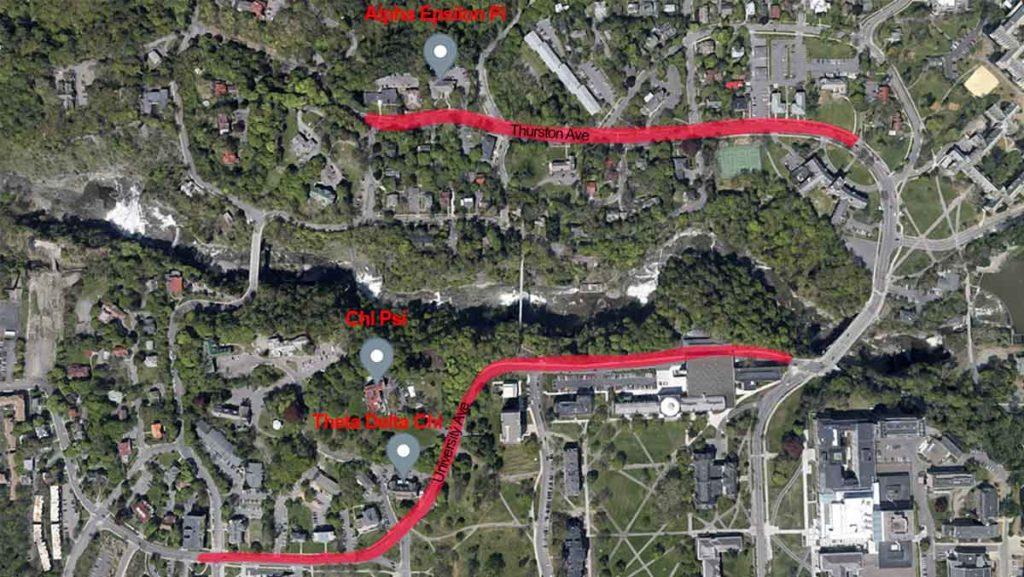 This is not the first assault by a fraternity member at Cornell. The most recent that received media attention was in 2016, when the president of the Cornell fraternity Psi Upsilon was charged with first-degree attempted rape, first-degree criminal sex act with a helpless victim and sexual misconduct. While very few studies exist on the relationship between fraternities and perpetrators of sexual violence, one study from 2005 found that fraternity men were three times more likely to be perpetrators of sexual violence than their male peers not in fraternities.
Tracey Vitchers is the executive director of Its On Us — a national nonprofit that combats campus sexual violence by focusing on prevention education programs and grassroots student organizing — and said that holding Greek life accountable can be challenging for colleges because fraternities operate as semi-independent organizations. Most fraternities report to national Greek life organizations, some fraternity chapters owning their house's property. 
"What ends up happening is that when an incident happens, the university often doesn't have support from the national [Greek life] organization," Vitchers said. "[National Greek life] either supports the chapter or they just don't do anything at all and put this weird responsibility back on the school to hold the members accountable. So, it just becomes a really confusing space for university administrators to navigate."
Vitchers said that if fraternity members believe their university goes too far in trying to hold them accountable, the effort can backfire and fraternities can disaffiliate themselves with the college. This occurred at the University of Southern California (USC) in August 2022 when fraternities severed their affiliation with the university after new policies were put in place, including having security guards at parties, mandated ID scanners and a ban on large containers of alcohol like kegs. These hightened regulations were in response to reports of sexual assaults and druggings.
"[Fraternities] don't actually need access to the university to operate," Vitchers said. "And so they can still be enrolled students, right, unless the university suspends or expels all of them, which we know they don't do … and then they go underground … and you end up in a situation where the school really has no mechanism for holding them accountable."
Vitchers said USC's policy changes were a positive move, but that the university is walking a fine line because it runs the risk of accidentally creating these underground fraternities. Underground fraternities legally do not have the oversight that other college-sanctioned groups have. Under current Title IX rules, colleges are not responsible for sexual assault incidents that take place outside sanctioned programs or activities.
At Ithaca College, the only Greek life recognized by the college is academic-related fraternities like the professional music fraternities. 
According to Dave Maley, director of public relations, over the course of the 1980s, the college's social fraternities were regularly sanctioned for violating college policies primarily related to hazing and alcohol. He said the college revoked recognition of the last remaining social fraternity in 1989. In 1993, the college made the decision to no longer recognize social fraternities or sororities, which remains the policy today. The final decision came years after a student died as a result of a fraternity initiation in 1980. 
Bonnie Prunty, vice president of Student Affairs and Campus Life, said that in 2015, a committee convened to reexamine the Greek life policy on campus. 
"Periodically, we will receive information that leads us to believe that there's an off-campus organization that students have formed," Prunty said. "But it's not a recognized [Greek life] organization, and it's not affiliated with a college in any way."
Despite not having recognized fraternities at Ithaca College, students frequent Cornell fraternity parties. Prunty said this is one reason why the Office of Public Safety and Emergency Management (OPS) issued a notice following the recent shut-down of Cornell fraternity parties that included information and resources.
"Obviously, we realize with both our campuses in the same town and our students interacting socially on a variety of different levels … sometimes safety concerns cross [campuses]," Prunty said.
In 2016, two Ithaca College students were stabbed leaving a party sponsored by Cornell fraternity Omega Psi Phi. One student, Anthony Nazaire, died and the other student, Rahiem Williams survived his injuries.
A Cornell student reached out to The Ithacan to tell his story about being in the Zeta Psi fraternity and experiencing homophobia. The Ithacan has chosen to keep this student anonymous to protect his identity and personal wellbeing. This student said he joined Zeta Psi in Spring 2021 at the same time as his partner but left in September 2022.
"I come home from class one day [in September] and [a homophobic slur was] written on my door, and then when I asked the president [of Zeta Psi] about this, he says that he doesn't know anything that's going on, but he suggested that I leave the fraternity," the student said. "In my opinion, he seemed kind of indifferent to the situation."
The student said that after leaving the brotherhood an altercation occurred in October. 
"I go to my partner's place [at Zeta Psi] and then the president threatens to call the police if I don't leave," the student said. "I haven't been back there since."
According to messages acquired by The Ithacan, after that altercation, the president of Zeta Psi texted that the student was not allowed in the fraternity house for any reason going forward.
At the end of November, the student's partner also left the Zeta Psi brotherhood.
The student said he began experiencing issues with his fraternity brothers last academic year. In text messages from Spring 2022 provided to The Ithacan by the student, a fraternity brother responded to the student's Instagram story that said, "some piping hot tea about my experience with Greek life and my experience with my fraternity…… stay tuned."
"Don't call the house homophobic," the fraternity brother wrote in response. "Pay us our money. You owe the house money and hide behind your sexuality as a reason to not pay. Cancel me I don't give a f–k."
Tyler Boisvert, executive director of Zeta Psi, responded to the allegations of homophobia within the fraternity.
"Homophobia is antithetical to the values and mission of Zeta Psi Fraternity," Boisvert said via email.
Cornell has been transparent about hazing within fraternities and provides a list of the organizations from Fall 2004 up to the present year with detailed reports of hazing incidents.  
Cornell student George Desdunes died in a 2011 fraternity hazing incident. Desdunes' fraternity, Sigma Alpha Epsilon, reopened in 2022 after having been shut down following Desdunes' death. In 2019, first-year Cornell student Antonio Tsialas was found dead at the bottom of a gorge after participating in an unregistered recruiting event at the Phi Kappa Psi fraternity house, which was found to have violated several Cornell policies. The university banned Phi Kappa Psi indefinitely. 
"When bad stuff happens, you know, the school doesn't necessarily do much unless someone — God forbid — has to die in these situations," the Cornell student said.
Vitchers said many of the punishments colleges implement do nothing to prevent future instances of violence. She said schools need to be investing in comprehensive prevention education that empowers men to see themselves as part of the solution. A 2022 study by Its On Us discussed issues with current modes of sexual violence prevention and explored ways in which prevention education can be more effective.
"Participants reported that online trainings were unengaging and ineffective," the study said. "Several said that they barely paid attention and passed the requirements easily."
Elyse Nepa, assistant director of Clery Act and Prevention Education at Ithaca College, said that measuring the effectiveness of prevention education is a difficult task, but that in Fall 2023 there will be two internship positions available for students who have shown interest in tracking the effectiveness of college bystander and violence prevention programs.
"We're going to have students helping us with research so that we can quantify the programs that we're offering to make sure that they're having the impact that we are hoping that they have," Nepa said.