Performers, designers and producers of Ithaca College are setting the stage for the arrival of a band of pirates, an inarticulate linguist, Julius Caesar and a collection of other quirky characters bringing comedy and drama to life at Dillingham Center.
Ithaca College's Center for Theatre and Dance has been preparing for the quartet of shows being performed in the Spring 2023 season for the past eleven months. Students from all different backgrounds and majors on campus are building sets, creating intricate costumes and memorizing lines in the weeks leading up to the performances of "The Pirates of Penzance," opening Feb. 22; "The Language Archive," opening March 24; "Twelfth Night" opening March 29; and "Caesar," opening April 26, throughout this semester.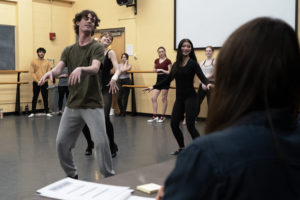 Opening the 2023 season is "The Pirates of Penzance," directed by Ben Robinson, lecturer in the Center for Theatre and Dance, which is a parody of British society following a young pirate apprentice who decides the pirate lifestyle is not for him. The rules and constraints of the culture he grew up in and is surrounded by, however, make for a topsy-turvy journey that mirrors struggles in today's society, Robinson said.
"We are morphing the production into a general commentary on how we stratify social structure through the lens of resort culture," Robinson said. 
Gender-bending, the act of changing a fictional character's biological sex or gender identity from the canonical norm, Robinson said, is another challenge this cast and crew have taken on for this production. 
In response to gender inequity and lack of roles for female voices in the opera, the college's production of this show will feature a woman as one of the main characters who was originally written for a man. 
A study conducted by researchers at Millikin University, in Decatur, Illinois surveyed nearly 600 female-identifying theater design and production practitioners and found 90% of the respondents experienced one or more equity or parity concerns. 
The survey found 80% of the women recalled a negative work environment, 76% experienced gender-based harassment and 51% experienced a gender-based pay gap.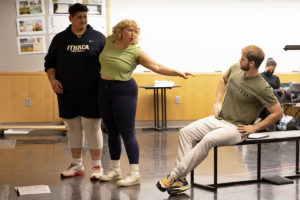 "Changing one of these major roles is trying to address gender inequity, but it is also shifting attention to the power struggle of a woman that is in charge," Robinson said. "We are thinking about the precision of comedy, but also thinking about how to keep the freshest perspective in a piece written in the 19th century."
Robinson said that bringing relevant social issues alive on stage with techniques like gender bending and metaphors for wealth and privilege with a light foot is something the program had in mind while choosing this year's performances.
After the college bids the pirates adieu, a new group of performers and designers hit the stage with a dramatic comedy following a man with passion, and a big problem. "The Language Archive," directed by Marc Gomes, assistant professor in the Center for Theatre and Dance, examines how big of a role communication plays in all lives.
"The Language Archive" is a play that follows a scientist who has spent his entire life obsessed with saving languages with a particular interest in communication. Ironically, however, this language buff is unable to communicate effectively with the one person he cares most about, Gomes said.
"It's about understanding what the actual aspects of communication are rather than just shared languages or collecting or documenting language," Gomes said. "Understanding where in the spaces in between languages there is actual communication, rather than speaking or hearing words."
Following "The Language Archive," a musical adaptation of Shakespeare's "Twelfth Night," directed by Courtney Young, associate professor in the Center for Theatre and Dance, will take the stage. 
This classic Shakespeare play supplemented with music inspired by New Orleans jazz, '80s pop and traditional musical theater follows twins who were separated in a disaster, but eventually end up in the same place. Comedy arises from the Shakespearean twists and turns like mistaken identities and love stories along this self-realization journey, Young said. 
"This adaptation is really about having thought the world was one way, but because of going through an experience, the characters can now see through the eyes of another human being, and that has expanded their world view and sense of self worth," Young said.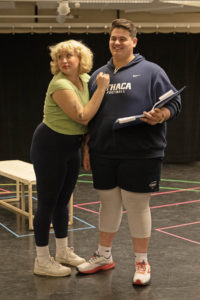 The Spring 2023 season finishes with a modern twist on a classic tragedy in "Caesar," directed by Catherine Weidner, professor in the Center for Theater and Dance. Set in modern Rome, this play explores how relevant the themes of the ageless "Julius Caesar" are in today's society, especially modern politics, Weidner said.
"We are pushing the reset button on what people might think about Shakespeare, what people might think about Julius Caesar and saying 'let's expose this for what it is, for what it means today,'" Weidner said. 
Not just actors and directors are busy at work, however. Because these plays challenge set design and heightened text, Weidner said that an incredible group of costume, sound, set and light designers have been working with stage management teams and production liaisons since February 2022 to make sure everything is ready for when performers are finally assigned their roles. 
"It's like the decathlon at the Olympics," Weidner said. "It's something that requires performers and designers and dramaturgs and stage managers to use every muscle they have." 
Although the performers are in the early stages of preparing for the show, Weidner said she has been working for months on this tragedy, exploring ways to demonstrate the depth of human condition to not only the audience but the cast and crew as well. 
"What I hope people take away from this is that this kind of storytelling matters and that theater can make a difference," Weidner said. "Theater can make you think about something other than where your car is parked or where you would like to go for dinner," Weidner added. 
Ryan Dickson '18, instructor in the Department of Theatre Production and Management, who sits on the committee that picks the productions each year, said he has had a big role in the shows since titles were picked, and now he works on spreading the word of all four shows performing this semester. He said the collaborative nature of the theatre and dance program and the positive environment the staff and students create set the plays up to be successful and fulfilling. 
"It is truly a gift from both pedagogically… an arts management point of view, but also for the students who are creating the world in which they are inhabiting with Catherine's direction, that you have this support on both sides of the coin," Dickson said.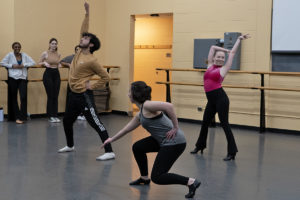 Being an alumni who did performances as a student, and now working with the program to advertise the shows and working with staff directors and student performers and crew, Dickson said he recognizes how much work comes from every facet of the program and how much it means to the students involved, as well as the students' families, and is excited for the audience to experience the students' artistry. 
"Not only are we giving you a great evening of live performance, but we are also making your experience whole from the moment you purchase your ticket, come through the door, interact with our students, watch a great performance and then walk out of the theater with something to talk about," Dickson said.