Every morning, Lesli Sagan takes the same commute to work. She steps out her front door, careful to keep the cats shut safely inside, then hooks a quick left straight down her basement stairs. She passes a haphazard workbench, an elliptical, a smattering of children's toys and a stack of framed photographs left behind by the basement's last inhabitant who, Sagan said, occasionally haunts the place. Sagan's work, too, maintains an ethereal presence in the space: Instead of the usual musty odor one expects of basements, a fruity floral scent hangs over the entire room. The fragrance flows from Sagan's destination, a closet-sized kitchen in the far corner that comes complete with an industrial-sized mixer, buckets of beeswax and dozens of rectangular molds. Every morning, Sagan goes to work at her own small business called Avital's Apiaries, a one-woman company that manufactures all-natural soaps out of the beeswax she harvests from her backyard.
As "Chief Everything Officer," Sagan is in charge of Avital's Apiaries' products from conceptualization to sales, concocting balms, bath fizzies, lotions and salves in addition to her specialty soaps. She started up Avital's three years ago but has been experimenting with bee-based products for almost 15 years. It all started in the early 2000s when Sagan, looking to unwind after working long hours as a systems administrator at Ithaca College, bought enough supplies for two hives and a shoebox full of bees.
"At the time, I lived in the country, and I kept honeybees," Sagan said. "I was single, didn't have any kids. I worked a lot — extremely long hours like a lot of system administrators do. I had a hobby of honeybees, and I thought it would be fun to turn that into a sideline business. I thought about it, but I didn't pursue it because I was working 60 hours a week."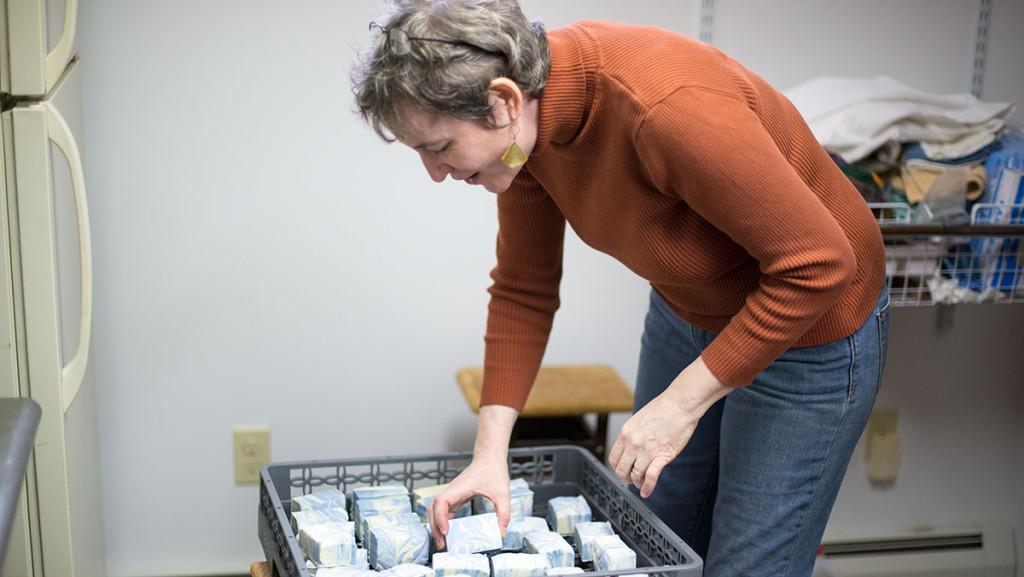 Sagan originally chose the bees because working in windowless rooms maintaining 25 servers at the college left her feeling unbalanced. She wasn't sure quite what she was missing but thought getting better in touch with nature would be a good start. Seeking to take proper advantage of her 10-acre country home, she originally researched alpacas before deeming them too costly and high maintenance. Several books and Internet searches later, Sagan decided on her honeybees.
"For my first season, I was really entranced with them," Sagan said. "It was nice because it was such a contrast from my daily work, which was clean and indoors. I didn't even have windows in my office. I could come home, I could grab a beer, I could throw the ball to my dog and I could work my bees. I could smell the wood and the wax and the honey in the hive. I could be outside, and I could do something with my hands. It was just the antithesis of my daily work, so it felt like it was giving me balance."
Over the next several years, Sagan's apiary expanded to 10 hives. She learned how to use the beeswax and honey to make candles and distributed them to friends for holiday presents. In 2006, she met David Sagan, a physicist at Cornell University's Wilson Laboratory, and soon afterward they married. About a month into her marriage, Sagan discovered she was pregnant. She was faced with a choice regarding her career.
"I knew if I stayed at IC, I would have 25 servers and I would have an infant," Sagan said. "I didn't want there to be that struggle between the two lives, so I decided to stop working and enjoy motherhood for a few years."
It was during this time that Sagan began to seriously consider building a business out of bees. She was invited to vend at a couple local fairs, where her products sold out much more quickly than she expected. As her daughter grew older, Sagan said, she knew her next step would not be back to her old job, but into something new.
"I knew that I wouldn't be able to be just 'Mom' forever," Sagan said. "I worked all my life, and I really wanted another identity besides 'Mom.'"
In 2011 Sagan registered the business, naming it after her daughter, Avital. The transition from computer guru to mother to beekeeper to small business owner may seem strange for some, but for Sagan it is merely the most recent in a long line of unexpected career twists. She attended college during the Cold War, motivating her decision to study Russian culture and literature for the better part of a decade. However, by the time she completed her graduate studies at Cornell, it was 1989.
"Right about then, the Cold War was over, and Russian studies didn't seem like such a good job prospect anymore," Sagan said. "It became really clear that this was not going to be what I wanted to do, just because of the changes in the political situation and the lack of jobs."
Fortunately, Sagan's constant love of learning set her up for success in other fields.
"I had been teaching myself computers all this time, because I liked them — because it was fun," Sagan said. "Of course I had zero professional experience, but I applied to many places and eventually got a job with the South Central Regional Library Council. It was one of those extraordinary lucky breaks in life."
Jean Currie, who was the executive director of the Council at the time, said Sagan proved perfect for the job.
"We loved her because she knew way more about computers and the potential for what the Internet could do and how that would benefit the libraries," Currie said. "She had this kind of bigger vision about what the Internet and computers could be doing."
Computers still play an integral role in Sagan's life and are essential to her professional success. She researches every chemical in her merchandise to mine their maximum health benefits — like the antimicrobial properties of propolis, the crunchy, brownish caulk bees use to glue their hive together and that Sagan incorporates into her lotions and balms. She watches tutorials to improve her soap-making techniques and keeps track of her online sales. She also likes to keep up with current events in Russia and eastern Europe.
"People like my husband get interested in physics in high school, and then they get a degree in physics and they do physics for the rest of their lives," Sagan said. "People like me start out in one path and then they move around and end up doing a little of everything."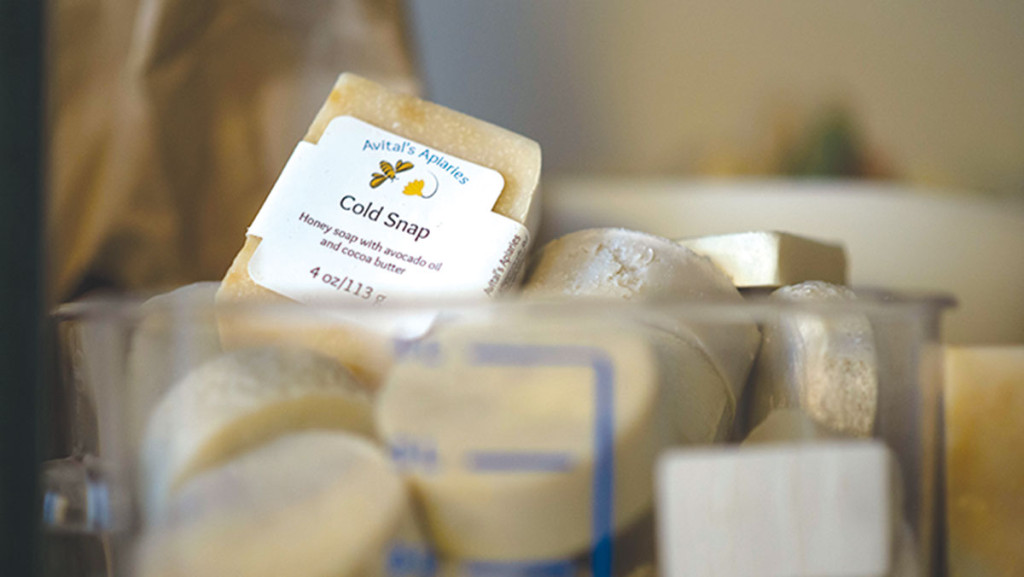 With her latest endeavor, Sagan set high standards for herself from the start, careful to use only all-natural ingredients — even the free-sample vials of artificial stuff she receives with her orders of essential oils are off limits. She works in a chef's coat and lime-green goggles, a happy mad scientist surrounded by her sepia-toned bottles that contain every flavor from orange to lavender. Though most customers stick with standby scents like lavender, Sagan likes to mix and match, preferring some of the more exotic tinctures, like washti, which is spicier and more complex. Whenever a batch doesn't turn out perfectly, she melts it down into useable soap which she then donates to charities.
"There's something very satisfying that even your mistakes are still really useful," Sagan said.
Some of Sagan's products draw inspiration directly from family and friends, like a possible line of children's products based on her daughter's new obsession with unicorns. Another scent combination, the lemon-ginger body butter, is based on a concoction one of Sagan's friends makes every winter, a stew of lemons and honey and ginger. Now, according to Brittany Lowry, a health consultant at Nature's Remedy in Ellicott, New York, the ginger-lemon body butter is a best-seller at the store.
"We've been carrying Avital's since December 2013," Lowry said. "We always try to carry local, clean, simple products. The look of it has to be professional, and we definitely found that in Avital's Apiaries."
In the past year, Sagan said her business has doubled. When it began, Avital's Apiaries sold casually at fairs with a few special orders, but in just three years Sagan's products made their way to the shelves of nine specialty stores in the area. Now, Sagan has her sights set on moving out of her haunted basement and into a real facility.
"What appeals to me with this is on the one hand, it's a creative endeavor," Sagan said. "I can decide on things like scents and colors and patterns. It's also very practical, and I love that practicality, the same way I love the practicality of working with computers. I see the results of my actions. Just as I can watch 10,000 email accounts flowing smoothly and that gives me satisfaction, I can see 2,000 people using my soaps and know I've improved their lives in a small way."