International students at Ithaca College were confused and frustrated when their health insurance was abruptly denied in Fall 2022 by the college's affiliated health insurance broker. After being provided with a one-time waiver upon inquiring, they were subsequently informed that their insurance will not be accepted from Fall 2023 onwards, which raised concerns over affordability.
With multiple stakeholders and partners involved in the insurance process, international students sophomore Jaqueline T. Pereira, junior Utkarsh Maini and senior Fabiha Khan expressed their wish to receive better communication from the college, the lack of which caused students to be uncertain and annoyed about their health insurance in the first place. At the college, all students are required to have a comprehensive health insurance plan and are automatically enrolled in the Student Health Insurance Plan provided by the college's insurance provider, which is currently MVP Health Care, for an academic year unless students choose to opt out.
International students can opt out of the SHIP only if they have a health insurance plan that meets standards determined by University Health Plans, an expert brokerage that specializes in risk management for colleges and universities. 
Historically, international students have been able to opt out of the SHIP by signing a waiver form and sending their insurance information to UHP for review. Because most international students cannot carry over health insurance from their home countries to the United States, they purchase plans from companies like ISO Student Health Insurance. ISO is a health insurance company that specifically creates affordable health insurance plans for international students in the U.S.
Pereira is an international student from Brazil and said she was annoyed when she found out that her waiver was denied because she was not informed that the college is no longer accepting ISO's insurance plans. 
"Last semester [Fall 2022] I was just so mad because I have health insurance that literally matches all the policies that [the college] require," Pereira said. "It's not a really cheap health insurance … but is much less than the school one and it literally covers everything that I need."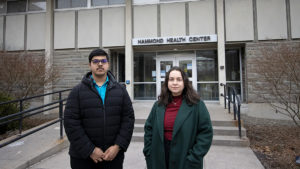 MVP Health Care, the college's SHIP for the current academic year, costs $2,713 for the entire year, from Aug. 10, 2022–Aug. 9, 2023. MVP Health Care was also the college's SHIP for the 2020–21 academic year. In the 2019–20 academic year, it was provided by Wellfleet New York Insurance Company and cost $2,112 for the entire year. The $2,713 fee that is charged for the MVP plan includes a $66.40 broker fee that UHP receives. ISO offers three Affordable Care Act-comparable health insurance plans ranging from $864–$1,452 per year, or $72, $79 and $121 per month depending on the plan. The ISO copay to consult an off-campus primary care physician is $30 and to visit urgent care is $50. While the cost of copay for the same services is $15 with MVP Health Care's plan, ISO's plans have a lower base rate overall. Other factors like deductibles, copays and frequency in use of medical services impact the cost an insured individual would pay in total.
For the 2023–24 academic year, the college will not be accepting health insurance plans from ISO, which is just one of the seven insurance providers UHP no longer considers to fulfill the college's standards for insurance. Other companies whose insurance plans will no longer be accepted include Global Benefits Group Insurance, HDL Global Speciality, PGH (United), PSI, Student Medicover and Tata AIG. According to the college's website, this is not an exhaustive list and is subject to change.
Pereira said this change was not clearly communicated to international students, who were used to purchasing and renewing their insurance plans from companies like ISO. Hence, when international students' waiver to opt out of the college's insurance plan was abruptly declined by UHP in Fall 2022, they were frustrated. 
In Fall 2022, Maini, an international student from India, ended up paying for two health insurance plans because his waiver was first accepted and then denied. Maini bought his insurance, worth $1,200, in the last week of July 2022 from ISO. In the first week of August 2022, Maini's waiver requesting to opt out of the college's insurance was approved. A few days later, Maini said he received an email from UHP informing him that the ISO insurance would not be accepted because it was not compliant with the ACA and he was automatically enrolled in the SHIP.
"By that time [Fall 2022] the college didn't have any kind of communication about changes in health insurance, so I don't know what happened," Maini said. "It was really stressful for me because for months, [the money] was completely blocked off for me."  
Pereira said whether or not an insurance plan is compliant with the ACA has not been a major issue or reason for denial prior to Fall 2022. 
Niraj Jani, senior director of operations at ISO, said international students are not legally required to have an ACA-compliant plan. Jani said while requiring students to have an ACA-compliant plan is beneficial, it is not fair to international students.
"The intention for the school was good," Jani said. "You might have friends who are citizens or residents or even domestic students. They have other options [to get an affordable insurance]. … But as an international student, you really do not have that option. So it's not a fair playing ground for you to compare."  
Pereira said she found out that her insurance plan would not be accepted when she did not receive a confirmation email for two months after submitting her waiver. When Pereira inquired about the waiver submission to UHP a representative from the company responded with a waiver form saying that it was not available online. The representative said in the email that Pereira's insurance might not be accepted for the 2023–24 academic year if it did not meet insurance standards and that this was a one-time waiver.
Pereira said she would have no objections to opting in for the college's insurance plan, even if it was expensive for her, as long as she is told why she must do so.
"If you give me a solid answer, like a very good reason of why … I'll work my — off to pay this health insurance," Pereira said. "But if you don't give me a right answer … [international students will] struggle even more than we already do."
Timothy Downs, chief financial officer and vice president for Finance and Administration, said health insurance plans should be ACA-comparable, even if they are not necessarily compliant. An ACA-compliant plan meets the standards and regulations of the ACA, commonly known as Obamacare. An ACA-compliant plan covers 10 health benefits and has no cap on benefits the insured can receive in a year or lifetime. 
"We want it to be ACA–comparable as opposed to this very rigid 'Oh, it's got to be this very standard checklist for those pieces,'" Downs said. "The reason we partnered with UHP is they would be the ones who could go kind of line by line and say here's what an ACA–comparable plan has, versus here's what it does not."
In Fall 2022, the college partnered with Cayuga Health Systems to enhance the services of the Hammond Health Center. One of the main features of this change was that students now have to use their insurance plan to utilize the medical services of Hammond Health Services after paying a copay. According to an Intercom message posted in July 2022, there has been a change in the insurance plans that Cayuga Health Systems accepts as a result of the partnership.
Jani said there seems to be a discrepancy between the emails that students received and what is written on UHP's website for Ithaca College regarding a comparable plan versus a compliant plan.
"So if you look at the school's insurance page … it says you need to have a comparable plan … and it directs you to the UHP website," Jani said. "The UHP website says you can have an alternate plan but it should be through your employer or your parents or sponsors. So it kind of confuses the student. I don't see anywhere on the school page that it says ACA compliant, but the denials we had received [were] saying that this is not ACA compliant. So, there might be a disconnect somewhere."
Jani said UHP is a known entity in the student insurance area and that it must consider the affordability of insurance plans while reviewing waivers as well. Jani said colleges and their affiliated entities can choose to push ACA-comparable insurance as an institution, but re-emphasized that legally, international students are not required to have ACA-compliant insurance.
Maini said affordability is an important factor for international students especially because there are some factors that are beyond their control. Maini said via email that these factors include foreign exchange fees and wire transfer fees which add to the cost. For Maini, the college's insurance plan cost almost $2,900 overall, which is even more considering the currency conversion rate because a U.S. dollar is equal to about 82.88 rupees. 
Jani said ISO was first made aware of the situation of denial through a student whose insurance plan was denied by UHP. Jani said the college worked with ISO and helped students with the issue. 
"One of my colleagues did have some conversations with the school and the school understood and made a lot of efforts to help the students out because it was kind of new in the Fall [2022] term," Jani said. "I don't know what will happen going forward."
Diana Dimitrova, director of International Students and Scholars Services at the college, helped international students through the waiver process. Dimitrova said she worked with Bonnie Prunty, vice president of Student Affairs and Campus Life, to help international students submit their waiver forms to UHP again and get them approved for the 2022–23 academic year. 
Dimitrova said she feels positive about the insurance plan that the college will provide for the future and is working with other members of the college to address the issue. 
"I am keeping in touch with … Ms. Prunty and Mr. Downs who are leading these conversations and from my experience with them, they do get it, they do understand and I'm grateful for that," Dimitrova said
Dimotrova said the lack of communication with students was perhaps caused because of the shift in the college's health and medical services.
"There was just so much change and it happened relatively quickly for something that was this complicated, and there wasn't sufficient time for those things to be communicated," Dimitrova said.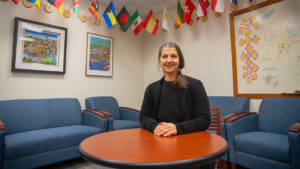 Khan, an international student from Pakistan, said that when she went off campus to visit her doctor's office for a routine checkup in New Jersey, she was charged $300 despite having her MVP insurance and struggled with communicating with MVP Healthcare. Khan also said she transferred from a community college, where she used an insurance plan by UnitedHealthcare. Khan said she did not experience any difficulty with her previous insurance.
Khan said the college should help students understand the insurance process, which can be particularly challenging for international students to understand. 
"These are 20, 21-year-olds, coming from completely different countries who have no idea about how to deal with insurance because they come from places most likely where healthcare is cheap," Khan said. "[They] have no idea about how to pay for premiums or what it's like. They need a breakdown, they need objective things that show them what their insurance covers and what it doesn't cover and how much they're paying for it and where that money goes."
Sophomore Vanessa Mpofu, an international student from Zimbabwe, said she has a skin allergy and that she is currently paying for medical consultation with a dermatologist with her own money because her MVP insurance does not cover the costs of her treatment. Mpofu said she applied for the college's Student Emergency Relief Fund to fund the cost of her treatment, which she has not received yet. Mpofu said she frequently uses the Hammond Health Center and did not find the MVP insurance useful off campus.
"I don't get why they're not contracting like those big health insurance companies because there is clearly something going on here, it's not just about MVP not being partners with other health professionals," Mpofu said. "I don't think it's worth the $3,000. If they want to [require] the MVP, it should be [at maximum] $1,000 because it's not doing anything."
Downs said the college is already reviewing the SHIP for the 2023–24 academic year and that communication is a key part of the process that he wants to emphasize.
"One thing I actually want to drive is the communication and the clarity in this and frankly, the timeliness," Downs said. "I feel like we're already a little bit late because by the time we select the plan, we have to communicate it out and I want to make sure we are absolutely communicating to every constituent that's out there."
Downs said the college does not monetarily benefit from the health insurance process and prioritizes students' well-being first.
"In no way does the college profit from any of these health plans," Downs said. "We're trying to find that balance in the plans that's going to give families, you know, an appropriate monthly cost balanced with … an appropriate out-of-pocket cost … but we make no money from it … there's nothing that we get from it other than the fact that we want to make sure our students and families have the best plan."