Nestled among the rows of charming houses and tree-lined streets in Downtown Ithaca, a vibrant energy pulses from one particular residence. Inside lives some old furniture, sports memorabilia and the constant hum of competition and camaraderie. 
For six members of the Ithaca College men's lacrosse team, sharing bonds on the field was not quite enough. Alongside three of their former teammates, the band of nine has shared an off-campus duplex home since August 2022. 
Senior midfielder Andrew Tinnesz said that since they are always together on campus, the group's decision to live together is one that went unspoken.
"To be honest, we all kind of knew we wanted to live together without saying anything," Tinnesz said. "When we became seniors, we wanted a big backyard and a lot of space, so the easiest way to do that was to find a house together."
Tinnesz said that because he and his teammates are all on the same schedule, living together throughout the year has reaped some interesting benefits on and off the field.
"We're all in similar majors and we can only take classes at the same times, so homework and studying is something we all do together," Tinnesz said. "Of course, we always talk about practice or games as soon as we walk in the door, so the space really gives us a chance to handle our academic and athletic commitments together."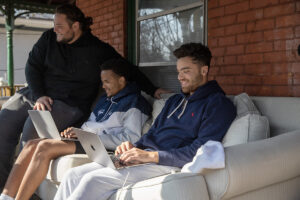 Tinnesz's living arrangement, however, is not a unique one; a 2015 study by the NCAA found that 43% of men and 36% of women who were student-athletes were more likely to live exclusively with other student-athletes. At the Division III level, it was 33% of men and 22% of women.
At Ithaca College, many groups of athletes make the decision to live together off-campus as soon as they are eligible to do so for their senior year. Just around the corner, five members of the college's football team shared the same idea.
Senior quarterback Max Perry said it was his junior-year roommates who influenced his decision to move off-campus.
"It all started last year in [the Circle Apartments]," Perry said. "We're a really close team, so it could have been anybody, but it just so happened that me and four of my teammates really enjoyed living together. We didn't have any problems."
Perry said that making the decision to live with his teammates has undoubtedly brought the group of them closer together, which shows on the field.
"When we're home, we always talk about how we can play better and what more we can be doing," Perry said. "They're already my best friends, but living together has really strengthened those connections."
Between practice, games, strength and conditioning training and film sessions, many athletes already spend the majority of their time with their teammates. Perry said that although it can sometimes be overwhelming, he values his living arrangement more than anything.
"Personally, if I live with someone for a long time, the little stuff can start to get on my nerves," Perry said. "Luckily, though, we're all so close and understanding that nothing has ever broken our chemistry. If anything, those little fights and arguments help us get closer."
Tinnesz said that having a shared space among a group of seniors has even aided his team in terms of leadership.
"All three captains live together on the same side [of the duplex]," Tinnesz said. "If there are any conflicts or any problems [within the team], we're always the first to know and we can sort it out right there."
Similarly, senior swimmer Lauren Brady — who lives next door to Perry with four of her teammates from the swimming and diving teams — said that fostering leadership in her house has helped to navigate any tension within her team.
"One of my roommates is a captain on the team, so sometimes she'll come to us for advice and input on how to handle a situation," Brady said. "Having a lot of our team's leaders working together in one spot has really helped us avoid some unnecessary drama."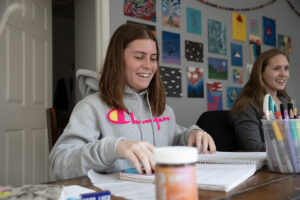 Brady said that as her connections with her teammates grew within the house, it has become much easier for her to provide constructive feedback during practice knowing that there is already a deep sense of trust.
"I definitely have gotten more comfortable speaking up around my teammates at practice," Brady said. "As a senior and a leader on the team, I don't always vocalize things, but around [my roommates] it's easier to do so because I know they'll be there to support me." 
In parallel, Perry said that because of the trust and camaraderie he and his teammates have built within their home, he has a deeper understanding of what they need on and off the field. 
"When you live together, you know how your teammates act under pressure and how they're going to respond in certain situations," Perry said. "You know how to calm them down and how to handle when they're not being themselves. Everything we build here only benefits us; it doesn't hurt us at all."
As it is his final season in Bomber threads, Tinnesz said that while reflecting on living with his teammates, he is largely grateful to be able to work, play and spend time with them at all.
"We all truly want the best for one another on and off the field," Tinnesz said. "All of us are going to be lifelong friends regardless, so being able to go to battle for one another on the field just means that much more."