When you start your senior year, everyone tells you to savor your final moments and enjoy all of your "lasts." We always see the sappy social media posts from athletes with the caption, "Last First Game," or the end-of-college-career series of pictures from every stage of a decade-long career. Nearly every athlete thinks about it but never thinks the time to post will actually come. 
We talk about the "lasts" so much that we rarely talk about the "firsts." For many athletes, when their college careers end, it is the first time they can no longer identify as an athlete. The first time athletes have free time between the hours of 2–6 p.m. It is the first time they have a newfound freedom — one that they often do not know how to navigate. Personally, I was not ready for these "firsts" to come, so I chose a different "first" instead.
After being on the field hockey team here at Ithaca College for the last four years and having all my "lasts" in the sport I played for 15 years, I decided I wanted my new "firsts" to look a little different. While in my Introduction to Sports Psychology class during the fall semester, some new friends that I met on the men's and women's track and field teams convinced me to give the sport a shot when the field hockey season ended. 
And when I say a shot, I mean literally — a shot. I joined the team as a thrower and competed in shot put and weight throw during the indoor season, then in javelin, discus, hammer throw and shot put again this spring. 
While this was not a "first" in the sense of my first time ever doing the sport, it was my first time competing in it since my sophomore year of high school. In returning to a sport I had not done in nearly six years, I would be lying if I said trying it out again did not scare me at least a little bit. 
I felt like an imposter at first — what was I thinking even considering joining a nationally-ranked college track and field team in my last semester? Quite frankly, I was worried that it would be disrespectful to think I could do it, since I had not thrown in so many years. In spite of these worries though, I am thankful that I had teammates and coaches from both field hockey and track and field who believed in me.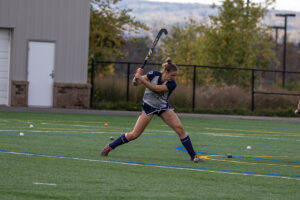 If there is anything I learned from collegiate field hockey, it is that you grow through discomfort, even if it does not feel like it at the moment. Often, you have to push yourself beyond your self-perceived limits in order to learn and become a better version of yourself in sports and in life. Even then, progress is not linear, and there are peaks and valleys in every stage. 
In saying yes to joining the team, I knew this decision alone was out of my comfort zone and that actually doing it would bring me peaks and valleys. What I did not know was that joining the track and field team in my senior year of college would arguably be the best "yes" I have said up to this point in time. 
That does not mean joining the track and field team has been all peaks and no valleys, but rather it has brought me some of the highest highs that make all of the lows worth the risk that came with a spontaneous choice. Of these highs and lows, the greatest high has been falling back in love with sports again. When I decided to take the leap and try throwing again, that was my only goal: love sports the way I did when I first began playing them at 5 years old. 
While field hockey became the sport I was most passionate about in junior high, my relationship with it also had its highs and lows. One of my biggest struggles with the sport in college was something that has become somewhat of a hot topic in conversation around mental health in athletics: burnout.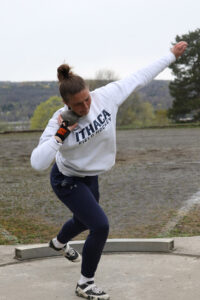 I never faced burnout until I came to college, and I believe that is partially thanks to having played multiple sports not only in high school but throughout my entire life. This is something we are straying from as a society as youth sports are becoming more specialized and competitive at a younger age, despite evidence that playing more than one sport makes kids better athletes overall.
Because of this, playing only field hockey all year round in college came as somewhat of a culture shock to me. I struggled with this mentally as time went on and felt guilty for not being as passionate about the sport as I once was. This is partially because I had no idea what I was experiencing, never mind what burnout was at the time.
Despite all of the obvious negative consequences that came out of the COVID-19 pandemic, one little light that shined for me was a break from the sport, which ultimately helped me fall back in love with it for a period of time during my sophomore and junior year. But as we started to come back to "normalcy" — whatever that actually means — I began to put more pressure on myself to perform again and began to fall back into old feelings. 
It is important to add that this was no one's fault, as I had incredibly supportive teammates and coaches all throughout my time at the college, but rather an individual struggle that just came as one of the many life lessons we learn through athletics. I strongly believe that sport mirrors life and society in more ways than we often realize as athletes that are still competing. 
One of the biggest lessons I learned from sports came from my strength and conditioning coach during my first year here at the college. He said, "If you're not having fun, you're not getting better." This resonated with me deeply to the point I wrote it down and have it hanging by the light switch in my room to serve as a reminder for every day, not just in sports, but again in life outside of them.
It feels full circle to have heard this my first year of college and to now see it coming to fruition in real time my senior year as I compete in a sport that I quit as a sophomore in high school because I thought it was boring. Now as I face the last two or three weeks of both my first and last collegiate track and field season, I am so full of love for a sport that I would have laughed in the face of anyone that told me I would come back to in the last chapter of my athletic career. 
Ithaca College track and field reignited a love for the sport that I did not know I had, but it also reminded me of my passion for field hockey and athletics in general. 
So as I begin to face all of the "lasts" these next few weeks of my last semester as a Bomber will bring, between my last practices, last meets, last Liberty League Championship, last undergraduate classes, final goodbyes and of course graduation, I am reminded among all of the "lasts," there are still so many "firsts" to come. Because, again, sport mirrors life in more ways than we often realize.