Student leaders and Angélica Carrington, director of the BIPOC Unity Center — formerly the Center for Inclusion, Diversity, Equity, and Social Change — have led the charge to rename the center, reestablished its mission and set forth new initiatives for BIPOC students at Ithaca College.
Focus groups were held in April and May where students, faculty, staff and alumni could give feedback to help inform a renewed mission and name that more accurately reflected the community, solidarity, advocacy and educational purpose of the center. 
"I know I had ideas, but my approach is … 'Does this match what the students are hoping for?'" Carrington said. "I know that's always an ever-changing process and just because one group of student leaders wants something, it doesn't always represent all the voices."
Bonnie Prunty, vice president of Student Affairs and Campus Life, said many BIPOC students shared that upon arrival to campus, they sometimes thought the Center for IDEAS was an academic or innovation center. 
Story continues below advertisement
"That [feedback] led us to say, 'OK, well then let's take a step back because obviously the office isn't going to have the outreach and the impact we're looking for it to have if people don't understand what the office is intended to accomplish," Prunty said.
Senior Ashanti Ford, peer educator for the BIPOC Unity Center and student organization liaison for culturally-based student organizations, led some sessions alone so students could speak in a more relaxed environment.
"Sometimes you don't want to talk to administration," Ford said. "I would be like, … 'It's just going to be me. Please tell me, what do you need from our office?'"
Ford said the center has been a big part of her life at the college and has empowered her to advocate for herself and her peers. She said piloting new initiatives and redefining the mission of the center are all in effort to support BIPOC students. 
"I want to be a resource and I want to be able to get the resources that I deserve," Ford said. "Closed mouths don't get fed. … The office has given me a voice to actually talk about things that I feel uncomfortable about [and] make me feel comfortable. I always have some type of support."
Another facet of the conversations that occurred in the past year was a three-point proposal that student leaders created, which included a BIPOC Jumpstart Program, affinity-based housing and a BIPOC mentorship program. While the Jumpstart Program had its first cohort this August, Prunty said the Office of Residential Life and the Office of Student Conduct and Community Standards are still working with student leaders on the other two goals. Prunty said the college is hoping to have an affinity-based housing option as early as Fall 2024.
Prunty explained that the mentoring program is a bigger project because it would require additional staff to oversee the program and facilitate pairing and training.
"What we've talked about is … networking opportunities with recent grads and recent alums," Prunty said. "So, that's kind of where the commitment is in the short term while we think about in the longer term, 'How could we build the capacity to be able to support more formal mentoring program of some kind?'"
While a formal mentoring program may not exist yet, there are alumni on campus — like Kyla McCall '22, operations coordinator for the Physicians Assistant Program — who are involved with the BIPOC Unity Center and regularly connect with students.
"I regret not being as engaged with it as a student here, but now as a staff member, I really love to be able to offer that supplemental support to not only students of color, but just the BIPOC Unity Center as a whole," McCall said. "To have something that's dedicated to the advancement of our small community here on campus, I think is super important."
The population of BIPOC students at the college used to be even smaller when the African-Latino Society — the first organization for students of color on campus — first came to be in 1969. Data from the Office of Analytics and Institutional Research only goes back to Fall 1983 when the student body was 95% white. 
Tanya Hutchins '89 is a member of IC Unity and the former president and current committee member of the Alumni Board. She was also a member of ALS in college. She said she attended many of the focus sessions about the center's name change and met with student leaders to discuss how to honor ALS. Even today, Hutchins is in touch with alumni who were part of ALS in the 70s, up to alumni who graduated before the group ended during the height of the COVID-19 pandemic in 2020. 
"In the '80s, we were kind of standing on the shoulders of everyone before us because all of the alumni of color in the 1970s really had to fight to make sure that there were studies like African American studies, Black professors [and] Black administrators," Hutchins said. "It just meant so much for me to have a space to go to in the ALS room. … It was really about building fellowship for us and having support and [ALS alumni] just want to make sure that current students have that same support that we had."
Hutchins said that she was happy to be included in discussions about the BIPOC Unity Center. She said the new name is just one example of how the BIPOC Unity Center is working to give students a sense of belonging. 
"I feel like [the name] better represents what's happening at Ithaca College," Hutchins said. "I love the fact that it has the word unity in it. And that's one of the things I loved about IC Unity is we're always trying to find ways to bring people together to find common ground, especially on a predominantly white campus."
Newer students like first-years Cole Jackson and Ty Anderson are finding their way to the center's community through its orientation efforts and social events. Jackson said he learned about the center at a resources fair and since then he has attended sessions about navigating a PWI as a student of color, as well as social events like the BIPOC Unity Mixer.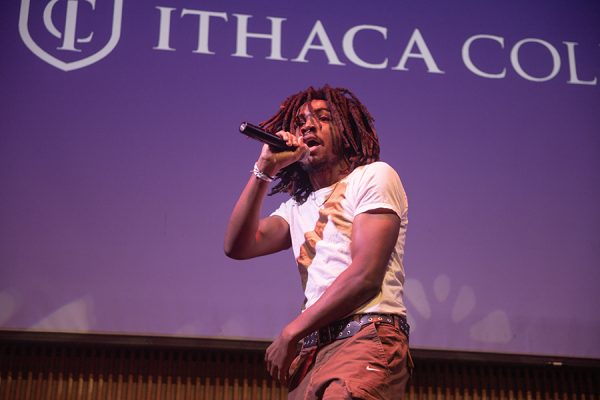 "It did feel a bit like culture shock coming here for the first couple of days, [but after] meeting people at the karaoke mixer that were people of color, it definitely made me feel a little bit more comfortable and at home," Jackson said.
Anderson, an international student from London, said London is much more diverse and moving to campus was an adjustment. 
"Coming here was definitely a big change," Anderson said. "I have never been in a setting where I'm the only person of color in the class."
When Anderson started at the college in Spring 2023, he met Carrington and student leaders from the center during his short orientation and has been a part of the center's community ever since. 
"Karaoke, being at the start of the spring semester, was a really good opportunity for me," Anderson said. "It gave me safety like, 'Oh, there's people that are like me, that look like me … and they're cool, and there's no, like, animosity. Everyone's really friendly.'"