Last night, I was sitting in my bed struggling to get off Facebook and actually finish my paper that was due the next day. I was tired. I wanted to go to sleep. I didn't have any more energy to keep writing. As a last stitch effort to stay motivated, I looked up female empowerment playlists on YouTube and rocked out to Kelly Clarkson and Christina Aguilera and Beyoncé until I finished my paper.
Well, the same practice is true for activism. Sometimes when you're working hard for your cause, being challenged, and potentially dealing with triggering, upsetting reminders that the world needs a lot of improvement—it can be really easy to feel in over your head. Sometimes you need to find a way to feel motivated again.
Here are some tips for avoiding burn out:
Find Sources of Inspiration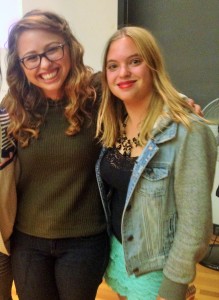 When this picture was taken during Laci Green's visit to Cornell University this past September, I was feeling completely burnt out. Sometimes when you do sexual assault prevention work, people disclose things to you that you don't always want to hear. That week in particular, I was exhausted and looking up bus ticket prices to head home for a couple days. Things didn't work out and I ended up meeting Laci Green instead.
For those of you who don't know, Laci Green is this amazingly talented YouTuber and sex education activist. She's amassed over a million subscribers and she's found success as an activist on a public platform. The fact that I was able to tell Laci that she changed my life and inspired me to become an activist myself reminded me that I needed to keep pushing forward.
Get Connected with Other Activists
If you're a student activist, try finding activist-based organizations to get involved with on campus. Seek out support from other members who care about the same issues that you do. Create a network of other activists and allies that you can lean on when you need it.
Last summer I attended a conference for youth organizers in New York City. I met many students from schools all across the country who were just as passionate as I was. It was a great reminder that there are others out there who care about the same issues that I do. Look for chances to meet other activists and reach out when you need it!
Find Outside Sources of Support
Sometimes constantly hearing about prominent social issues and inequalities can be really draining and emotionally strenuous. Remember that your mental health matters. Many people jump at the mention of therapy—but find some sort of outside support if you feel like you're too overwhelmed. Whether that's talking to a mental health professional, a parent, a best friend, etc. Take the time to figure out what you need to do to take care of yourself.
Recognize Your Limits
It's not possible for one person to fix all the problems in the world. Keep your activist efforts realistic. Work hard and set strategic, measurable goals. Recognize the value of even the little things you do and don't be too hard on yourself if things don't go as planned.
Step Back
I find that ever since I started interning at The Advocacy Center and have been surrounded by constant conversation on various social issues, I'm less willing to discuss these issues with friends when I'm off the clock. When I pick my next show on Netflix, I'm going to pick something like Friends or Parks and Recreation over something like SVU. That's because as much as I love it, I need to keep the activist components of my life separate from my personal life sometimes.
Be sure you give yourself a break when you need it. Step back when you start to feel like you're running out of energy.
Remind Yourself What You're Fighting For
Hanging above my bed is a corkboard full of pictures and other little reminders of the things I care about. There's a letter from a close friend praising me for being so open-minded, poster from The Advocacy Center, the program flier from when I met Laci Green, and a sticker that says Got Consent? Every day I wake up and I'm reminded of why I'm working so hard. Surround yourself with little reminders of why your work matters to you.
Stay in tune with what you need and find out what personally works best for you. Stay strong and keep pushing forward.