Sammy Rae & The Friends came to Ithaca and performed at the State Theater Sept. 24 as a part of the band's "Camp" tour after wrapping up a wild summer tour, "If It All Goes South." 
The aesthetic of the concert was to combine a summer camp feel with campy elements of the show, from Sammy Rae's Freddie Mercury poses on stage to holding up a fan with the word "CAMP" in rainbow at the end of the band's introductory song, "Talk It Up." Sammy Rae said via email that while playing at a venue like Ithaca's State Theater is not common for them, the band felt more connected to the audience. 
"What a special show," Sammy Rae said via email. "It's always a new experience to play for a seated venue, it's not something we get to do very often, but the vibe is very sweet and we feel very listened to. We loved it!"
The stage was decorated in everything summer camp style — from the microphone stands wrapped with stretchy kids toys, friendship bracelets, beaded crafts and faux vines to the amps covered in realistic-looking moss and plastic flowers. The band themselves was dressed in all manner of REI brandwear, from climbing gear around some of the bandmates' legs to the drummer wearing a Girl Scout tunic covered in patches and no shirt and Sammy Rae wearing a cropped park ranger shirt. 
"10 out of 10 would recommend," sophomore Mary Townsend said. "A semi-religious experience, at least for myself, because I love the way [Sammy Rae] does things and what she does and I've been listening to her for a really long time. So, whenever I get to see her, I get to adapt that experience into a live space with the interactions with the audience. …. And the songs evolve as she does them. So every time she performs, you get something just a little different."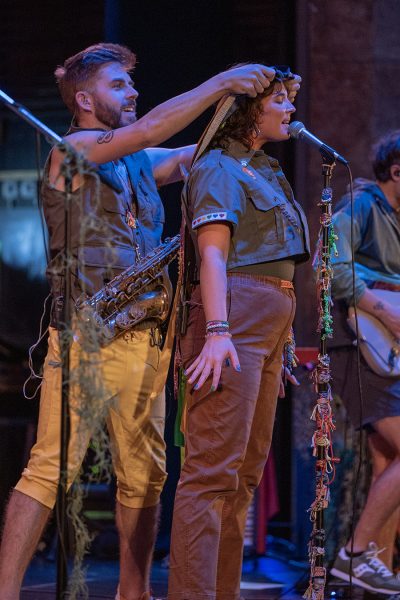 The band even had their own Bigfoot roaming the stage before the band came out, sending the crowd yelling and waving at him in excitement each time he walked across. The final time he made an appearance on the stage, he brought a flashlight with him, flashing it into the crowd, commencing the start of the concert as the lights went down. 
Senior Kate Miller said that although she isn't much of a camper, the entire camp idea provided the audience with a sense of community analogous to the friendships made at summer camps. 
"I loved the Bigfoot thing," Miller said. "It fit well, with the idea that you're here with a group and you're here with friends almost like at summer camp; kind of a vibe that you're here to see old friends and make new ones and have that experience and it was really cute."
The theatrics of the concert were as heavy as the jazzy lyrics while Sammy Rae dramatically eyed the crowd and grabbed the microphone to tell the audience, "If you don't know, you're about to find out." 
Sophomore Delaney Jacobson said the feel of the entire performance matched the title of the tour and was purely campy at times. 
"It was fabulous," Jacobson said. "But you're not gonna get that if you don't know how to play into your theme and have fun with your theme and she was having fun with her theme. She chose something and she committed to that bit and it played off so well. And it just gave such a fun aura that she was already giving, but to have that ambiance created of the forest and the campfire." 
Sammy Rae opened with "Coming Home Song," a new song yet to be released with an anecdote of how the band traveled to Ithaca College in 2019 for one of its first gigs outside of New York City.  
"I decided to purchase a van, so with all the money I had saved up from waitressing, I saved up to purchase a twelve-passenger van," Sammy Rae said to the audience. "We were driving to Ithaca College, it was the van's maiden voyage and she broke on down. … But thank you Ithaca College, it was a really, really big moment for us and we didn't even realize it. … We love you so much Ithaca, you've been around with us since the dawn of the band, pretty much."
Senior Bec Legato said the story made the concert so much more special for them because it made the connection feel authentic between the audience from the college and the band, truly solidifying that message of friendship between the crowd and Sammy Rae & The Friends. 
"I think it made it feel so much more special because they were able to bring value to Ithaca," Legato said. "I feel like once they mentioned it, it became all the more special because it was like, 'Oh my god,' we did that. I feel like I have a part of the ownership of it. Like I feel like I get to take credit for it, even though I wasn't at all involved. It's gorgeous." 
The band didn't play "Whatever We Feel," "Check In," "Creo Lo Sientes" or "Flesh & Bone" and substituted those songs Sammy Rae had sang earlier in the program in "If It All Goes South" for "Jackie Onansis", a new song called "Luck of The Draw" and played "Living Room Floor."
"I was like, 'I need to hear Jackie Onassis or else I'm going to lose my mind,'" Legato said. "Maybe the third or fourth song she played was 'Jackie Onassis,' and I lost my mind. I was so excited."
The band played two covers: Jet's "Are You Gonna Be My Girl" as the ninth song the band played and then a woodsy version of "Ooh La La" by Rod Stewart with Sammy Rae on acoustic guitar and Will Leet, one of the band's guitarists, on banjo. 
Due to the size of the band's discography — which is relatively small — Sammy Rae & The Friends fans can typically expect to hear most of the songs they want to hear. However, the band usually substitutes some well-known cover songs that allow the crowd to sing along with at least some songs if they do not know all the words to the band's music. 
"I am not a very big fan of cover songs [at concerts]," Jacobson said. "Specifically if an artist has a big enough discography to do their own music. I would much rather hear one of their own songs. I think this worked so well. She did it in such a way that made it personal to her and fit with her show. And it was just such a blast to hear." 
The State Theater's individual seats made it easier for people to dance in one spot, not bumping into people or causing a mess. Legato said the people at the concert were more relaxed than those at Taylor Swift concerts, yet had some of the same energy as Swifties. 
"And oh my god, these people," Legato said. "These people gave us friendship bracelets when we got there. So it was so sweet. It felt very Taylor Swift but in like not a toxic, cultish way." 
Townsend said Sammy Rae seems like a genuine and authentic person who lives by the principles of her music and the content she sends to her fans and maintains a friendly stage presence each time she performs. 
"I think she's a very good example of someone who is actively showing and living by the ethos that they put out in clear words," Townsend said. "So she says, 'I want you to … go make a friend, go be kind, go be courteous to the people around you.' And then she actively does that with her bandmates, with the audience … and she talks about loving yourself and not worrying too much about societal stuff."