From 2014 to 2019, the Ithaca College club cheerleading team competed annually in the NCA Collegiate Nationals in Daytona Beach, Florida. However, after being unable to attend the competition for the past four years because of funding issues, the team's fundraising efforts in 2023 might allow it to represent the college once again at the biggest stage in Spring 2024.
Founded in 2001, the team has been cheering at a variety of the college's sporting games — most notably football games like the annual Cortaca Jug game against SUNY Cortland.
Despite the team's significance at the college's sporting events, the team's status as a club sport has made it difficult to raise enough money to compete in nationals for the past four years because the team is primarily self-funded.
Junior President Rachel Brody, who has been a part of the team since her first year, said the main reason the team has been struggling financially is because of the expenses that go into uniforms, travel and making sure the coaches get paid, something she said varsity cheer teams do not have to worry about. Brody said the team's head coach, Kristina Engel, was hired specifically to be the team's coach, while the two assistant coaches —  physical therapy graduate students Summer Stevens and Alexa DeSantis — were a part of the team during their undergrad years. 
"Cheer is a really expensive sport," Brody said. "We compete against varsity-level teams who have funding from their schools. So we kind of have to match the price that they all pay but we don't get that funding. So it's a bit of an attempt every year in the sense of 'if we can raise the money, we're gonna go.'"
Brody said money from the Office of Campus Recreation is allocated and divided throughout club sports teams every academic year. However, Brody said the amount of money the teams receive has decreased since the COVID-19 pandemic, which has made it more difficult for the team to have enough money to compete in nationals. 
Back in 2021, the club sports program's budget saw a significant decrease from $90,625 to below $50,000.
"With the allocation, we still have a long way to go," Brody said. "I think in general clubs, sports don't get close to enough funding as they should get, especially because being involved on campus is so important. So [club sports] make it better for people to get involved easier."
Sean Riley, associate director for Campus Recreation said via email that the amount of money allocated throughout the recreational teams depends on the team's schedule and needs like league memberships, facility rentals and travel cost.
Riley also said that even though the Office of Campus Recreation is able to offset 25–30% of funds for club sports, it is important for teams to continue fundraising because additional funding from the office is not always guaranteed. 
"Our office offers some guidance to club sports on which fundraisers have been successful in the past and we help new and alternative fundraising opportunities, but most of the legwork of raising money is the responsibility of individual club sports," Riley said via email. 
The team has hosted multiple events to raise money including car washes and selling popcorn and Krispy Kreme donuts.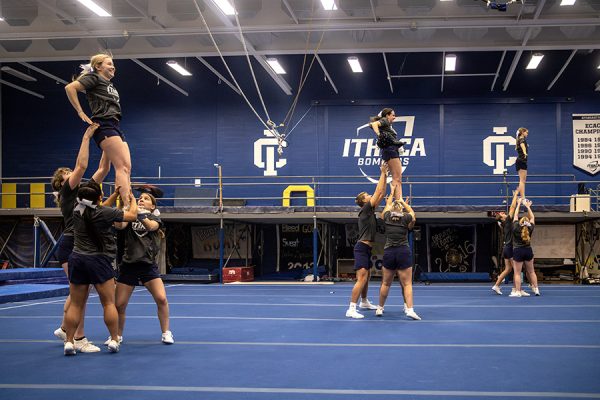 Senior Ari Mix, who is one of the executive board members in charge of finances, said even though this is her first semester on finances, she is impressed with how well the fundraisers have been going and is looking forward to doing more soon.
"We've had some really incredible fundraisers this year," Mix said. "I've definitely been surprised with the support from the community and even our own personal communities, families and friends donating money just for us to do this sport is pretty great.
For many individuals on the team, this could be their first time going to nationals and competing against other varsity cheer teams. 
DeSantis said she went to nationals during her first year at the college in 2019 and was positively impacted by the experience.
"I want everyone to experience going to nationals and going to Daytona and being in that atmosphere at least once because I'm very thankful that I had that experience as a freshman," DeSantis said. 
Brody also said the team had been struggling to retain members after COVID-19 and currently has 19 members, including two men as of Fall 2023. Brody said the team will continue to work hard to one day be officially recognized as a sport at the college. She said in the last few years, only women have been trying out for the team, even though the team has always been open to all genders and identities. 
"It's our first time being co-ed in a couple of years," Brody said. "So we're very fortunate that our program is expanding and because of that, we're able to reach out to more people. So fundraising has been going very well so we're on track to get to go again."
Sophomore Elena High, who is in charge of social media for the team, said she has been doing competitive cheer since middle school and has enjoyed her experience being a part of the team because of the community the team has built.
High said that even though she will be studying abroad in the spring, she is still excited to see the possibility of the team competing after their four-year absence from nationals.
"It's definitely been a long time leading up to it," High said. "I'm really excited to see where this takes the team and seeing everyone push towards it because we all are reaching a common goal this year other than just being a cheer team supporting the school. Our main focus is getting to Daytona and just proving our worth."
Brody said the team needs close to $15,000–$20,000 to get to Daytona and is doing well toward that goal. 
Brody said the team is trying to finish up fundraising by winter break so they can focus on booking hotels and flights. However, she said the team will continue to fundraise afterward if they need to. Brody said that since the money is being used to purchase things for fundraisers and to pay the coaches, the team is unable to share the current amount of money they have. 
"We appreciate everybody who supports us and hope that they continue to support us," Brody said. "Anyone who ever has questions or just doesn't understand … can always reach out to us on Instagram and stay tuned for more fundraisers."
DeSantis said that she has enjoyed being a coach so far and that she has seen members grow as cheerleaders and people from her days competing with the team. DeSantis also said it is important that people recognize the amount of effort and dedication club sports put into practicing and fundraising.    
"I think just emphasizing being like a club sport athlete is just so unique in the sense that they are both coming to do their sport and then also behind the scenes, no one really thinks about," DeSantis said. "Even in high school sports, you're not thinking of how you got your backpack that says 'cheer.' You're not thinking of how you got your uniform, but we have to be so strategic about our money and how much money we're even asking from people."