On Feb. 11, the women's club basketball team played its first home game of the season in Ben Light Gymnasium. Despite the excitement of hosting its first contest, there was no fanfare, no music blaring throughout the gymnasium and the blue bleachers sat in their folded positions.
Before they began warming up with layup drills and taking short-range jump shots, the team was responsible for setting up chairs and getting the floor ready for play. Despite the laughter and smiles mixed in with the drills, there was still one issue remaining — the absence of the other team. Though they were playing their crosstown opponent, Cornell University's club team, there was no sign of the Big Red until they showed up about 15 minutes before game time.
The game was a back-and-forth contest, with the home team coming out on top 57–53 by sinking a pair of free throws with only a few seconds remaining to seal the win.
Though it was a victory for an Ithaca College team, there wasn't a box score or recap. Unlike a varsity game, it didn't have an impact on conference standings. The lack of formality is standard for most junior varsity and club contests. However, these games carry significant meaning for their participants.
For players like junior Ashley Chanatry and senior Vera Dickey, winning is nothing new. In fact, both were former members of one of the college's winningest programs: women's basketball. Dickey and Chanatry were both members of the Bombers' junior varsity squad during the 2012–13 season where they played just nine games in addition to a weekend tournament.
After tryouts for the 2013–14 basketball team, there were not enough players to form a secondary squad, which marked the disbanding of the junior varsity program. This left just two Bomber varsity programs with supplementary squads: Football and baseball, which both utilize their junior varsity teams for the development of future varsity student-athletes.
The junior varsity football team, made up of about 50 players, plays its games on Sundays, the day after the varsity team. The Bombers collected four wins this past fall, something freshman quarterback Adam Fron said is an optimistic sign of the potential of upcoming players.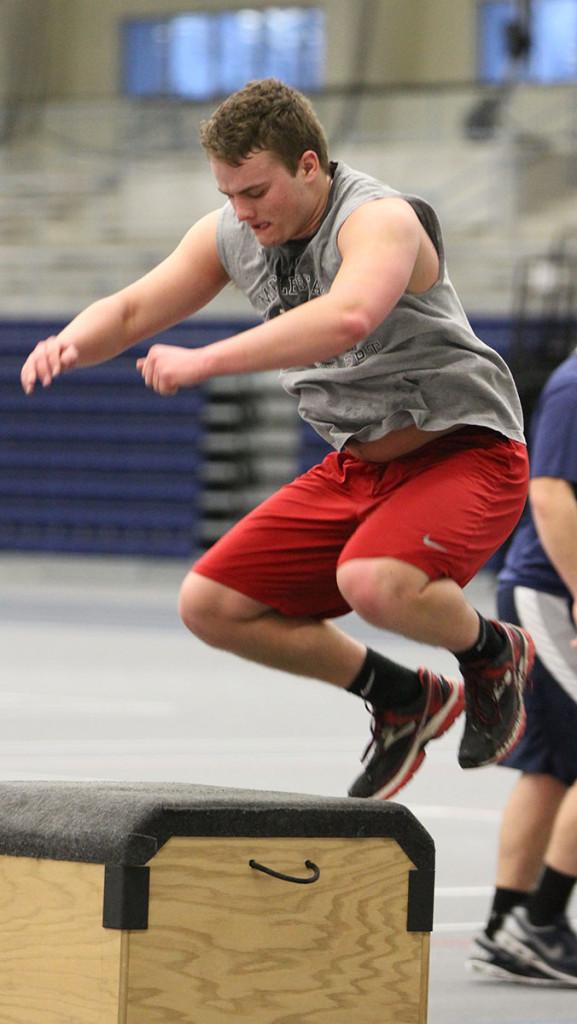 "Having a JV program is pretty essential for a program because it gives guys a chance to play," Fron said. "You can't exchange game experience for anything, and playing JV is an addition to the other guys helping you out every day."
Unlike the football team, many of the women's basketball junior varsity players were looking for an opportunity for competition rather than an opportunity to make the varsity squad. As a result of the program ending, however, players like Chanatry and Dickey, who weren't offered the opportunity to move up, found an alternative with club basketball to continue playing competitively. Despite the apparent demotion, Chanatry said the transition was actually a relief.
"I'd say halfway through my JV season, making varsity was out of my head," she said. "A lot of us had the mindset that if we worked hard enough, you'd get pulled up to varsity, and I realized I didn't really care about that anymore. I was perfectly content. I did come in for a competitive level, but I'm glad it came out as it did."
Chanatry said the gameplay as well as the competition level between junior varsity and club basketball were very similar, with the difference being the commitment to the team throughout every week. Club basketball practices twice per week compared to the average five or six practices a week for an intercollegiate squad.
"We played a lot of the same teams we played for JV, so there's not much of a difference — just the time we put into it," she said. "All the kids who played club could have played JV, and all the kids who played JV could have played club."
Dickey said she feels there is more value in playing club basketball as opposed to a sub-varsity squad.
"In club you still practice, and we've got way more club games than we've ever had JV games," Dickey said.
The squad has two upcoming tournaments scheduled in Massachusetts, and Chanatry said, winning either would propel the team to the national championship tournament in North Carolina next month.
"For JV, there wasn't as much to play for as club," she said. "For club, we can work for a national championship. You can do that in club just by going to the right tournaments."
The loss of the women's basketball junior varsity squad has meant that the only remaining intercollegiate official JV squads in the department are for football and baseball.
The Bombers' JV baseball squad has a distinct interest in developing its younger players because of the depth needed on varsity, especially for pitching. Sophomore Khalil Griffith, who played on the team last season, said JV provided a much easier transition to the college game.
The Blue and Gold's JV squad typically plays surrounding community college teams since they are the only Empire 8 conference school with a second team. Though Utica College will join the Bombers with a JV team of its own for the 2015 season, Griffith said there's a distinct advantage to matching up with community college teams.
"You're going up against their best, so you have to make sure you're ready each game and keep working to get better," he said. "The games are a lot of fun, and it's nice to be able to play and enjoy the game."
Despite the players' positive feelings towards the junior varsity squads, Michelle Manning, assistant director and senior woman administrator of intercollegiate athletics at the college, said the remaining two junior varsity programs are susceptible to limitations and would be affected before reducing or eliminating a varsity sport.
"We don't have to have JV programs in any way," Manning said. "It's helpful with development and having competitive opportunities, but varsity is the priority."
Though Manning said females are technically the underrepresented sex of student-athletes at the college, junior varsity teams are not counted toward the college's gender-equity balance. Junior varsity athletics are considered for programs that have more less-experienced student-athletes who need development to compete at a varsity level.
"Part of Title IX is to add varsity opportunities, so I don't see us looking at more JV opportunities," she said. "We have a strong club opportunity for multiple sports, so I don't see a need for us to go down that path."
At the same time, she said, there's an easier transition in some sports compared to others. Basketball, for example, doesn't involve many resources, while a sport like football involves more equipment and safety issues, making it more difficult to organize at a club or recreational level.
In addition to regular Monday through Thursday practices, the junior varsity football team gets its own practice session during varsity walkthroughs to help prepare for Sunday's game plan. Matt Zygaj, a freshman linebacker on the football team, said he enjoys this extra practice session because it's not as focused on preparing scout teams for varsity to practice.
"Most schools have the varsity team, and freshmen are just sitting on the bench their first year," Zygaj said. "They don't get a lot of reps, and it's really tough to get on the field."
Zygaj said every player on the roster made it into every junior varsity game played this past season. He said this makes players take more advantage of every repetition they get in a game.
"It's not a meaningless game," Zygaj said. "You've got people behind you who are going to go in, and you want to make an impression on the coaches. That does push you to make sure you're at your best every time you're on the field. That's good overall for the team and for yourself as an individual."