After finishing in sixth place at the 2023 National Collegiate Gymnastics Association Championships, where three Bombers earned All-American athletic honors, the Ithaca College gymnastics team is gearing up for a new season.
Head coach Rick Suddaby, who is in his 38th year of coaching the team and was named 2023 NCGA East Coach of the Year, said the team is hoping to place higher in the upcoming season. The team was in fourth place for most of its competition until the last two events. 
"We were good, but we made mistakes when it counted," Suddaby said. "We've trained a lot of things that will take the ceiling off of their ability level, along with how to think about gymnastics while they're performing. … We teach stress reduction to a certain extent, so that they can work on that as a skill, because it is a skill."
The team is implementing a new strategy this year for selecting lineups, in hopes of being more prepared for high-intensity situations. Suddaby said that by competing for their positions on the floor, his athletes will be more motivated to push themselves to the next level. Previously, the top six gymnasts in each event were selected to compete.
"[The gymnasts] will compete within the gym for the opportunity to compete on the floor," Suddaby said. "Instead of us just choosing the lineups, they'll compete for them, and that will help them get used to handling that pressure". 
Suddaby said he is excited for many new upgrades the Bombers are planning for this season. He said that in the offseason, his athletes have been working to rearrange their routines, maximizing their scores and minimizing deductions. The team typically trains 5 days a week and lifts twice a week.
"On beam, we're going to have some really strong returners and some really strong [first-year students] that will be able to score in the high nines," Suddaby said. "We're going to be adding a couple of twisting vaults which will be new from last year."
Another boost to the team is that severl gymnasts who did not compete last season will be returning to competition this year, including junior Jillian Freyman, a 2022 All-American who was out with an elbow injury.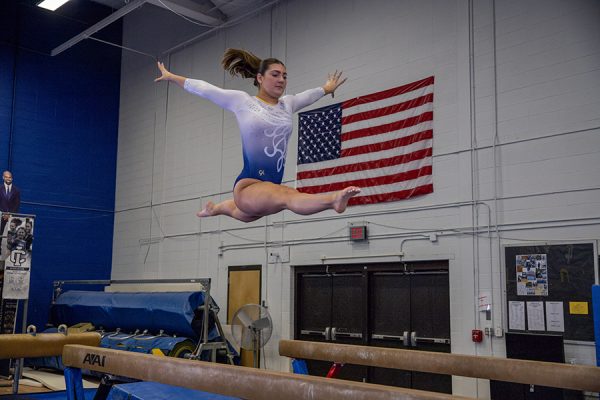 Sophomore Grace Murray, who earned All-American status last season, said she is working on adding a new skill, a layout double backflip, to her floor routine. Murray, who specializes in floor exercise and finished third place in that event at the 2023 National Championship, is also looking to perform in other events. She said that she is training for a new vault that she hopes will earn extra points for the team.
Murray said Suddaby emphasizes clearly communicating the team's responsibilities in terms of training. 
"We know what he expects of us and we try to do it," Murray said. "If we can't, we talk to him, work something out, figure out what we can do [instead]."  
Suddaby also values the importance of mental preparation, and works with the team to prepare them for the challenges of competition.
"… We've trained a lot of things that will take the top of the ceiling off of their ability level, along with how to think about gymnastics while they're performing, and when to think, and how to think and to focus," Suddaby said.
As crucial as mentality is to his athletes, Suddaby said he focuses much of his competition preparation on minimizing pressure and encouraging positive affirmation.
"We do a lot of work on self-talk," Suddaby said. "A lot of kids, just by the way they talk to themselves in their head, set themselves up to be less successful. They change that, they'll be more successful."
There are nine first-year students joining the team this year. Suddaby said they have adjusted well to being part of the team, and that the upperclassmen have been very important in facilitating that. 
"Our senior class and our junior class are really stepping it up and leading the way, [they are] setting great examples," Suddaby said. "Especially our junior class, which will be scoring most of our points this year."
Junior Skye Cohen, another All-American last season, finished third in the all-around at the 2022 National Championship, the highest placement of a Bomber gymnast in the all-around in over a decade. Cohen said she is working on adding new difficult elements on balance beam and vault to help contribute to the team's score.
Cohen echoed Suddaby in that her class has stepped up as leaders and mentors for the newer members of the team. 
"I feel like they can come up to us and talk to us, and we can help them get through whatever they need," Cohen said. "College gymnastics is a team sport so we are all working hard to make the team be the best it can be. We all cheer each other on, and work hard to be as strong, confident, and as consistent as we could be" Cohen said.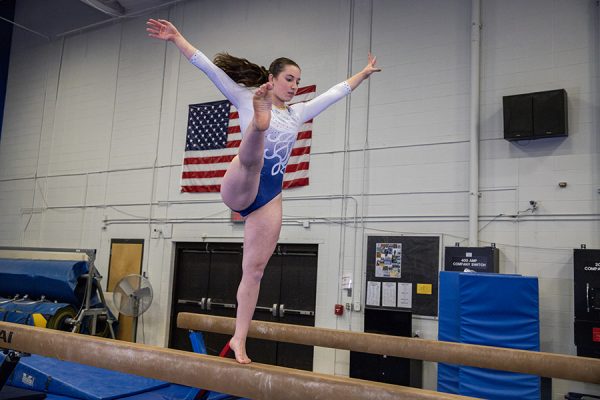 The path to the team's third-straight appearance at nationals will not be an easy one. Suddaby expects that SUNY Brockport will be the Bombers' biggest competition in 2024. 
"Brockport has traditionally been the toughest team in the region," Suddaby said. "We got beat by them last year at regionals, and so we're going to try not to let that happen again."
Another factor that the Bombers will have to face is the addition of Utica University to the NCGA East Athletic Conference. This will effectively lower the amount of team qualification spots to nationals available at regionals from three to two. 
"That's going to be a challenge because we did place third in regionals last year," Murray said. "Which means, if that happened this year, we wouldn't have qualified to nationals as a team." 
Nonetheless, the Bombers remain optimistic. Suddaby said he trusts that this team has what it takes to rise up to the challenge. 
"They're really focused on what they want to get done," Suddaby said. "They're also quite coachable and they're very responsive to our help."
Cohen said that the supportive environment fostered on the team will be especially important as the Bombers approach the 2024 season and that the competitive nature will make the Bombers the team to watch. 
"It's really nice to have a big group of girls, they're always super supportive," Cohen said. "If we notice someone's down, we'll go and cheer them up, and [give them] a little pep talk. We're all really hard workers, and I'm excited to see what's going to happen this season."
The Bombers will start off the season on Jan. 13, 2024 in an away meet against the SUNY Brockport Golden Eagles.