On Dec. 3 of last year, a tall 24-year-old Cornell University graduate with wild, curly blond hair was called up to the bench of Judge Raymond Berry in the Town of Reading. Kelsey Erickson was being accused of committing a violation trespass on Nov. 17 at the main gates of Crestwood Midstream, a gas storage company looking to store massive amounts of explosive gas in unstable salt caverns beneath the shores of Seneca Lake.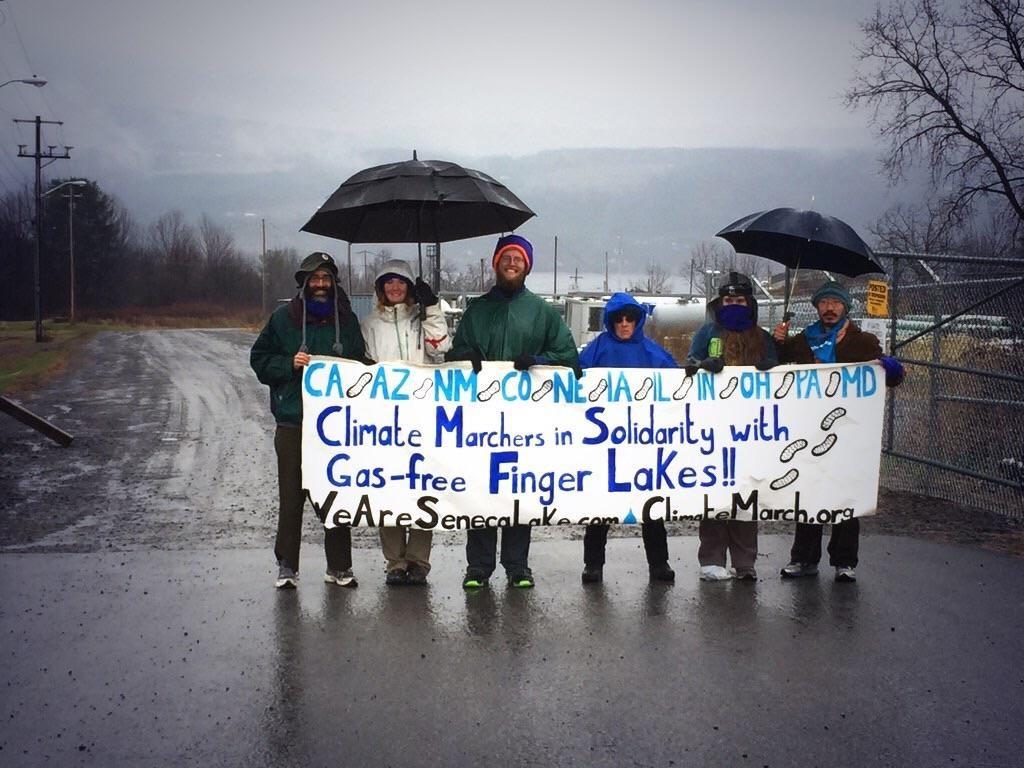 To this accusation, Erickson pleaded guilty. Judge Berry asked zir* to pay a fine of $250, and ze refused. He looked up from the papers sitting on the desk in front of him and stared at zir for a long moment down his nose over his glasses.
*Erickson identifies as gender non-conforming and prefers to be referred to with gender-neutral pronouns. To accommodate this, I have used ze/zir in this post rather than the traditional she/her and him/his.
"Do your parents approve of this?"
From my seat in the audience, my posture tensed and my energy bristled. Judge Berry obviously had no idea who Kelsey Erickson was. Kelsey Erickson, who walked 26 miles with a 50+ pound backpack in the midst of a Nebraska summer rather than use the March's gas-guzzling U-Haul. Kelsey Erickson, who sat down in the middle of the road to block traffic in BP's largest oil refinery in Indiana. Kelsey Erickson, who was arrested at a sit-in on Wall Street where police used pepper spray and force to quell protesters. Kelsey Erickson, one of the strongest people I will ever know.
"She is a full grown adult!" I blurted, unable to control myself.
Berry pulled his gaze away from Erickson and settled it on me, turning his head slowly and deliberately like an owl. Our eyes locked and for a long moment we just stared at each other, his expression stern and mine defiant. I waited for him to scold me for speaking out of turn and disrespecting court etiquette, but instead, he turned back to Erickson and announced that ze was sentenced 15 days in jail.
I remember clearly the fond, fatherly smile he gave zir, his eyes sparkling behind his glasses like a proud grandpa watching his grandchild receive an award, as the police officer guided zir out of the courtroom to the holding area.
I know this smile well now, because Judge Berry has given the same one to me each of the three times I've approached his bench on Dec. 17, Jan. 21 and Feb. 18. I've made a point each of the three times not to return it. I need not be treated differently than the men and the older folks in this movement, but this is exactly what has happened.
I was arrested alongside Erickson and four other of my companions from the Great March for Climate Action on Nov. 17. We were all charged with a violation trespass. Erickson, Michael Clark and Jimmy Betts all went to jail for 15 day sentences following their arraignments on Dec. 3.
At my arraignment on Dec. 17, I followed in their footsteps and pleaded guilty and refused to pay my fine. But rather than sentencing me 15 days in jail without hesitation, Judge Berry postponed my sentencing to Jan. 21, a day after the spring semester started. When I showed up and refused my fine for a second time, he postponed again to Feb. 18. And after informing my professors that there was a possibility I would not be in class the next day and turning in my first major paper of the semester early, he postponed a third time to March 18. But this third postponement came with a promise; he would make a final decision next time.
In turn, I promised him I would hold him to it and returned to my seat in the court audience. My professors were all happy to see me in class on Thursday.
While the powers of Reading and Schuyler County have realized that sending the We Are Seneca Lake protesters to jail is costly and only fuels our movement, many in my activist cohort believe that Judge Berry's hesitance to sentence me runs deeper than that. They joke that he sees me as an incarnation of his own young granddaughter, who, according to Berry, refuses to speak to him when he sends people to jail.
As much as his waffling over my sentencing frustrates me, as much as I wish he would just get it over with — if he really is having an internal moral struggle over sending a 20-year-old college student to jail for standing up for her community, planet and future, then I say good. I only wish he had struggled with all of the other outstanding citizens he has sent to jail so far, including 83-year-old Roland Micklem who struggles to walk without a cane and slipped and fell in the court parking lot on his way to the paddy wagon.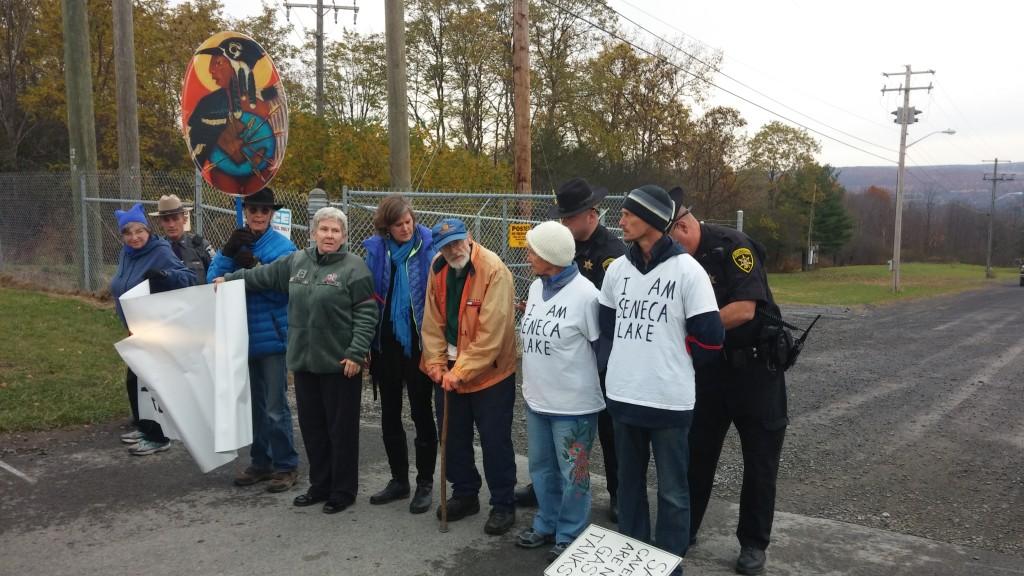 We 20-somethings should be enjoying our time in college, and those who are Micklem's age should be enjoying their retirements. Instead we find ourselves banding together to stare down the insect-spattered grills of the roaring semi trucks trying to get through Crestwood's gates.
Yes, Judge Berry, there is absolutely a moral dilemma going on here. To date, 167 peaceful folks have been arrested for harmless violation trespasses and asked to appear in court. However, Crestwood executives have yet to appear in court to face the consequences of putting the Finger Lakes at risk — risks they specifically admit to in their own 10-K report.
It seems as though our justice system is broken, and in a time where our world is in dire need of justice, I find that far scarier than spending a week behind bars and getting a little behind on my homework.
By the way, this blog post doubles as an invitation to attend my sentencing at 5 p.m. on March 18 at the Reading Town Court. See you there!
—
A previous version of this post said Erickson identifies as gender neutral. Erickson in fact identifies as gender non-conforming.