It's 5:30 a.m. on a chilly October morning, and while a majority of her classmates are in bed, freshman Abby Mellinger is already out on the water. As she thrusts her oar in and out of the water, with the directions of the coxswain echoing in the background, sweat pouring down her face and the beautiful fall scenery flying by, Mellinger forgets about her aching muscles and breaks into a wide smile.
Three years ago, this moment would not have been possible for her. After dedicating her life to the sport, labral tears in both of her hips prohibited her from continuing to row after her sophomore year of high school.
Mellinger began rowing as a middle schooler and attended clinics before committing herself full-time to the sport in eighth grade. In the summer before her sophomore year of high school, Mellinger said she was invited to try out for the junior national team.
"I was training super hard, and I had no life. I was practicing six days a week, sometimes multiple times a day, for at least four hours," Mellinger said. "I was so consumed with rowing that it was basically all I did."
She was one of the youngest people invited to try out, and she qualified for the junior national sculling team. However, right before she left for the development camp, she said she felt a strong pain in her hip.
The doctors diagnosed it as a labral tear, meaning she would have to undergo surgery and eight months of physical therapy and rehab. One year later, the same thing happened to her other hip, and she had to go through another round of surgery and rehab. She said she would no longer be able to row without further damaging her hips.
"I cried a lot when I first found out. Rowing was my life," Mellinger said. "When they told me, I was like, 'What do I do now?'"
She dabbled in sailing before a concussion forced her to switch sports again, leading her to pick up water polo in her senior year at St. Thomas Aquinas High School in Fort Lauderdale, Florida.
"I started to miss being a part of the team sport and working out," Mellinger said. "But it was not the same as rowing."
When Mellinger arrived on campus in August, she said she had no intention of joining the rowing team. Instead, she was interested in joining the swimming and diving team to continue her love of water sports, or the skiing club to try something she couldn't do in her beach town.
"I took a step back, and I was like, 'Why am I doing this? I don't even like swimming. It's so hard,'" Mellinger said.
After more consideration and research, she decided to row again, as long as she remains pain free. So far, Mellinger said she has had no pain in either of her hips.
For Mellinger, rowing is in her blood. She comes from a long line of talented rowers. Growing up, her mother was one of seven children, and after her four brothers began rowing, her sisters wanted to join, but there was no women's team at their school. Mellinger's grandmother created a women's team at Holy Spirit High School to give her daughters an opportunity to row, and today it is still one of the best teams in the area. Three of Mellinger's cousins compete on this team.
"A big highlight for my brothers and I would be to see our kids rowing," her mother, Megan Mellinger, said. "When my mom started the team, rowing was unpopular for girls, so it was not easy."
Mellinger's mother went on to row for Florida Institute of Technology, where she met her husband, who was also a rower. One of Mellinger's uncles went on to row for the junior national team and later won the Royal Henley in England in 1967, one of the most prestigious rowing races in the world. All four of Mellinger's uncles, her aunt and her mother rowed in college.
Mellinger's mother still competes in rowing and recently won a gold and two silvers at the 2013 National Master Championships. Mellinger's sister followed in her parents' footsteps and attended FIT where she was a coxswain for the men's varsity team.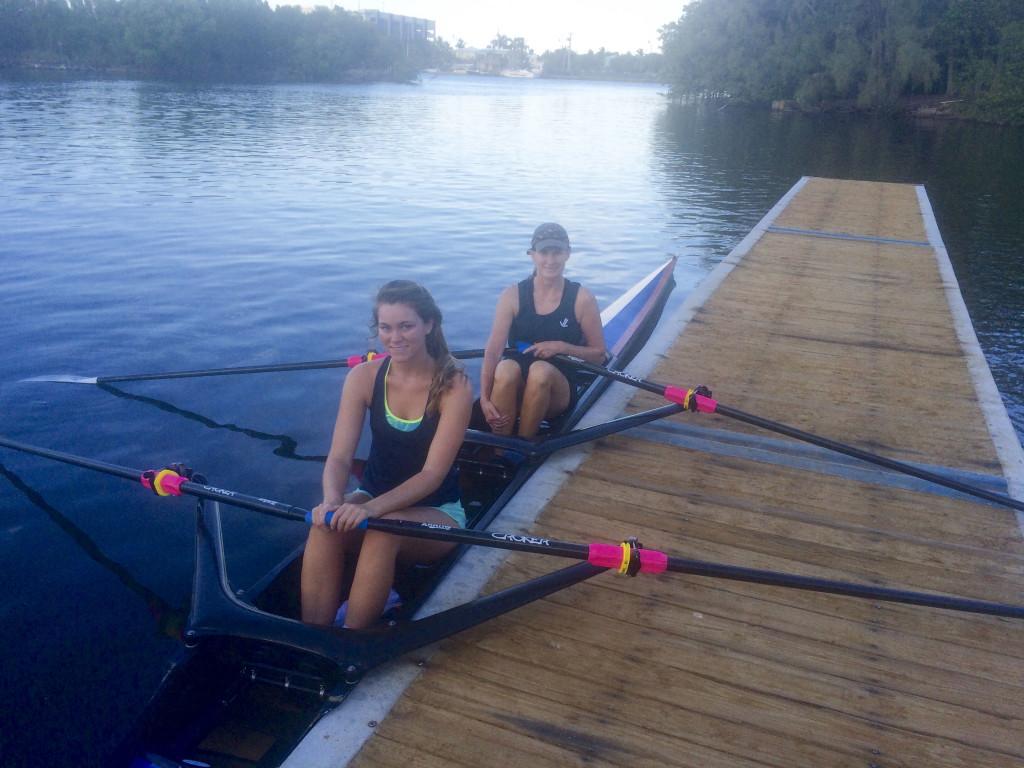 Despite joining several new sports and clubs during her hiatus from rowing, Mellinger said nothing came close to filling the void that rowing left. That was, at least, until she started deep-ocean diving photography in her sophomore year of high school.
One of the most influential days in her life, Mellinger said, was the day she walked into a meeting of the South Florida Underwater Photography Society during her senior year of high school. Despite being the youngest member by far, she said she was inspired by the talent and drive of the underwater photographers and videographers.
"It was then that I knew that this is what I wanted to do for the rest of my life," Mellinger said.
She began making her own underwater videos and attending meetings regularly. So far, Mellinger has made four underwater videos, one of which was bought by the company Headhunter, a boating company based in South Florida. Mellinger is now a documentary studies major and plans on making underwater documentaries when she graduates.
"I don't think I would have fallen in love with making underwater videos if it wasn't for my injury," Mellinger said. "It felt so natural, and I felt so comfortable."
Freshman coxswain Tatiana Garvin has worked with Mellinger both on and off the water, and although she was tentative concerning her comeback at first, Garvin said Mellinger has worked hard to get back into rowing shape and has, in the process, set an example for others to follow.
"I was pretty worried and wasn't sure if she was going to able to handle the comeback, but I am very impressed with her work ethic and her intensity," Garvin said. "She is a good leader on the water and always sets a high standard for the rest of the team to follow."
Mellinger was one of eight women selected to compete in the novice boat for Ithaca College at the Head of Genesee regatta Oct. 3 in Rochester, New York. In her first race since returning to the sport only a month before, she helped her boat win the gold medal by over a minute.
"I missed racing and that feeling when you pass the finish line and you can't even breathe. You're so exhausted and thinking that was the best I did, and no matter what the results are, I'm happy because we just killed it," Mellinger said.
Despite all of the heartbreak and injuries that come along with rowing, Mellinger said that her goal is to row until she is physically unable to continue.
"I want to continue rowing for as long as my body lets me," Mellinger said. "That's the thing with rowing, it's something you can continue to do no matter what the age."