"D-up! D-up! D-up! D-up!" is chanted in alternating high and low tones of voice from the United States Coast Guard Academy women's basketball bench in Ben Light Gymnasium. The Bears are playing Dickinson College in the first round of the IC Invite hosted at Ithaca College on Nov. 20–21.
Pacing in front of the Coast Guard bench is head coach Alex Ivansheck '05, who played point guard at the college from 2000–05. Ivansheck was also an assistant coach for the Bombers from 2006–12 and is fourth in career assists and steals in the program's history.  
Ivansheck is flanked on the bench by Jessica Farley '12 and Catherine Lewis '13, two more alumnae of the college's women's basketball team.
Farley was a guard on the South Hill squad from 2008–12 and a graduate assistant coach for the Bombers during the 2012–13 season. Lewis played guard for the Blue and Gold from 2009–13 and was an Empire 8 Sportswoman of the Year honoree her senior season.
Across the court in front of the Dickinson bench, Katherine Bixby '10 squats while watching her team in its first–round matchup. A point guard as well, Bixby suited up for the Bombers from 2006–10, in which she was an All-American, thrice named to the All-Empire 8 First Team and is fourth in career points and third in both assists and 3-pointers. She then went on to succeed Ivansheck as the assistant coach for the Bombers.
Sitting behind Bixby is Dickinson assistant coach Mary Kate Tierney '14, who played 2 1/2 seasons at the college after transferring from Bryant University, a Division I school. An All-American her senior year, Tierney led the Blue and Gold to the sectional final game of the NCAA Tournament in 2014. She also holds the record for most 3-pointers in a season.  
These two teams with their alumni-filled coaching staffs are playing to win, as they should be. But in the back of their minds, they know in their next round matchup they could be squaring off against their former coach.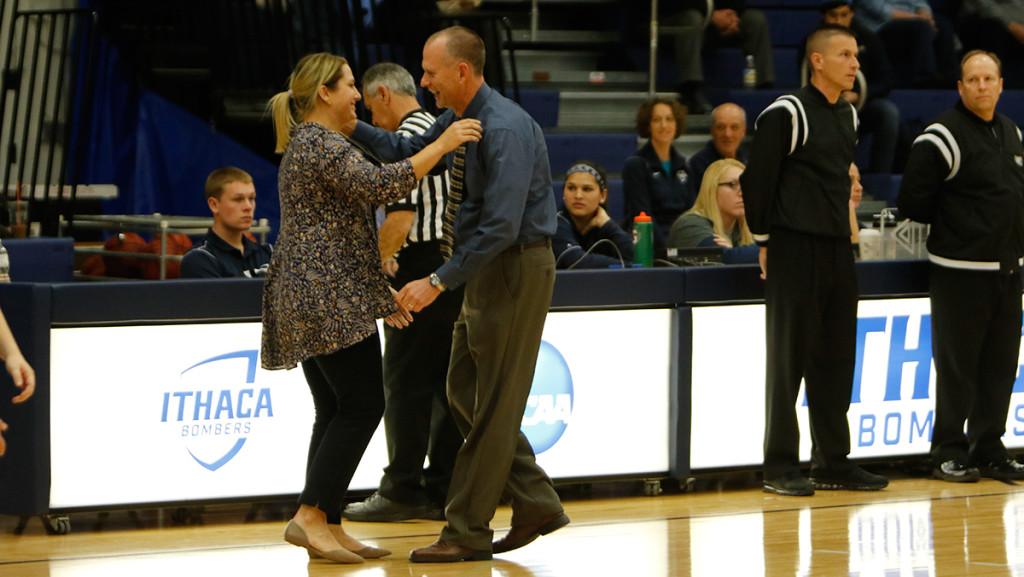 Head coach Dan Raymond has coached the South Hill squad since 2000 and coached each of the aforementioned alumnae throughout her entire playing career at the college. He said he enjoys seeing his former players go into the coaching profession because of the effect he knows they can have on the people around them.  
"I encourage my players to get into coaching at some level, even if it's just a youth team because I think you can have a significant impact on your players that reaches far beyond the X's and O's," Raymond said.
Not only does he encourage his former players to be coaches, but he also influences his former players' coaching styles. Bixby said many aspects of the way she coaches are things picked up from Raymond.
"He was a phenomenal mentor. I owe him a lot," Bixby said. "He taught me how to treat a team, how to look past just basketball, how to embrace what you have and love every moment. He always said basketball was never a job. It's what he loves to do, and I completely agree with that."

Farley said her former coach taught her how to relate to her players off the court and to be more than just a basketball coach.
"I learned how to get to know players on a more personal level from him," Farley said. "I was able to go into his office just to talk, and I would want the same of my players."
On Nov. 20, the Coast Guard bested Dickinson 66–44 in the first round of the tournament. However, up to that point, it was still unclear which team would take on Raymond because the Bombers still had to play their first–round matchup against Bard College. The Raptors proved to be no match for the Blue and Gold as they rolled to victory by a score of 89–52 for their first win of the season.  
However, before it was time to head back to their respective hotels and rest up for day two of the tournament, all of the former Bombers took time to catch up. The men's basketball team was simultaneously hosting the first round of the Cortaca Classic, which gave everyone time to hang around.
Tierney, who graduated less than two years ago, played with a majority of the upperclassmen on the Bombers' roster and sat in the bleachers watching the men's team play with her former teammates. She said she really enjoyed seeing all of them again.
In what was optimal time for all of the women to reconnect with their former coach, basketball was the primary conversation topic. Bixby said she and Raymond talked about ways to improve their coaching.
Tierney also said she and Raymond mostly talked about basketball and their teams but still managed to also get in some words about their families.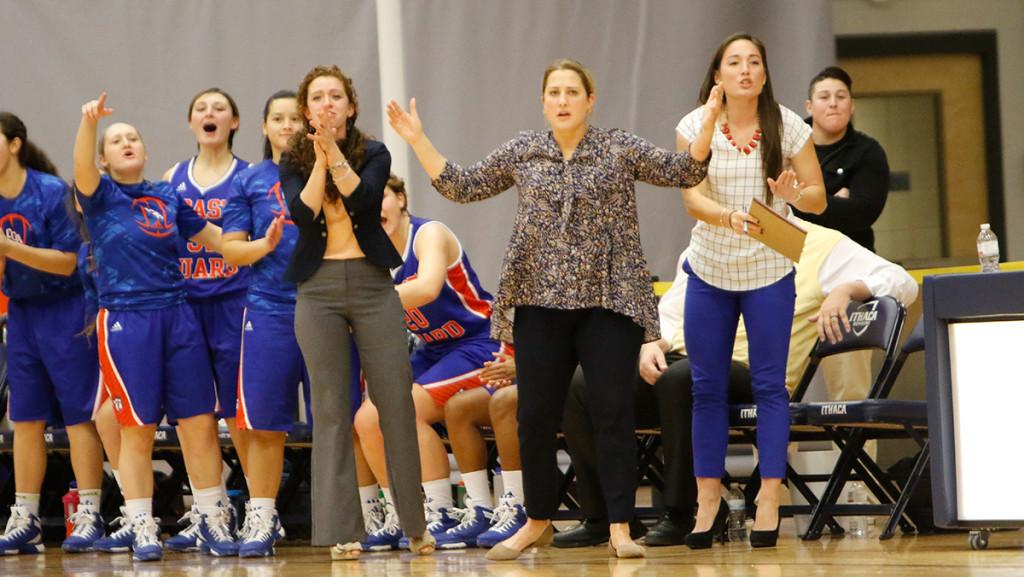 Dickinson bounced back from its first-round loss to take third place in the tournament with a 60–52 win over Bard. Bixby and Tierney then took time to greet anyone they were not able to the night before and got a good seat for the championship game between the Bombers and the Coast Guard.  
Later, Ivansheck and Raymond prepared to square off for the first time in their coaching with a pregame hug. The Bombers dug themselves in an early hole, entering halftime down nine points. But off a 30-point performance from junior guard Ali Ricchiuti, the Bombers were able to sneak out the 69–65 victory.  
Throughout the game, Ivansheck was incredibly frustrated with the calls against her team, especially after the final buzzer, knowing her team lost the way it did. However, when the teams lined up for the postgame handshake, the distraught coach gave her former mentor a halfhearted hug before she retreated to her team's locker room.
While the tournament may not have ended positively for Ivansheck, she said she still enjoyed her return to the college as a whole, despite the fact that it was vastly different from the way she left it.
"It felt unfamiliar. Ben Light looks nothing like when I was a player or coach," Ivansheck said. "Locker rooms are different and new faces within the department — it almost felt like walking into a stranger's house."
As for Raymond, seeing so many of his former players coaching was something that brought a smile to his face.
"It was heartwarming to see all of them and to see all of them coaching," Raymond said. "I think coaching is a noble profession, and I think that they are representing what the profession is all about very well."