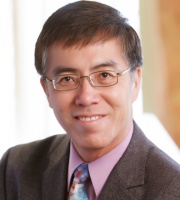 Vincent Wei-Cheng Wang has been chosen as the new dean of the Ithaca College School of Humanities and Sciences. He will begin his position at the college this summer.
Wang said when he found out that he was chosen for the position, he was elated.
"I also feel very humbled about this opportunity because the dean's position has a lot of responsibility, and I'm aware that my relationship with the faculty, students and staff and the decisions I may make will touch many lives," he said. "I strongly believe any student or future citizen can benefit from a well-rounded liberal arts education. So that will be my motto as dean."
Wang is an international relations scholar who previously served as the associate dean of the School of Arts and Sciences at the University of Richmond in Virginia. He was a faculty member in the Department of Political Science at the University of Richmond since 1996, focusing on political, technological and industrial policy and development in China and Taiwan.
When he came to interview at the college Dec. 10, Wang said he experienced first-hand the challenges facing the campus when he saw students occupying the Peggy Ryan Williams Center. He acknowledged the college is going through a difficult period and is glad the campus has begun a conversation that is "perhaps long overdue."
During his time as chair of the political science department and associate dean at the University of Richmond, Wang helped to recruit and mentor minority faculty members. Wang said as H&S dean at the college, his challenge will be to articulate and lead faculty and students toward a cohesive, shared vision of greater inclusion and diversity.
"I think that it won't be easy, but I think that we are at a pivotal time, that change is actually in the air," Wang said. "I'm not shying away. In fact, I look forward to the challenge."
Bruce Henderson, professor of communication studies in the School of Humanities and Sciences, attended the discussion forum held with Wang while he was visiting the college.
Henderson said he was pleased with Wang being chosen.
"He seemed like he would be a good listener and someone who would work collaboratively with the faculty," Henderson said.
Michael Smith, a member of the search committee and associate professor of history and environmental studies, said he was impressed by the amount of knowledge and experience Wang presented in the interview process.
"I think he'll hit the ground running here in a way that a lot of candidates might not because he took the process very seriously," Smith said. "He comes from an institution that's very similar structurally to Ithaca College, and he's had a fairly long career as an administrator helping to administer a unit very similar to H&S."
Smith said he's looking forward to stability and advocacy under Wang's leadership. After having the previous dean in leadership for seven years, Smith said he hopes Wang will be around equally as long.
"I think it's really important in a time like the one we're going through, where there's a lot of instability at higher levels of administration, that the deans of the schools have a sense of longer-term commitment," Smith said.
Wang holds a Ph.D. in political science from the University of Chicago, an M.A. in International Relations and Asian Studies from Johns Hopkins University and a B.A. in political science from National Taiwan University. He is the author of over 80 scholarly articles and book chapters and recently completed serving as president of the American Association for Chinese Studies. He has been a visiting professor and researcher in Taiwan, South Korea, Singapore and Mexico and is a Senior Fellow at the Foreign Policy Research Institute, according to the announcement by the college.
Wang succeeds Leslie Lewis, who left the college in June 2015 to accept the position of provost and vice president of academic affairs at Goucher College. Associate dean Michael Richardson has been serving as the school's interim dean.
"I think it was a great search process. We had a strong finalist pool, and I'm relieved," Smith said. "We put a lot of work into the process, and I look forward to his tenure here."