Junior Ciara Lucas stood in a room filled with people sporting their best Ted Cruz attire: hats, T-shirts, embroidered jackets. She could feel the positive energy as supporters and journalists alike excitedly awaited the results of the South Carolina Republican primary at Cruz's watch party in Columbia, South Carolina.
"Even without the candidate being out yet, you could really feel this high energy. … I was excited for those people," Lucas said.
Lucas was one of nine journalism students chosen to travel to South Carolina with James Rada, associate professor of journalism, and Anthony Adornato, assistant professor of journalism, to spend the days before the primary reporting on politics for a collaboration with NBC. Other students on the trip included seniors Emily Fedor and Emily Masters; juniors Sara Kim and Sydney O'Shaughnessy; and sophomores Kenneth Bradley, Thomas Garris, Kyle Stewart and Emily Varga. Kim is the social media manager at The Ithacan, and Stewart is a columnist.
The group left Feb. 17 and returned Feb. 21. The lack of a set itinerary kept the team on its toes in between covering events, editing footage and selecting video clips and sound bites to send to NBC.
The first day of interviews began at the Penn Center, located on St. Helena Island, South Carolina. The Penn Center was the first school for the Gullah Geechee people, descendants of formerly enslaved West Africans living in the Sea Islands, following emancipation, and remains an education center and museum today.
The team spent the second part of the day in Hilton Head Island, South Carolina, at Mitchelville Freedom Park, a community established as the first self-governed culture for newly freed African-Americans.
Fedor said the group of students was split into teams of two at the Penn Center and Mitchelville Freedom Park: one behind the camera and one conducting interviews. Interviews at both locations consisted of storytelling and talking about important issues for older African-American voters, like improving the currently unstable education system, Fedor said. When it came to addressing politics, she said, the hardest part was making sure the questions she asked were not perceived as offensive.
"We had to be very cautious with how we were asking the questions and making sure we were making the interview subjects comfortable enough to feel as though they can speak their opinions to us without being worried," Fedor said.
On Feb. 19, the group traveled to Greenville, South Carolina, to speak to college-aged voters about their opinions of the candidates. They had the opportunity to take over the @NBCBLK Instagram account for the day, posting photos and videos of black students at Claflin University.
The man-on-the-street-style reporting led to some difficulties with finding sources that were informed about the election, which Fedor said surprised her.
"So many of them didn't even know the primary was going on or the importance of it," Fedor said.
Garris and Stewart worked with an NBC correspondent Friday. Garris said the experience of producing daily news was new to him because the deadlines were hours later, not a week later.
"It was stressful, but it was a really good experience, and I definitely wouldn't change it," Garris said.
On Feb. 20, the day of the primary, teams were split up again to perform different tasks under NBC producers. Fedor and Lucas took over NBC's Snapchat.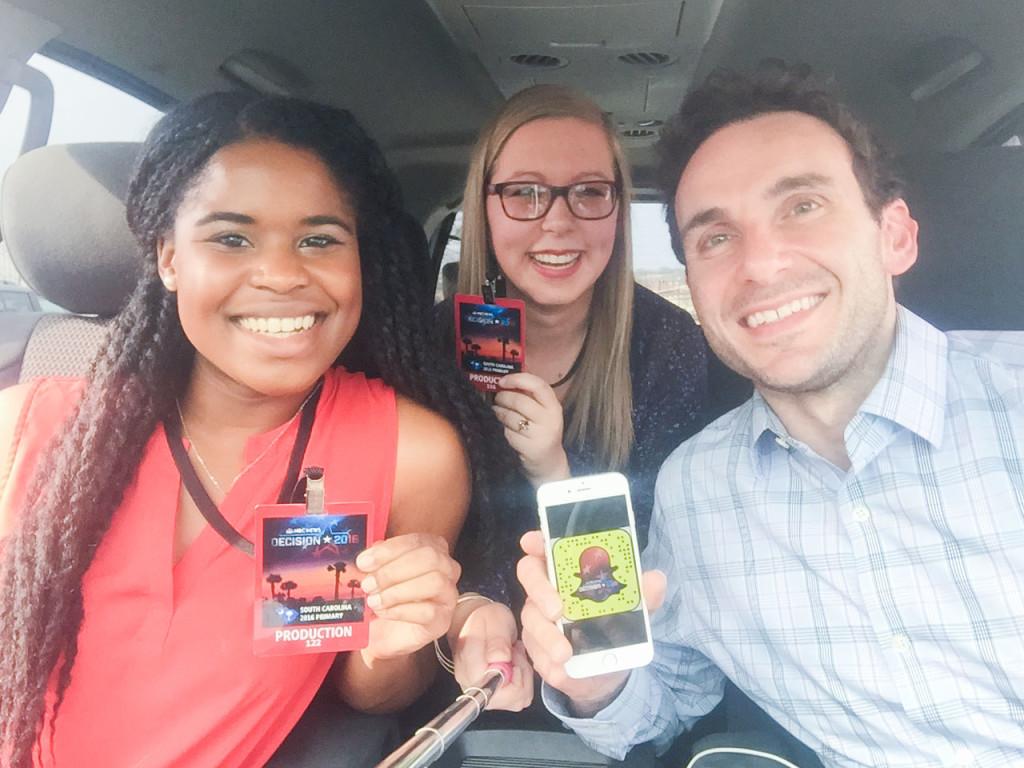 Fedor said she and Lucas went to almost 15 different locations to gather information to post to a Snapchat story each hour, including polling locations and campaign centers of multiple GOP candidates. The theme of following young voters was carried through from Friday, Fedor said, as they were trying to encourage young people who were watching the Snapchat story to become more involved in politics.
Lucas said the Snapchat story process was much more involved than they originally anticipated. She said the group's NBC contact had to approve every Snapchat before it was posted.
Fedor and Lucas ended their Snapchat takeover at Cruz's watch party, where they reported Donald Trump was projected to win.
One of the most useful learning experiences, Adornato said, was figuring out how to tackle each news platform and what content to publish on each.
"We were able to take a big news event and see how that all comes together in terms of what content goes on traditional broadcast, what content goes on online, what content goes on Instagram, what content goes on Snapchat," he said.
Rada said the experience on multiple platforms has become practically a necessity for journalists.
"The ability to be multifaceted, the ability to be adept on multiple platforms is vital, not only to survive in this industry, but to thrive in this industry," Rada said.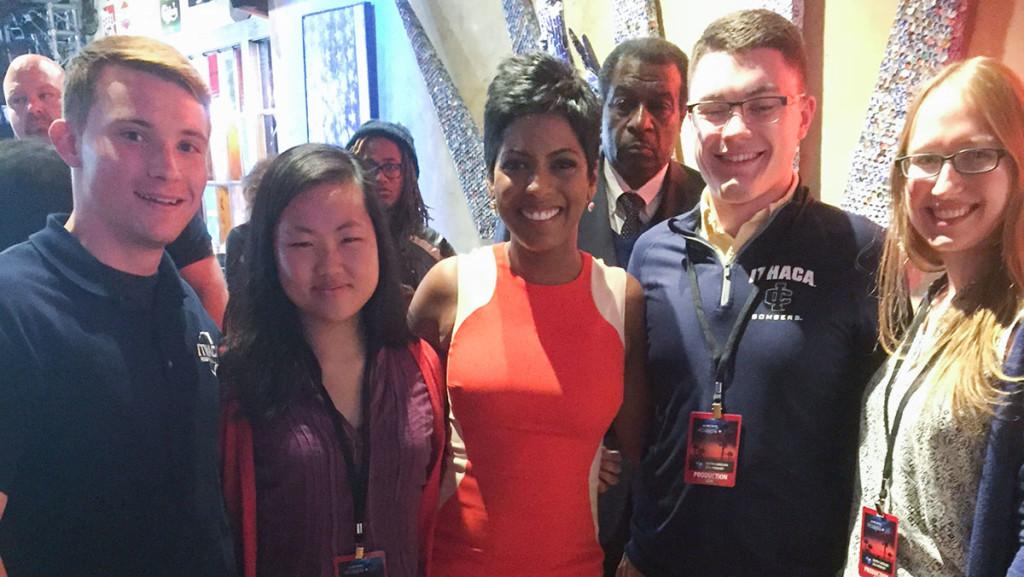 For this trip and two previous trips — the 50th anniversaries of the March on Washington in 2013 and the Selma to Montgomery March in 2015 — Adornato said, Jamie Kraft, executive producer of the weekend editions of NBC Nightly News, played a key role in setting up the opportunities.
Even though the producers knew they were working with undergraduate students, Kraft said, NBC still held the same expectations and hour-to-hour demands of the job.
"The bar was as high as it is for NBC News or nbcnews.com, and that's what they were up against, and they pulled through with flying colors," Kraft said. "It was pretty extraordinary."
Lucas said she loves the high-energy, fast-paced environment of covering big events. She said the days are long and can blend together but that the adrenaline keeps her going.
"You don't know what time it is, and it doesn't matter because you're just trying to get everything done, and that's what I really like to do," Lucas said. "You just get consumed by all of it, and it's so fun."