In response to Pinterest photos of scantily clad, malnourished women tagged as "thinspiration," site administrators have released a policy taking a stand against users who promote self-harm in pursuit of beauty. They are not alone.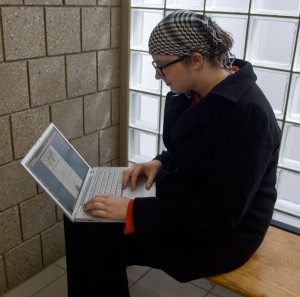 Tumblr and Pinterest, blogging and social media websites, recently prohibited users from posting content that promotes self-harm, eating disorders or other dangerous behaviors, sparking a debate about the blogger's rights. The change is meant to remove only those blogs that cross the line into active promotion or glorification of self-harm, according to a recent press release from the Tumblr staff.
Students at Ithaca College who use Tumblr have taken notice of the new policy, but some don't believe it will change things.
Junior Charlotte Orban said seeing posts that promote self-harm made it difficult for her to resist falling back into harmful behavior.
"As someone recovering from both self-mutilation and anorexia, it is extremely unnerving to encounter people supporting these diseases," she said. "Seeing one picture of self-mutilation made me relapse, even though it was intended to raise awareness about the disease."
Though Tumblr's ban is meant to prevent instances like hers, Orban is doubtful it will last.
"Someone will inevitably pull the freedom of speech card, or they'll just end up tagging their posts as other innocuous things," Orban said.
Tagging posts allows Tumblr users to label their content with specific keywords that can then be searched by other users. "Tracking tags," or following a certain keyword or idea, help users find content that is relevant to their interests. To enforce its new ban, Tumblr will be tracking tags like "pro-ana" (pro-anorexia), "thinspiration,"  "cutting" and others words for personal harm.
Orban said she is concerned that users will learn to disguise their harmful content under different terminology or, as many users have already done, cite their freedom of speech.
More than 1,800 users have signed an online petition to stop Tumblr from banning content. The petition is hosted by Change.org, a website that aims to promote social change through Internet outreach.
Jeff Cohen, founding director of the Park Center for Independent Media at Ithaca College and associate professor of journalism, said social media sites have responsibilities, but freedom of expression for a site's users may become an issue for those banning content.
"Adding speech is better than subtracting speech on these kinds of controversies," Cohen said. "In other words, the addition of public service announcements by Tumblr to these blog areas would be one approach perhaps better than banning certain blogs or posts."
Janis Whitlock, director of the Cornell Research Program on Self-Injurious Behavior in Adolescents and Young Adults, said online communities can influence young adults to adopt harmful habits.
"People seek out these websites to fulfill a human need of community, which is great except they end up finding things within these communities that aren't so great," she said. "People may feel like they have to buy into the behaviors and activities of a community to fit in, and then it becomes very difficult to stop these dangerous behaviors."
Cohen supports Tumblr's decision to ban harmful content but allow discussion. He cautions that social media sites need to be careful of how exclusive policies and bans are.
"For Tumblr or anyone else, it's not always easy to decide whether content is promoting self-harm or eating disorders, rather than merely discussing it bluntly in ways that might be helpful to those in the discussion," Cohen said.  "Folks in subcultures grappling with such issues need to be able to communicate with each other to not feel totally alone and shunned. Trying to silence them may not work."
Whitlock said open discussion can be dangerous, and that Tumblr should ban that as well.
"Discussions are best if there is a moderator or somebody who can help people not to regress into the behavior," Whitlock said. "It would be responsible for the site to ban discussion if they know there's not going to be somebody with therapeutic training to help monitor it."
Sophomore Katharine Levittan has come across eating disorder blogs on Tumblr before.
"It's crazy that people actually dedicate a blog to promoting such self-destructive behavior," Levittan said.
Levittan said social media sites may have overstepped, but something needed to be done.
"It's a touchy subject because they are technically intruding on the blogger's right to
freedom of speech, but I think that having blogs like that out there creates an unsafe environment for people, especially teenagers, who look to social media to express themselves," Levittan said. "They have an obligation."