"Hi, how are you?"
It's the mantra of sorts at the Campus Center Grab and Go, the phrase every diner hears, asked in a polite tone with genuine sincerity.
From 10:30 a.m. to 2 p.m. every Monday through Friday, Blondeva Brooks scans the ID card of everyone entering to pick up a quick, bagged lunch. And she greets them all individually.
Brooks arrives at 8:30 a.m. to choose the fruit for the day. One by one, she unwraps pears from their paper in a large cardboard box, looking for defects. The rejects are left in the main Campus Center dining hall. After all, she points out, the Grab and Go students only get one piece of fruit. So it has to be a good one. She delicately, with purpose, places the chosen apples, bananas and other fruit into wicker baskets.
"I like my students to have nice fruit, so I take my time picking it out," she said. "That sign says 'Grab and Go,' not 'Kneel Down and Look for Fruit.'"
Brooks was born and raised in Fort Lauderdale, Fla., where, with her six sisters and three brothers, she helped her mother pick beans. Her father, part Cherokee, was a welder for 45 years. She is, as she puts it, in her 60s.
Whenever her granny, a "full-blooded" Cherokee Indian, fell ill, her hair would turn jet black. A single streak of black disrupts the smooth landscape of Brooks' curly grey hair.
"My sister says that's the Indian I have in me," Brooks said.
Brooks has four children from her previous marriage — two boys and two girls. Half live in Florida, and the other half live here. She is a grandmother to 14 and a great-grandmother to six. Her own mother is still alive at age 90, meaning her family stretches across five generations. Brooks still talks to her mom every day, sometimes for hours on the phone. Every summer, she returns to Florida to work with her son in his restaurant.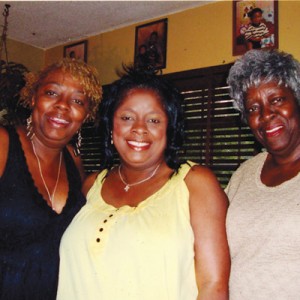 Her youngest daughter, Kimberly Brooks, lives in Florida. Kimberly said her mom always tells her how much she loves her job at the college.
"She tells me, 'I don't know if I can do without the job, or the job can do without me,'" she said. "She loves all the students at the college. You guys have my prized treasure up there."
By 9:20 a.m., Brooks has finished sorting her fruit for the day. She places a vase of flowers on her table out front. She straightens the ID scanner — propped up on a towel of its own to make it easier to read — and places a few yellow bananas into her drawer, saving them for the ID office employees.
"I spoil [the students]," she said. "But with this job, I have learned that I love my students, and my students love me. I've never had so many hugs in my life 'till I got here. I get hugs, hugs, hugs all the time."
In Florida, Brooks was a certified respiratory therapist at Boca Raton Community Hospital. For 15 years, she administered stress tests and breathing treatments.
She moved to Ithaca in 1998, 10 years after her current husband had accepted a job as a chef at Cornell University. For those 10 years she visited him only on holidays, about four times every year. Looking through the paper preparing for the move, she saw a job for a prep cook at the college and applied.
"The man said to call him back in two weeks, and I called him back the very next day," Brooks said. "I said, 'I really, really need a job.' I called him every day for a week, and I got a job in the Towers Club making sandwiches and washing dishes."
Brooks worked at the Tower Club for two years before moving to the Terrace Dining Hall, where she worked for three years before falling and injuring the rotator cuff in her shoulder. That, paired with an ACL tear in her knee, led her to the job at the Grab and Go register.
At 10:30 a.m. sharp, she moves slowly toward the door. Open for business.
"Hi, how are you?" she asks in a kind voice to every student.
It doesn't matter how busy the line is, or what else is happening around her. She says hello to everyone.
"Hi, how are you?"
Most students respond with a simple "Fine" or "Good" but some ask a question in return: "I'm good, how are you Blondie?"
"I'm fine, thank you."
But life for Brooks hasn't always been fine. When Brooks moved to New York she originally lived in Trumansburg, where she and her family faced an onslaught of racism and hate.
"I'd hear people say, 'Oh here comes the black lady,' and I'd say, 'The black lady has a name. It's Mrs. Brooks," she said.
Her children and grandchildren faced discrimination in school, often told to "go back to Africa." But Brooks said she made it a priority to always there for them, and over time it faded, little by little.
I spoil [the students]. But with this job, I have learned that I love my students, and my students love me. I've never had so many hugs in my life 'til I got here. I get hugs, hugs, hugs all the time.— Blondeva Brooks
But in the summer of 2005, her house caught fire — an act Brooks is fairly certain was arson. She stayed there two or three more years before making the move to Ithaca. She stayed until she was ready to leave. No one was going to decide her place for her.
Noon. Even during the peak lunch rush everyone is greeted, and everyone gets a goodbye. The hug tally is already up to four.
"Have a nice day," she calls from the register.
"Thanks, you too Blondie."
She straightens the napkin container on the table, aligning it with the bowl of mints. A pause, and then a glance of satisfaction when it is back in its proper place.
After work, Brooks enjoys spending time with her grandchildren, especially cooking with them. Her husband taught her how to cook Cuban food — black beans and rice, and pork. But she's known for her sweet potato pie, a family recipe she swears no one will ever get ahold of.
"Oh, do I cook," she said. "I cook for my grands and my great grands. From Friday to Sunday 24/7 I am in the kitchen."
While sitting, she leans her chin into her left hand, using her right to glide every ID card through the small machine. She cuffs her pants just once, to accommodate for her height.
"Excuse me!" she calls, spotting a student trying to take two juices from the cooler. "You get one drink, or two milks. That's what the sign says."
It doesn't matter if the student is sneaking the extra drink in a pocket, in the white lunch bag or even grabbed from the cooler itself — Brooks sees it. Even refilling the basket of silverware, or straightening the rows of paper bags, she can tell. Before 1 p.m., she's seen 425 students pass by.
She said her manners come from the way she was raised. A Baptist, Brooks attends Calvary Baptist in Ithaca every Sunday.
"I like to sing and clap and have a good time," she said. "Baptist people are very noisy people. We love to rock the house."
Sophomore Ryan Kennedy said it's always nice to hear her voice because it helps improve his day.
"She always remembers that I want two swipes," he said. "She knows my face, no matter what I wear."
Brooks said she will probably stay at the college for another two years before retiring.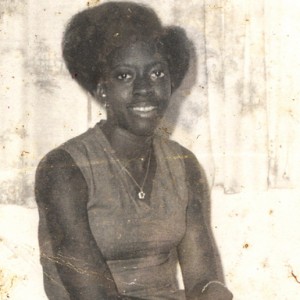 "When I decide to really, really retire, I want to go to Georgia," she said. "I'm going to find me a little house on the hill with a white picket fence with my chickens and hogs and cows, and a garden over there with vegetables. They have beautiful fences. That's what my eye is shining on."
Her daughter Kimberly said Brooks just learned how to Skype, so she could spend more time with her grandkids in Florida.
"It was so great to see how she took the initiative to learn how to do something she always said she couldn't do," she said. "Even when things don't go right, she always told me keep my head high, to always keep going for it and don't give up."
After closing at 2 p.m., Brooks restocks her cooler of drinks. She has them sorted so every label is turned facing out. It's perfectly aligned, with all of the containers facing the exact same way.
"My momma always said you eat with your eyes, not your stomach," she said.
Freshman Chelsea Lanphear said Brooks is the reason she gets bagged lunch at Campus Center, and not at the Towers Dining Hall.
"You know that coming here, you're going to be greeted by her," she said. "Blondie's never in a bad mood. She's so nice, so much nicer than other people who usually just swipe cards."
Brooks calls the students here her other family.
"I have conversations with some of the students who will say, 'You know Mrs. Blondie, you always make me feel so good. I miss my mom, I'm sick today, but you always look out for us,'" she said.
The next morning, she begins again. She will pick out her fruit, arrange her table, swipe IDs, greet the students, restock her cooler and then go home to her family.
She scans the room. Everything is in its proper place.
"Have a nice day."