A block down from The Commons, a tall, white building stands, seemingly quiet and plain — only the green awnings above the doors that read "Community School of Music and Arts" give any indication of the building's creativity.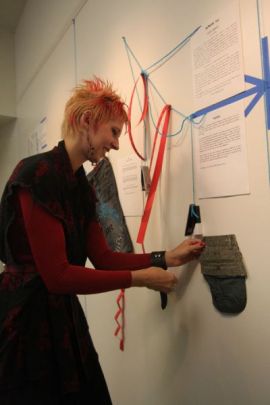 Inside, the school is alive with the thrill of learning and imagination, as classes for music, dance and visual arts are held for students of all ages in studios around the building.
Hoping to remain a place for people of all skill levels and financial backgrounds to receive fine arts education, the Community School of Music and Arts is holding its annual "Arts for All Marathon Fundraiser" to support the school's need-based
scholarships. Lessons for 19 weeks run from $715.63 to $1,406.75, so students who need financial help are given full scholarships.
The marathon began Monday with a kickoff ceremony in front of the school and will end Oct. 24 with a gala, including a silent auction. The "26.2-day" fundraiser (26 days and 4.8 hours) — meant to coincide with the number of miles in an actual running marathon — will include gallery openings, musical events and other celebrations of the arts.
Robin Tropper-Herbel, executive director of the school, said having a marathon for a fundraiser is perfect because it includes all aspects of what the school aspires to be.
"The great thing about the marathon is that it's also all about what we do here at CSMA," she said. "It encompasses all of the arts, all different kinds of people taking part, from all walks of life."
A large part of the marathon, outside of the events, is for students and artists in the area to grow in their craft. They can contribute by writing a play, practicing a song or creating a series of paintings. Then, they will find people in the community to sponsor their endeavors.
"The idea is that artists of all kinds — visual artists, musicians, dancers, writers, you name it — commit to doing a creative project that raises money for the school," Tropper-Herbel said. "It can be almost anything."
The school has no specific goal in mind for the fundraiser, but it does hope to raise at least $15,000 that can be put toward awarding scholarships to students.
One event the school hopes the community will become involved in is the Post-it Note Art Gallery on Oct. 24 — an art exhibit made up entirely of Post-its that are sent to the school during the marathon and put on display, with each one being sold for $5.
The curator for the gallery, Ed Marion, said the Post-it Note Art Gallery is about transforming people of all skill levels into artists.
"The idea behind it is that the Post-it note is so readily available," he said. "As long as you have a pen or pencil in your hand, you pretty much have the makings of an art studio. We're trying to underscore that everyone is an artist and everyone can make art."
Tropper-Herbel said trying to make it possible for everyone to become involved in fine arts is a large part of what makes the school significant in the Ithaca community.
"We have a very unique niche in the community, because … we have it all here in one place," she said. "People of all ages and level of skill and backgrounds can take classes. It's a great place to come and just try out the arts."
Amy Rogers, a mother whose son attends the school, said CSMA has been a vital part of her son's development.
"It's been a constant example of how working hard at something produces benefits, and he's been able to apply this example to his academics and to other aspects of his life," she said.
Marion said the marathon is a culmination of everything the school is ideally about — fine arts education for everyone.
"A big part of the school is definitely being available to give arts — visual arts and music education — to all students, which is really the idea behind the marathon," he said.
A complete listing of the "Arts for All Marathon Fundraiser" events and activities can be found at http://www.csma-ithaca.org/marathon/events.php.