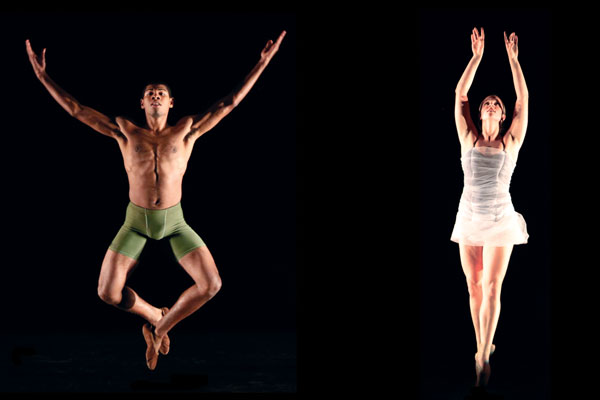 Every day for the past seven weeks, senior journalism major Isabel Braverman has arrived at Dillingham Center a half an hour before her three-hour rehearsal to wrap her toes, pull on her pointe shoes, stretch and warm up. But after she finally retires her leotard for the night, Braverman  still dreams of working for Vanity Fair, rather than becoming a prima ballerina.
Braverman is performing with an unprecedented amount of non-performance majors in Ithaca College Theater's original dance show "Illuminated Bodies." Dancers in the show include nine non-performance majors, 13 performance majors and one drama and cinema production double major.
The theater department puts on a dance performance once every four years, and this year's show consists of four original  pieces including "Momentum," a full-pointe ballet. "Illuminated Bodies" also includes "Ahhhhhh," an exploration of voice and body, "Arriving," a duet inspired by the migration of birds, and "Once Upon a Time," a piece about a circus after the audience has left. The pieces were choreographed by Lindsay Gilmour, assistant professor of theater arts, and Amy O'Brien, a dance instructor at the college.
Taking the place of a musical theater piece, "Illuminated Bodies" held auditions for all interested students at the college, regardless of their major. New to the campus stage, Braverman tried her luck with the production and landed a role in "Momentum."
"Typically, if you are a non-theater major you are most likely not going to get in a show," Braverman said. "But this show actually gives people a chance."
Junior health science major Jennifer Rakoff said auditioning for the show was a no-brainer. Despite her studies in nutrition, she said, she looks for any opportunity to pursue her passion for dance. She spends hours every week to be a part of "Momentum," and said she could not miss the chance to work with the choreographers.
"An opportunity that is as great as being able to work with Amy O'Brien and Lindsay Gilmour cannot be passed up," Rakoff said. "I have been able to learn and   grow as a dancer these past few weeks and am thrilled to be a part of the show."
Though she is not pursuing a career in the arts, Shaina Ung, a physical therapy graduate student, said people should do what they love, instead of just what they're expected to do.
"You don't have to be a theater major to have the passion to perform and share your art," she said. "I plan to continue living in the world of dance and performance until I am at least 85 years old. Hopefully my body can handle that."
Junior drama and writing double major Ben Shipley, a dramaturg for "Ahhhhhh" and "Arriving," said the show features a pointe piece this year because it is only choreographed by two people, so Gilmour and O'Brien were able to focus on the dance styles they personally prefer.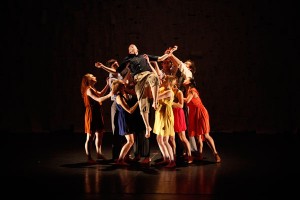 "The show is comprised solely of ballet and modern without any jazz or tap, as has previously been the case," he said. "There was the freedom to explore more facets of ballet."
O'Brien has experience with pointe and said she could choreograph in that style because she had faith the performers would be successful.
"Doing pointe depends on the caliber of the dancer and the piece — this happened to be the right time," she said.
"Illuminated Bodies" focuses on the natural human figure, and dancers wear form-fitting costumes in most numbers. O'Brien collaborated with Gilmour to name the show while they were in the pre-production phase last year.
"It doesn't solely reflect on the fact that there is a lot of skin and lighting, but also  about the moving of the body and imagery," O'Brien said. "The dancers are moving through imagery of illuminating and creating lightness in the atmosphere."
"Momentum" opens with a black stage, giving a few seconds of spotlight to clusters of sculpture-esque dancers who stand motionless. A collaboration of delicacy and power, Braverman said, the piece combines skin and light to create a glowing spectacle.
"['Momentum'] really adheres to the 'Illuminated Bodies' theme because of the focus on the body and its muscles,"  Braverman said.
Before the pointe dancers gracefully tiptoe and glide across the stage, a bright ringing breaks the silent theater as warm, golden lights shine on either side of the entrances. Dancers from "Ahhhhhh" appear, dressed in underwear, and approach the stage slowly. Once they reach their own piles of clothes and dress themselves, they break into a synchronized step while harmonizing sporadic "ahhhhhhs."
Ung said watching "Ahhhhhh" is intended to be a personal experience that breaks down the barrier between the audience and the dancers.
"It's nothing like 'So You Think You Can Dance,' it's nothing like 'Dancing with the Stars,'" Ung said. "Nothing really commercial."
Junior Kristen Joyce, also a dramaturg for "Illuminated Bodies," said there has been a thorough creative process for these pieces to come alive on stage.
"Prior to the rehearsals, we helped the choreographers come up with ideas," she said. "I started talking to the directors about what story they wanted to tell."
Denzel Edmonson, a senior musical theater major and "Momentum" dancer, said because of all of this dedication, the show will be a visual extravaganza.
"When I watched the pieces, by the end of them I was so enthralled," he said. "It is bliss seeing bodies move and be free. It's a night of freedom."