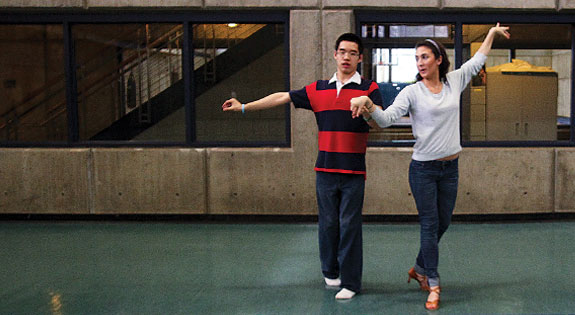 Freshman Jarvis Lu walked down the hallway in Hood Hall. It was late at night, so he wasn't worried about anyone seeing him in shorts. Then, he caught a glimpse of himself in the full-length mirror in the hallway. He was taken back; he had forgotten how his legs looked without clothing to cover them.
"Wow, my legs are really skinny," he said. "The way I walk — it's not right."
Lu has a mild form of cerebral palsy that affects both his legs, though he can walk without assistance. CP is caused by brain damage or abnormal brain development in utero or during the first two years of a person's life and can affect motor skills, muscle movement and coordination. Because of his illness, Lu battled depression during his first semester at Ithaca College and needed an emotional and physical outlet — dance.
"The whole concept of artistry — it's like you're a paintbrush on a canvas, and your legs are painting the ballroom floor," Lu said.
Lu was born in Brooklyn, N.Y. His family moved to Shanghai, China, when he was in seventh grade so his father could open a restaurant there. While living in China, he begged his parents for private ballroom lessons, swept away by the beauty and grace of the dancers on TV shows such as "Dancing with the Stars." But dance lessons were too expensive in China.
Lu said his mother wanted her children to attend American colleges, so Lu and his two older siblings, Jenny and Jason, returned to their hometown to live with their grandparents. Lu completed his junior and senior years of high school in Brooklyn before coming to Ithaca.
During his first semester this fall, Lu went to a ballroom practice at the college that nearly scared him away from dance altogether.
"I changed into my sweats in the locker room, went to the Aerobics Room, opened the door [and] saw that there were so many people learning — I think it was the cha-cha," he said. "I freaked out and ran out of there."
But this semester, Lu emailed the executive board of the college's ballroom team and asked if anyone from the team was interested in giving him private lessons.
Senior Geoffrey Presor, vice president of the ballroom team, said he told Lu the team would try to find someone.
"To my knowledge, no one from the team had any experience teaching someone with a disability," he said.
When freshman Ruby Ogno, a member of the ballroom team, read Lu's email, she said  she was inspired to help. During her preschool and kindergarten years, she attended an elementary school in which students with mental and physical disabilities were integrated into regular education classes.
In my head, I'm counting perfectly and I look perfect, and I'm this masculine, macho, sexy person. When I actually do it, it's like, 'Wait, something's off.' – Freshman Jarvis Lu
"I had a lot of friends with disabilities, so I hope to get back to those roots," she said.
Now, at least once a week, Lu kicks off his sneakers in the Mondo Gym to get ready for a dance lesson.
"I know my dance moves from 'Dancing with the Stars' and 'So You Think You Can Dance?'" he said. "I get really excited about every lesson."
Ogno begins the lesson by reviewing what Lu learned last week: the basic moves of cha-cha and American style rumba.
She has studied ballroom dance for two and a half years. Like Lu, she was inspired by watching other dancers — not celebrities on TV, but people through the windows of a dance studio that opened three years ago in her hometown of Syracuse, N.Y.
Ogno is currently an exploratory major but said that she has considered working with people with physical disabilities in the future.
"Everyone was kind of open with their disabilities [at the school]," she said. "It was weird when I moved to a regular school in first grade because obviously everyone is separate."
At the beginning of the semester, Ogno's lessons consisted of mostly Latin dances that did not require as much movement around the floor, such as the cha-cha and rumba.
When Ogno leads Lu through the basic steps of cha-cha, she counts out loud — "two, three, four and one!"— and announces the next move a few counts in advance, using the teaching methods she has seen student instructors do for the ballroom team. She also modifies her teaching style and, sometimes, the moves themselves so that Lu can keep up with her more easily.
After almost a semester of practices, Ogno is able to teach Lu the basic moves for the tango.
"Slow, slow, quick, quick, slow," Ogno says as Lu leads her from a basic step into a promenade — a sharp move that requires Lu to walk to the side with his torso facing forward. After several tries, he still stumbles over his and Ogno's feet. He groans in frustration.
"In my head, I'm counting perfectly and I look perfect, and I'm this masculine, macho, sexy person," Lu said. "When I actually do it, it's like, 'Wait, something's off.'"
But Ogno's firm yet encouraging tone of voice shows she won't let him give up.
"He's always used his mind over his body, so he thinks about the moves so much that it prevents him from just doing it," she said. "I've been trying to break that down, just letting him get the muscle memory instead of thinking about the moves."
Lu also turns to other people with physical disabilities for inspiration. One of his idols is Gregg Mozgala, a professional actor with CP who was the muse and star of a dance show called "Diagnosis of a Faun," which premiered in New York City in 2009. Another inspiration for Lu is the British reality show "Dancing on Wheels." "Dancing on Wheels" pairs celebrities with wheelchair users.
Lu's lesson is almost over, but he is determined to do the promenade perfectly.
"Slow, slow, quick, quick, slow," Ogno counts again.
On the last beat, Lu whips his head to the side with a dramatic flair and leads Ogno into the move.
"You got it!" said Ogno, beaming.
Lu laughs and jumps in the air.
"I definitely do appreciate everyone [on the ballroom team] being really patient," he said. "The energy that the dance team has — it's pretty vibrant and it's contagious!"