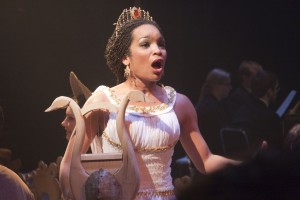 Opera had only been around for 10 years when Claudio Monteverdi debuted "L'Orfeo" to an Italian audience in 1607. As one of the earliest opera's still performed today, Ithaca College's goal was to make this centuries old classic appeal to a modern audience. With the combined talents of theater and music students, the college gave this opera a fresh new spin.
"L'Orfeo" tells the story of Orfeo (Daniel Bates and Alex Canovas), who loses his wife Euridice (Laura Gladd) to the conniving and ghastly Hades. This blow undermines Orfeo's powerful physique and commanding presence. Thus, he departs from his comfortable, Garden of Eden-like reality and enters the underworld as a mortal. As he tries to take Euridice back he must control his lust to appease Hades (Stephen Lovell) or risk losing his wife forever.
Each year, the music school and the theater school collaborate to produce a show, and L'Orfeo was this year's selection. Staging an opera rather than its usual musical or play performances was risky — operas aren't generally perceived as hip, groundbreaking and lively. However, the music and theater schools succeeded at what they do best: entertaining. Instead of one or two actors singing in a rigid onstage position, the opera features lyrical movement and displays youthful exuberance. Nothing about Saturday's performance was static or two-dimensional.
Directed by David Lefkowich, lecturer of Music Performance in the School of Music, and accompanied by conductor Brian DeMaris, the pair creates a powerful world of contrasts. Lefkowich uses dance and flexible body movements to convey what librettist Alessandro Striggio's text cannot. His background as a fight choreographer is key to this opera in which the actors run around the stage with controlled chaos. Nevertheless some audience members in the first row flinched as the action made them feel like part of the show.
It's easy for the audience to get lost in DeMaris' music. The combination of half violins and harpsichords among others blends in well with the swarm of bodies moving onstage. The sound seemingly fades into the cacophonous background. But without the Baroque-era score, the show would have lacked an epic feel and been decidedly less robust.
Senior scenic designer Nik Taylor executed his vision for "L'Orfeo" with minimal issue. His underworld isn't a clichéd, fire-and-brimstone depiction that crops up in Disney movies like Hercules. Rather, it is a world where the sun never shines and in which smoke and fog attack the audience's senses. Heaven and Earth aren't mutually exclusive in "L'Orfeo," but they do share some notable similarities. Orfeo's earthly home is a "paradisiacal kingdom where nymphs coexist side-by-side with humans in harmony." Heaven is depicted as a beacon of light shining through a small corridor in the theater with God, from high up on his glittery throne overseeing earthly activities.
But as wondrous as the set, music and lighting are, they aren't the crowning achievement of this production. Rather, the actors with their robust voices are the reason to go see this opera. Each and every word is sung in Italian with seemingly perfect pitch, inflection and accent. Shining brightest is actress Katherine Henly, who plays La Musica. Covered in gold dust, each and every word she delivers is accompanied by a smile, with her voice and finesse captivating the entire Clarke Theater. Moreover, her gorgeous costume, designed by senior Madison Ryckman, is a goddess's garment. Its long and gentle flow perfectly matches the angelic beauty of Henly herself.
Bates balances the emotionality of his charming role to a tee. His intensity is fitting and his ability to switch from a powerful, vengeful warrior to an equally weak and pitied man probably got him the lead. Bates was so locked into his performance that neither the audience nor the sweat dripping from his brow fazed him. His merciful gaze made even the spirits of the underworld, and Prosperpina (Lydia Walrath), the naïve Queen of Hades, help him in his quest.
L'Orfeo isn't an opera in the traditional sense of the word, but rather a tour-de-force of light, shadow and raw emotion.
"L'Orfeo" will show at 8 p.m. tonight through March 4.